FROM THE PRINCIPAL - 2 OCTOBER 2020
Dear Parents
Welcome to the start of the final term of this strange and difficult year. We have learned so much about ourselves, about others. We have learned to adapt, we have learned about change. We have learned the value of human connection. We have shed tears of frustration and yet laughed with joy. Throughout it all, I do hope we have been kind to others but mostly to ourselves. I have seen too many people battling with expectations they had as dreams, and visions had to change. I have seen people overwhelmed with pressure. Give yourself a break! You have (almost) survived probably the strangest and most difficult time in your life.
I hope these last few months of 2020 pass quickly and that we are able to start 2021 afresh. I don't believe Covid will have miraculously disappeared and I think we will still be wearing masks, practising good hand hygiene and a coughing/sneezing regimen, and social distancing will be with us still. But we will be wiser and more confident and life will start returning to what it was before.
I ask that you use some time these next few months to reflect on what Covid has taught us as individuals, as families and as professionals. How can we use these lessons to change how we do things going forward? One thing that has stood out for me again and again is never to take human contact for granted and to celebrate our togetherness as fellow human beings.
Monday 5 October is World Teachers' Day. I cannot think of another profession that had to adapt as quickly and as radically as teaching when lockdown became a reality. I am in awe of how good teachers who had the necessary resources made a plan to keep going, to keep educating and inspiring their pupils. Our teachers at Bishops really stood up and took on the challenge of remote learning and I acknowledge them and thank them for what they did. I hope they feel appreciated and respected for their efforts, not only in terms of covering curriculum but, more importantly, in connecting with the boys and keeping them positive.
Our transformation journey has begun and I have attached a letter from Lele to this newsletter for your information. Please support the process and respond to our request for opinion and input. The more people that respond, the more authentic the data and the better chance we have of making a real, long-term change for the better.
Finally, I wish to inform you that Dr Rodney Warwick will no longer be teaching his classes for personal reasons agreed to by Dr Warwick and the College. His classes will be covered by Dr Paul Murray, an experienced and committed History teacher with intimate knowledge of the College.
I wish you all a peaceful, safe and happy term!
Tony Reeler
Assembly message: What I want my children to know…
Today's address was inspired by two things – firstly, a video I watch from time to time from a 30 year old rapper and performance artist known as Prince EA, in which he takes on traditional education and education systems, and secondly, the stage I am in  personally as a father where my children are in the process of leaving my home. Both issues ask questions about relevance. Prince EA questions what schools teach and whether products of the education system (ie you!) are ready for the real world; and my circumstances because as parents, I want my wife and I to have developed in my children the skills they need for the world they will face.
I can get philosophical at this stage and talk about how I want my children – both you and my own – to be nice to others, to be kind, loyal, helpful and caring human beings and how I want you to be able to think for yourself, but today I thought I would focus on more practical skills – things you need to be able to actually do!
Social media is full of lists – the 50 things you need to do to be successful, the 10 things you must avoid when interviewing for a job, the 5 things that make you a good partner and so on. This is my list of things I hope my own children will be able to do when they leave home and I hope you can tick these off as I go through them.
You must be able to cook and by that I don't mean warm up 2-minute noodles! You must be able to make a meal, not just for yourself but for guests as well. The meal must be balanced and nourishing, must include vegetables or a salad and must be tasty and nutritious. Enjoy making the meal and then clean up afterwards – no matter how late the evening is. Waking up to dirty dishes is simply not on!
You must be able to manage your finances. Do you spend money as you get it so that monthly allowances are finished before half the month has elapsed or do you plan for upcoming events? Do you keep some money aside – just in case? And do you have a savings plan? Those of you that know the advantages of compound interest will know that compound interest is your friend – provided you save for long enough. The richest people I know, those who retired early and comfortably, started saving early, so put money away when you can and force yourself to do it. Invest wisely if you can and if you cannot – seek advice.
For the older boys - drive well and drive safely. Assume that everyone else on the road is a moron that is going to do unpredictable things. Anticipate early and watch for things before they happen. Take pride in your driving and be known by your friends as being a good driver. Learn how to overtake properly, use your indicators and maintain a good following distance. Be able to change a tyre – this sounds simple but it is a critical and valuable skill all of us will need at least once in our lives. And fill up your car's tank before it gets to empty!
Know how to clean a house – how to use a vacuum cleaner properly, how to mop and how to scrub and clean a toilet. You may feel these skills are beneath you but no-one likes a dirty house, certainly not your visitors!
Know how to wash clothes, iron a shirt and sew on a button or sew a hem that has come out.
Write properly – in full sentences and on paper. Say thank-you a lot and mean it but write that note if someone is celebrating a special day, or if someone has lost a loved one. Posting on Facebook or Instagram or in a chat group doesn't count. Learn how to spell!!
Look after your health – go to the dentist and the doctor if needs be and exercise as often as you can. Your body needs you to take control.
Be able to talk to all people on relevant topics. Know what Brexit is, what the current exchange rates are, what the Zondo Commission is doing as well as the topics of the day. Be interesting to be around and educate yourself widely.
As I went through those eight practical things: make a meal, manage your finances, drive a car, clean a home, launder clothing, write, personal health and a wide range of knowledge, I hope you ticked off what you can already do and what you still have to learn.
They are not the definitive list by any means but they are a start. Finally – ask your teachers next lesson what they wish they had learned at your age and ask your parents tonight what they want you to be able to do. Build up your own list – write it down and tick off as you acquire the skill and our jobs as teachers and parents will be partially done!
"It is not what you do for your children, but what you have taught them to do for themselves, that will make them successful human beings." - Ann Landers      
Daniel Tate: Nominated for the Diocesan College and Partner Schools Rhodes Scholarship – 2021
Daniel Tate attended Bishops Diocesan College, matriculating first in his class in 2016 with eight distinctions, being placed in the top twenty in the Western Cape for the NSC. He earned full colours for academics, leadership and music, serving as Deputy Head of Gray House and completing grade 8-level drum kit. He played first team hockey and served in several community service programmes as well as sitting on the Junior City Council of Cape Town.
Daniel completed a Bachelor of Commerce in Philosophy, Politics and Economics (PPE) at the University of Cape Town (UCT), graduating as the top student of the course. He was awarded the Vice-Chancellor's Scholarship and placed on the Dean's Merit List each year. Currently, he is completing a Bachelor of Social Science Honours degree in International Relations, also at UCT.
Whilst at university, Daniel was awarded the Allan Gray Orbis Foundation Fellowship and has been a Candidate Fellow at the Foundation since, participating in its programmes aimed at high-impact and responsible entrepreneurship. He was elected Deputy Head Student of Leo Marquard Hall Residence and Chairperson of the Academic Representatives' Council, and subsequently served as the Residences & Housing Coordinator of the SRC. He attained multiple awards for his work in these roles. He was instrumental in the formation of 'The Pitch', a large student entrepreneurship competition sponsored by the Vice-Chancellor and Allan Gray Orbis Foundation. Daniel has maintained his love for sport through his time at university, playing club-level hockey and football, whilst pursuing his interests in the United Nations (UN) through participation in a recent Model UN competition, where he achieved Best Delegation.
At Oxford, Daniel intends reading for a Master of Philosophy in International Relations, in which time he plans to conduct research into dealing with the challenges facing multilateral peacekeeping on the African continent. Ultimately, Daniel sees himself playing a leading role in the growth and transformation of intergovernmental institutions like the UN, especially with an eye to correcting global inequalities and promoting the interests of African states.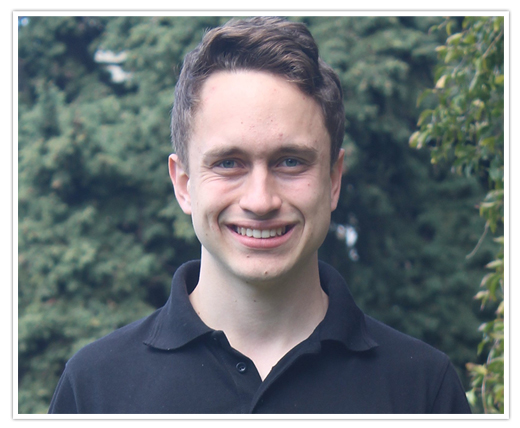 Join our Rowing team!
Rowing has become one of our top 5 sports for Bishops and we are continuously proud of the collective achievements and commitment by all involved.
Rowing is more than just a sport. Watch the video and get inspired to join the team!
13 Peaks Challenge
A group of Bishops boys (Oliver Kennedy-Smith, James Mason, James Griffiths and Keanan Walker) and Corey Webb from Westerford High, assisted by staff member Burgert Maree, set out to complete the daunting 13 Peak Challenge during the holidays. The 13 Peak Challenge, a 110km route across the Cape Peninsula, was created by Ryan Sandes and Kane Reilly (OD). Accompanied by Julian Dean-Brown (OD) on the second day, Oliver finished in a time of 41 hours 20 minutes, with Burgert Maree returning a day later to finish the last three peaks. Oliver is the youngest athlete to finish within 48 hours! All the other boys have committed to finish the challenge in the weeks ahead.
A staggering donation close on R60k was raised for The Rhino Orphanage. We are enormously proud and congratulate all the guys who set off in this quest to raise funds for such a worthy cause.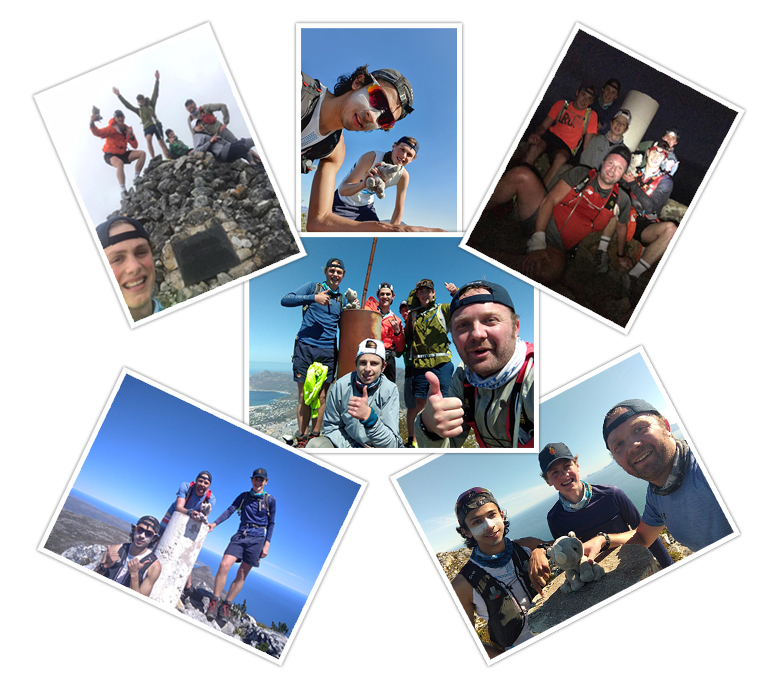 Ride For Life
A group of Bishops boys took up the challenge of riding in the Argus to raise money for the dehorning of a rhino. They cycled and raised money through an organization called Cycle for Life. Each of the four boys raised over R 10 000.00 to this worthy cause and the Field and Stream Society (through money allocated from wildlife trips with Pangolin Go), will be adding a further R 10 000.00. The boys that went up to Bayala for two nights are: Storm Lanfear, Max Olbrich, Michael Richardson and jack Moyle.
Rene Lanfear (parents) and Simone Godfrey (past parent) must be commended for the help and guidance given to the boys and making this happen. The boys gained valuable insight into the whole dehorning process, use of drugs on the rhino and the success of the project. They were able to work alongside Dr. Mike Toff ( a leading wildlife vet) and get involved in ear notching and other activities during the dehorning process.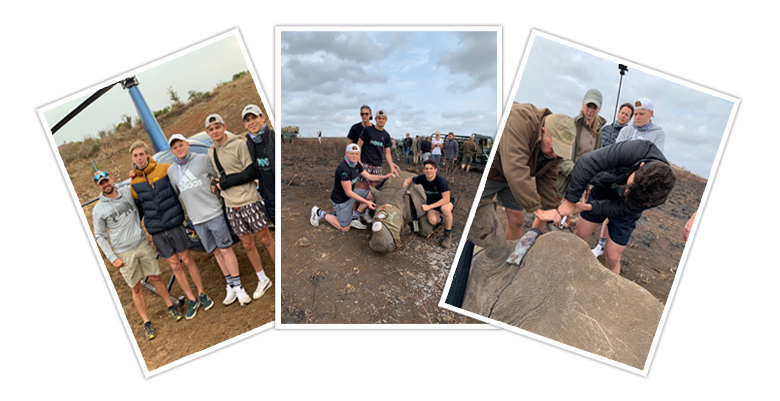 World Teacher's Day
Happy World Teacher's Day to our incredible academic teaching staff for Monday. You have been asked to do the impossible this year and rose to the occasion with excellence. We are truly proud and grateful for the full commitment of Team Teachers at Bishops.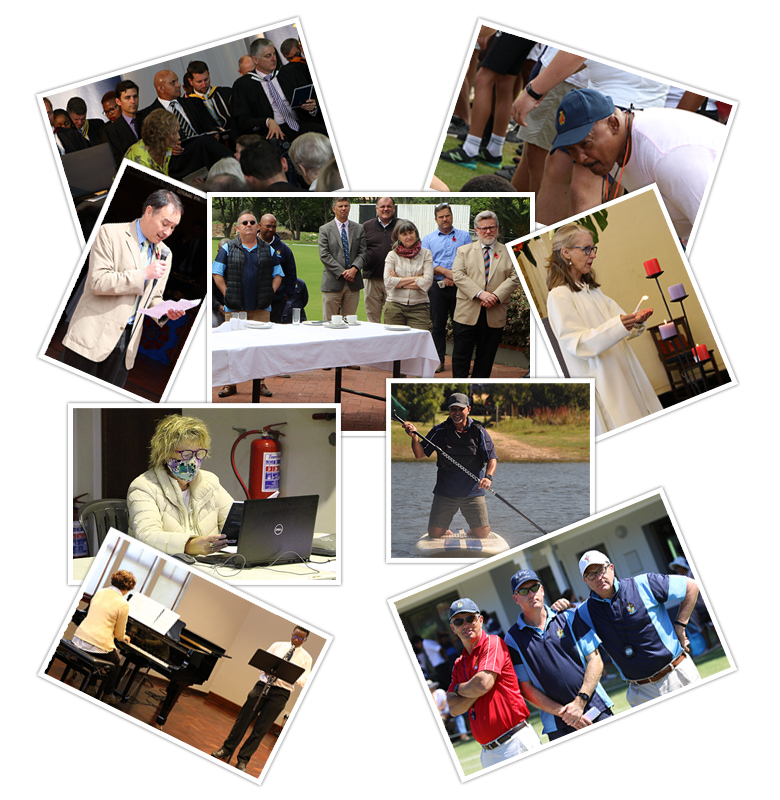 All Rounders Tie
Congratulations to Oliver Kennedy-Smith who has been awarded an All Rounders tie.
BISHOPS DIOCESAN COLLEGE
Campground Road, Rondebosch, Cape Town, 7700
Phone +27 21 659 1000 | Fax: +27 21 659 1013