FROM THE PRINCIPAL - 7 AUGUST 2020
Dear Parents
My first month at Bishops has passed and I have had the opportunity to meet a number of parents such as those serving on the PA. One of my greatest frustrations in Covid times has been the inability for me to engage with staff, parents and boys and so I am most grateful whenever the opportunity does indeed arrive for me to meet physically with others. Thank you once again for your kind words of welcome and encouragement. I look forward to working with you in support of your son. We may not always agree on matters and we must acknowledge that we have different roles to play and carry authority in certain spaces, but it is important that we always listen to each other and I assure you I will.
Apart from the various awards made which are mentioned below and for which I commend our boys, I spoke to them about appearance and I ask for your support in this regard. Our priority has been the safety of our boys and staff which is why we have been more relaxed on the issue of personal appearance such as uniform and haircuts. I know this is a sensitive issue but I share my thoughts on the subject. Firstly, I see nothing wrong with trying to look smart in how we dress. At Bishops, we choose to wear a school uniform to promote our sense of belonging to a space and to a place that is bigger than us. We choose to sacrifice some of our individuality for that sense of belonging. So please make sure your son dresses neatly and wears his uniform with pride.
The issue of haircuts is always contentious because of two reasons: firstly, we have different hair types – thick, thin, curly, straight, dark, light etc. Our hair defines a lot of who we are and reflects the culture from whence we come. It is important. But hair is often seen as a symbol of protest and a coming of age. I recall my own hair after I left school which was grown in a delightful style because I could. My choice of hairstyle said that I had freedom of choice I didn't have before. And so, while we as a school ponder the question of hairstyles and what would be a suitable hair policy, were we to have one, I pose the question. If we have a uniform that we wear, and we choose to be conservative in our appearance and to conform to community norms, surely then our hairstyles should conform to a norm as well – according to our own culture? If we had to adopt a conservative hairstyle that was culturally appropriate to us, there would be nothing to be concerned about. Yes, we may want to grow our hair or cut our hair in a style that is unique to us and I understand that. But to have a conservative style is not assimilation of culture or acceptance of a dominant majority – it is acceptance of neatness, relevant to our own background and culture. And by the way, those boys who are concerned about their safety in hair salons, I went on Friday and felt very safe indeed! I ask parents to please support us by having their son's hair cut appropriately.
There may be parents who are concerned about a perceived lack of progress with regard to transformation and the school-wide process that we are to follow. I have met a number of times with the boys who have shared their thoughts with me. I have shown them the progress made with regards to the renovation of the working spaces of our grounds and cleaning staff and we have discussed various ways of allowing for safe reporting of concerns. The investigation into the allegations of racism by authority figures is almost complete and will be acted upon shortly. The appointment of an expert to lead us through the transformation process is taking some time but we hope to have an answer early next week. I ask for your patience in this matter. I assure you we are not "sweeping matters under a carpet" and regard this issue as too important to rush. We must transform wisely and carefully with due regard for all our people and this may take time to get the right person leading us and the right processes in place.
My assembly message this week appears below. I used this opportunity to pay tribute to women, from history and today, and to ask our boys to ensure they treat women with the same respect they treat men.
I wish you all a peaceful and restful long weekend.
Kind regards
Antony Reeler
Principal
64 years ago, 20 000 women marched to the Union Buildings in Pretoria to protest against a proposed amendment to the pass laws that required black people to carry a permit or pass during certain times and allowed the authorities wide-ranging powers of arrest in enforcing this law. Can you imagine the organizational skills required in days of limited communication and having to keep it secret?!
In this group of women were people like Lilian Ngoyi, Helen Joseph and Frances Baard. They reached the Union building and stood silently for 30 minutes before singing a song that became synonymous with this struggle: Wathint Abafazi, Wathint imbokodo – loosely translated to "you strike a woman, you strike a rock." These women had their "hell no!" moment and stood in silence to say as much.
In those days, legislation not only separated people on the grounds of race but also gender. I remember my own mother in the 1970s having to work for a lower salary than her male colleagues despite being equally qualified and working as hard. She had no medical aid or pension benefits and was not allowed to be employed on a permanent basis – because she was a woman.
These days, legislation speaks specifically to equality of all under the law and in most organisations there is pay parity for men and women. But despite us having come a long way in terms of employment, we still have a very long journey to travel in terms of how men treat women and the abuse some women suffer, largely at the hands of men.
This past month I have spoken of Good Men and asked you to look at qualities of Good Men such as courage. Today I ask you to think about how a Good Man treats women – our grandmothers, mothers, sisters, female friends. I ask you to think if you do indeed treat the women in your life with respect equal to the men. Or do you have a bias – either conscious or sub-conscious?
To illustrate subconscious bias I am going to ask you to picture the following people in your mind when I mention their professions: doctor, lawyer, pilot, soccer player. Chances are the picture in your mind was of men yet there is nothing preventing women from pursuing these careers, except perhaps societal norms which have for so long said these are professions for men.
In a similar vein, you know now that I prize words and what they mean. I choose words carefully, so when I hear the same quality being described in men as laudable and praiseworthy being described differently for women, I wonder why. For example, society praises assertiveness in men but may condemn a women with the same qualities as bossy or stubborn. Just about most adjectives that describe people could be assigned to a gender by societal stereotype.
I happen to believe that men and women are indeed different and have many different qualities but that those qualities come from who we are as human beings more so than our gender. So, women can be firm, strong, decisive and men can be providers, compassionate and caring. But I believe that as men, genetically different and usually physically bigger and stronger, we have the absolute responsibility to treat women with respect. By that I mean your manners (and I am sorry but I do believe in standing up when a woman walks in the room, standing aside at doors and other "old fashioned" concepts.) But I also believe that women are not constrained to certain roles as a result of their gender. I believe that Good Men understand that and just as a Good Man will never ever strike a woman, no matter what the reason, so too do Good Men respect women as equals.
And so, this Women's Day I ask that you reflect on how you treat the women in your life. I ask that you reflect on the suffering and hardship many women have endured throughout history and acknowledge the remarkable role women play in our world today. I ask that you commit to the equal treatment of men and women – fellow human beings - as a Good Man would.
"Here's to strong women. May we know them. May we be them. May we raise them."
"Being male is a matter of birth. Being a man is a matter of time. Being a Good Man or a Gentleman is a matter of choice."
This Sunday we celebrate the anniversary of 20 000 brave women, who marched to the Parliament Buildings in Pretoria in 1956, and led a silent protest to harness the political power of diverse women and their communities to create transformative social change.
A group of our boys got together this week in support of all women and made an inspirational video. Keep an eye on our YouTube channel and Facebook page on Sunday.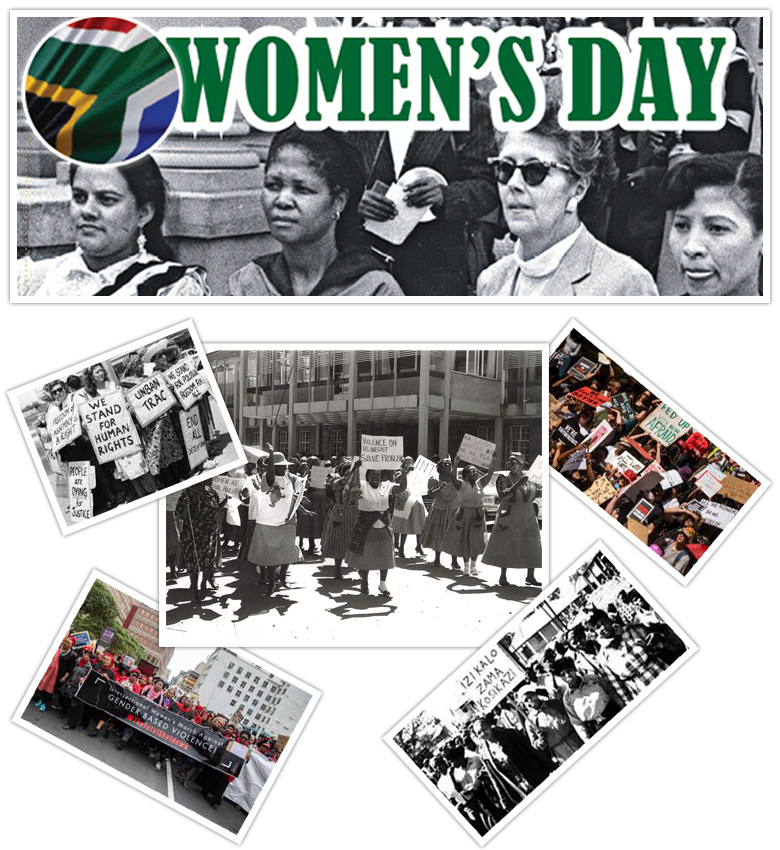 Funky Sock Fridays
Andrew Geerdts, a Kidd House matric pupil, proposed an idea to the Exec which was aimed at raising funds to assist those in need during this time. We are always proud when pupils take the initiative with  projects like this, and as a community we would like to support this and do our best to make a difference.
Pupils will Pay R70 per term which enables them to wear funky socks to school every Friday.
The funds raised will support a nominated charity, and for term 3, we will celebrate Women's month and make The Saartjie Baartman Centre for abused women and children our beneficiary. They recently suffered a devastating fire and have not yet recovered. We would love to help with a substantial contribution towards the centre.
For more information please visit http://www.saartjiebaartmancentre.org.za/
Click on the link to watch our video https://www.youtube.com/watch?v=NN_l02BYlEQ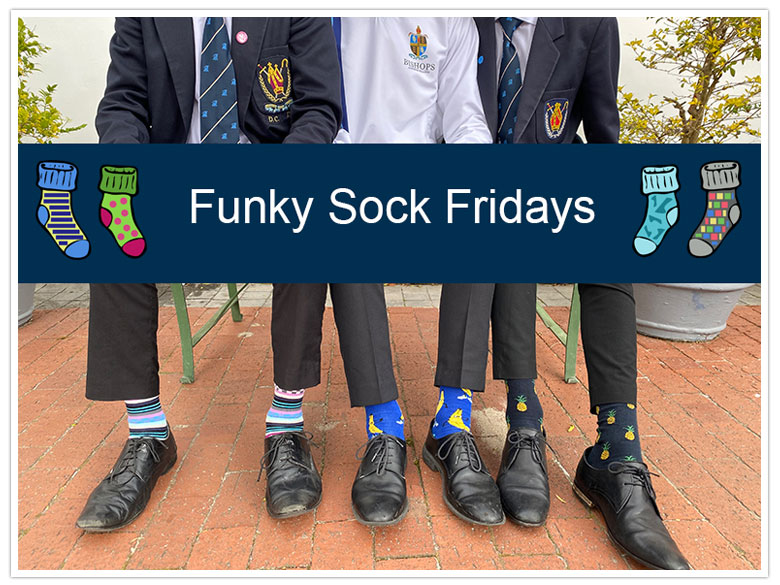 Mandela Day
All the houses raised funds and ran clothing drives through various efforts and selected charities to support in honour of Mandela Day. Here are some pics from the Kidd House clothes drive and money handover.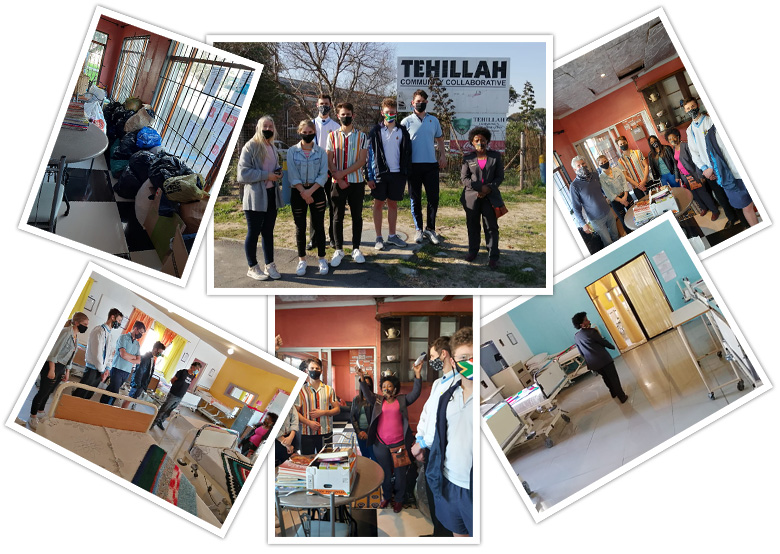 Installation of solar panels
As part of a long-term renewable energy strategy, Bishops has completed the installation of a pilot solar energy solution on the north-facing roof of the Stephan Coutts-Trotter Indoor Cricket Centre.
Approximately half of the suitable surface area of the roof has been utilised with the option to expand the system. The pilot system can provide a peak of 20 kilowatts, and with much activity occurring at Bishops during the daytime when solar operates, it is expected that the solar energy will be utilised in a normal day's consumption.
There is forecast annual production of almost 34 000 kilowatt hours, saving Bishops +-R60 000 annually and reducing our CO2 footprint by nearly 32 tons per year. The project has a forecast payback period of approximately 4 ½ years.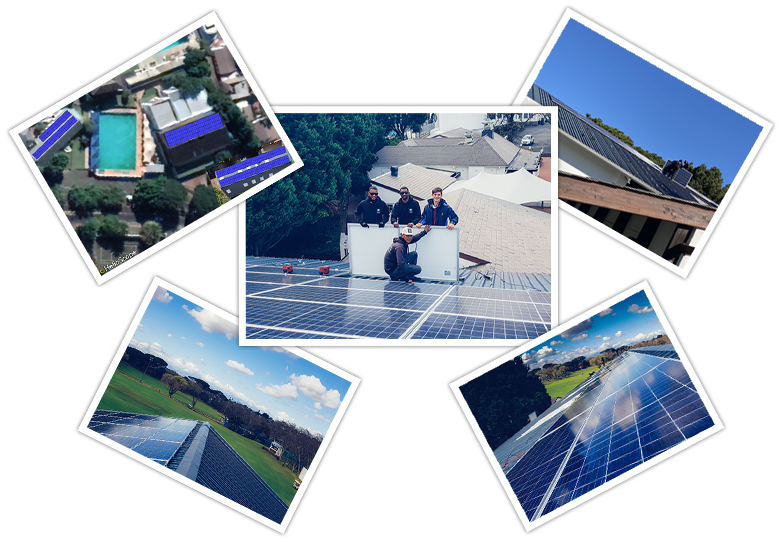 TIE CEREMONY, COLOURS AND AWARDS
In the absence of our Friday assembly, we have had to come up with inventive ways to celebrate achievements, awards and colours.
Congratulations to our Bishops athletes who received their athletics ties in an unusual outdoor, social distance style ceremony. Each individual excelled at various disciplines in the past season.
COLOURS: TERM 3 2020
The following boys are congratulated on achieving Colours:
SUMMER SPORTS
Fencing
Ethan Ellis – Full colours
He is also awarded a distinction tie for being selected to represent South Africa in the 2020 Senior African Fencing Champions scheduled to be held in Egypt from the 15th to 20th April 2020.
Road and Trail
Andrew Geerdts – Full colours
Cycling Colours
Storm Lanfear – Full colours
Sam Warren – Half colours
Swimming
Gregor John – Full colours
Sailing
Cameron Clark and Andrew Low - Full colours re-award
Chris Dicey, Niels Tilden - Full colours
Jordan Welsh - Half colours
Basketball
Steven Du, Alastair Bruce, Luke Avis, Sam Marthinussen - Full colours
Maximilian De Romjin, Jack Pace, Ben Gukelberger, Chris Forbes - Half colours
Athletics
Luke Davis, Matthew Tripe, Elyas Ayyoub (re-award) – Full colours
Keegan van Wyk, Samuel Rudston – Half colours
Drama
Adam Suliaman, Luke Carter, Noah Gonsenhauser - Full colours
Euan Groenewald, Paul Malherbe, Masood Meyer, Keenan Mills, Aya Ngcwangu, Fezile Nyathela, John Smith, Callum Stegmann, John Steyn, Emil Tellefsen - Half colours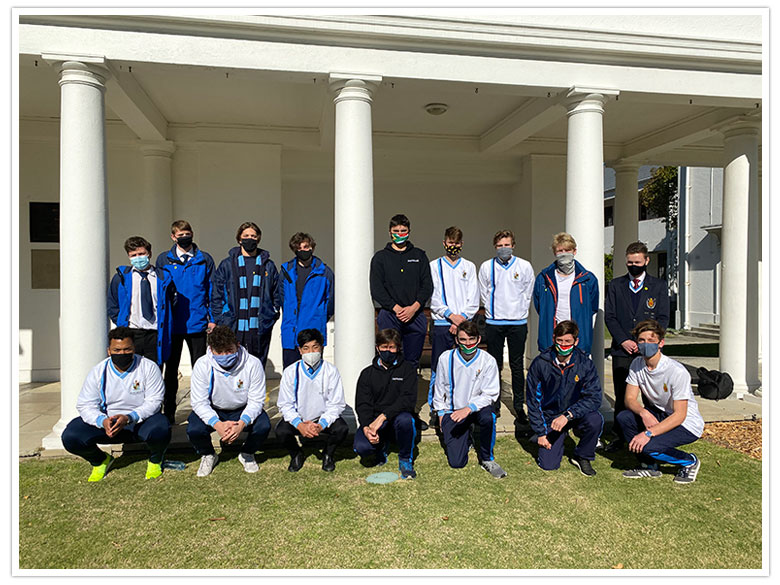 BISHOPS DIOCESAN COLLEGE
Campground Road, Rondebosch, Cape Town, 7700
Phone +27 21 659 1000 | Fax: +27 21 659 1013