Dear Parents and Members of the Bishops community
It is hard to believe but two weeks have passed since the beginning of the third term and since the start of my journey at Bishops. In that time, we have seen the return to school by all Grades and while some boys are remaining at home for valid reason, it appears as if the school community is adapting to onsite learning again.
I would like to thank the school in general for their kind welcome, albeit in a non-traditional manner! While there has been no induction or opening assembly, I thank the staff, members of the community, parents, ODs, Council and colleagues at other schools who have written or phoned in with encouraging messages of support. My family and I have settled in well and we appreciate your good wishes.
We are very sensitive to concerns expressed around the spread of the virus and remind parents that our decisions will be made in the best interests of the boys, with sound medical and scientific advice and with the greatest regard for their safety, the safety of their families and the safety of our staff. We will do all we can to minimize risk.
Please read the weekly Covid update put out by Mr Westwood. Please make sure your family puts Covid regulations in to practice at home and let us try to keep each other safe and healthy. This virus is going to be with us for a long time still, so we need to establish our rules as families and a school and stick to them.
I have had a chance to speak briefly with the boys through a Grade-specific assembly on the rugby stands and to introduce myself to them, sharing a few things that are important to me. At the outset, I tried to explain to them the hurt that people can cause each other through discriminatory actions, but language in particular. This aspect of my talk was covered in my recent communication put out earlier this week.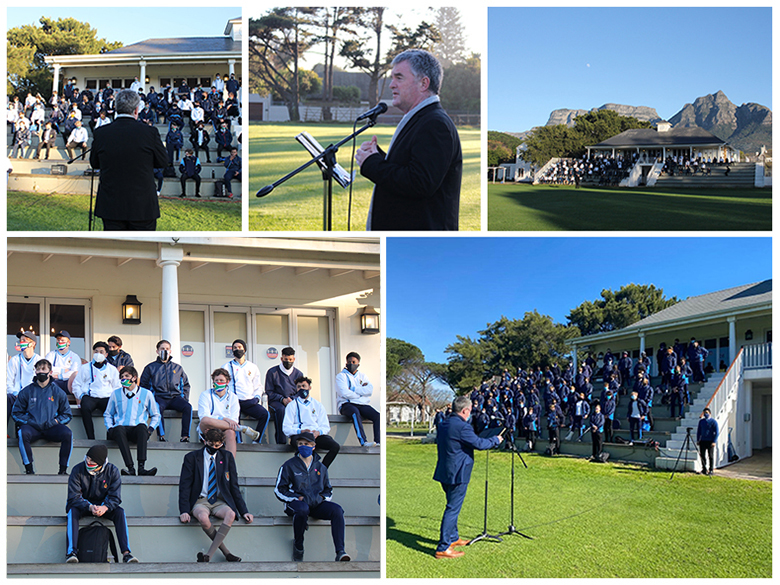 In addition, I wanted the boys to understand my vision for a school – not Bishops just yet as I still need to gain lived experience before making comment – but a boys' school in general.
I want boys' schools to develop Good Men. I choose my words deliberately here. We "develop" people rather than "produce" them. We are not a factory and we most certainly do not want to quash individualism. Yes, we want boys to have a core base of goodness and values, but they need to walk their own path. We want to develop the goodness that I believe is within them all to allow that person to become the best version of themselves they can be.
I choose capital letters for "Good Men" because this is a specific concept for me. We are not talking about men who are good but Good Men who have qualities of character that are specific to male-ness for today's world. To illustrate the point, I asked the boys to picture a male role model in their heads, someone special to them, who they looked up to and who they admired. And they had to be male. Then I asked them to list a few words that described that person and why they chose who they did. Without getting direct feedback, it was clear that most had chosen male characters who had qualities such as kindness, compassion, caring natures and so on. These words are different from the words one may traditionally associate with being a man such as tough, sporty, brave and so on.
The point I was trying to get across is that Good Men can be tough and brave, when they need to be. They can be competitive and may love playing contact or extreme sports. But they are also men who can show emotion, who can be gentle and caring and kind. Who can notice hurt and need in others. I will continue the work on developing Good Men and look at different qualities each time but I ask that you share your thoughts at home with each other on what you as parents look for in men and expect from male behavior and help your son understand that there are many paths on the way to becoming a Good Man himself.
As yet, we are not sure of the dates of the final Grade 12 examinations and are pressing the WCED for an answer that allows us to plan and prepare our boys. As soon as we receive dates we will pass them on to the boys and to parents along with any details we may be able to share regarding year-end celebrations and events. As the Covid rules currently stand, it will be very difficult to host any traditional gathering and so we are applying our minds as to how best to bid farewell to the Grade 12 class of 2020.
My thanks go to our Matric leader groups in each House who will be doing something special to celebrate Mandela Day. We wanted the initiative to come from the boys so gave them the responsibility to come up with a concept that would help others and emulate the qualities Mandela stood for such as compassion, kindness and service to others. I look forward to seeing these projects and how they managed to help others.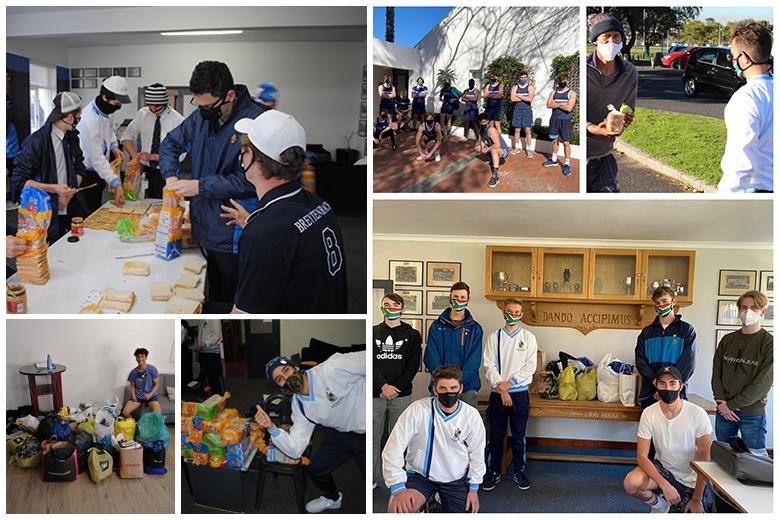 As Women's Day falls on a Sunday, the following Monday is traditionally a public holiday. The public school sector will also be taking the Tuesday as a holiday to allow staff and learners a long weekend in these difficult times. After consultation with the Heads of the other independent schools, we have decided to take that Tuesday off as well and so school will resume on Wednesday 12 August.
I wish you well for the upcoming weeks. Stay warm,stay safe.
Antony Reeler
Principal