Dear College Parents
The meaning of life is to find your gift. The purpose of life is to give it away - Pablo Picasso
I hope you all enjoyed the long weekend break and the most welcome rain which fell yesterday after a very dry July! There has certainly been a chilly nip in the air this week as Winter lingers, hopefully more rain before the arrival of Spring.
Last Thursday, we had a very successful rugby outing against our special rivals, St Andrews College; a clean sweep from the five games played. I must commend our 1st XV Captain, Justin Muller, who spoke so eloquently at the start of the match to mark National Women's Day.
It is often such a privilege to work at Bishops and to enjoy the terrific talents of our boys in all aspects of school life. This past Monday we enjoyed a truly superb Jazz Band evening in the Memorial Hall. My thanks to Andrea Rutter and all the Jazz Band Boys on a memorable evening of entertainment. Tomorrow evening we look forward to the Simply Blue handover concert in the Mallett Centre. The 2018 Simply Blue group have been fantastic and we thank the outgoing matrics for their contribution.

Today in Assembly we acknowledged the amazing contribution that Michael Beckurts has made to the Elizabethfontein Primary School in the Cedarberg. The following report is from Graham Robertson:
Michael Beckurts completed his Epic experience in 2016 and a different programme was drawn up for him that involved us employing an Art teacher for the time he spent at Elizabethfontein – which is one of our community bases where there is a Primary School bearing that name. Michael was so taken with the school that plans were made to make cards of the artwork he completed whilst on Epic. Michael decided that the proceeds of the sale of these cards would go to Elizabethfontein Primary.
We're pleased to announce that as a result of the funds he raised, a Grade R classroom in the form of a large Wendy House was erected and fitted out. At the opening of this classroom on Monday tribute was paid to Michael for his initiative in raising these funds.
The Principal of Elizabethfontein Primary wrote in response to our representation at the opening:
Nogmaals baie dankie vir die bywoon van ons verrigtinge gister. Dit was vir ons 'n baie kosbare geleentheid. Michael besef seker nie die impak wat hy het hier by ons nie. Gister was ook ons manier om vir julle so baie dankie te sê. Ons sien baie uit daarna om julle weereens te ontvang in November by die skool.
This is an ongoing project and cards are still for sale at the School Shop.
A certificate of commendation was given to Michael by the Elizabethfontein School in recognition of his fantastic efforts.
Well done Michael, you are an inspiration to us all!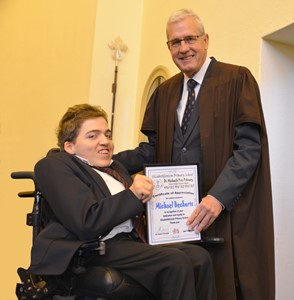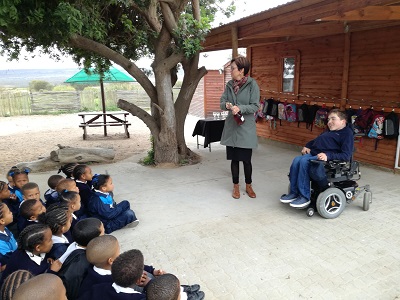 Mid-Term Eucharist

A reminder that the mid-term Eucharist is next week on Wednesday 22nd August. It is the Grade 11s turn to be excused. Please note that parents and family are welcome to attend.
Please see the attachments for assembly notices and the excellent talk that Mrs Cheryl Gammon gave to the boys and staff in Chapel yesterday.
We head towards the close of our Winter Sports Season with our final two matches against Wynberg this weekend and against Rondebosch next weekend. We wish all our boys good luck on the soccer, hockey and rugby fields and hope that all participants and spectators will uphold the Honour Code which we developed last term!
Have a wonderful weekend.
Yours sincerely
Guy Pearson
PRINCIPAL