Dear College Parents
"When planning for a year; plant corn. When planning for a decade; plant trees. When planning for life; train and educate people." Chinese Proverb
It is wonderful to welcome you all back to the start of a new school year. There is always a buzz of excitement at the beginning of a year and my impression is that the boys are raring to go! On Wednesday we welcomed 173 new boys and their families to Bishops; Grade 8 (160); Grade 9 (5); Grade 10 (7) and Grade 11 (1).We hope that their journey will be positive and fulfilling. We have a talented matric year who I am confident will lead the school to great things this year.
Staff
We welcome the following new staff to Bishops:
Academic: Mr Kurt Baatjies (Life Sciences); Mrs Marileen Harrod (BSU Academic support).
Academic interns: Ms Tia Mesias (English); Ms Nombuso Khumalo (Maths); Mr Chris Hale (LO); Ms Jamie Brassell and Ms Aliece vd Merwe (BSU).
We congratulate the following academic staff on their promotions: Mr Gerry Noel (HOD Life Sciences); Mr Marvin Bester (Assistant HD Kidd House); Mr Julian Vincent (TIC water polo); Mr Michael Vamvadelis (TIC Tennis); Mr Graeme Klerck (Epic Director).
WCED Awards Ceremony
I have written to parents about our excellent matric results from 2019. At the WCED Awards Ceremony held yesterday, some of our top boys were recognised for their exceptional achievements:
Jakob Holm (4th place in the Western Cape with 95,7%); Euan Musselwhite (Top 20 with 94,4%); Joshua Elliott (Top 20 with 94,3%); Thomas Warner (Full marks for Maths 300/300). Overall Bishops received a merit certificate for coming 8th in the Province. This calculation is based on the % pass rate, the % bachelors passes and the number of pupils who participated in and passed core Mathematics as a % of the entire grade. Unfortunately the number of distinctions per pupil is not taken into account which is disappointing as one would think that this would be the most compelling indicator of success.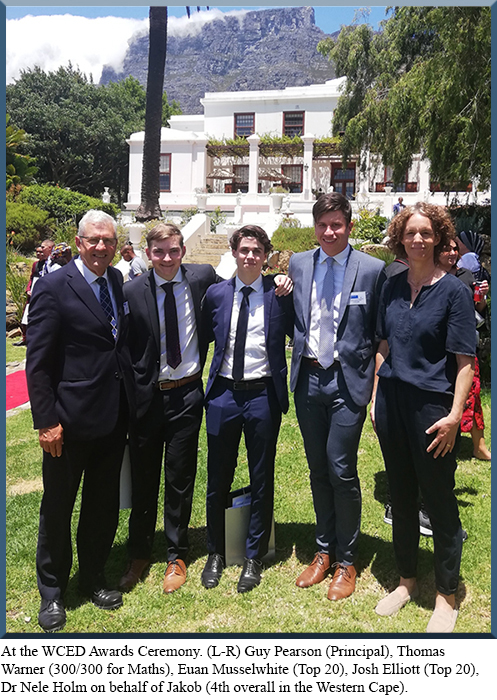 We are really proud of these results. Whilst we are very happy with the top end of results, we are equally as pleased with those boys who do not find academics easy and persevere, work hard and pull through. I am sure that parents would be interested to know that 24% of the class of 2019 had "barriers to learning" and yet we still produced super results. I commend all the Bishops teachers and particularly the BSU for always supporting and believing in these boys.
I would like to share one particular anecdote with you; in 2014 during the admissions process for the matric class of 2019, we turned down a boy who had failed the entrance exams miserably and had been diagnosed with dyscalculia (inability to do Maths). His father, to his credit, persevered and after an interview I admitted him; I saw something in him! This boy matriculated with 4 distinctions and scored 48% for core Maths. Quite remarkable! I am as proud of this boy as I am of the Dux!
In closing, for the information of new parents, I send a newsletter every alternate Friday. Please see the attachments with the assembly notices, Principal's assembly message and an invitation to enjoy a morning cup of coffee at the Mitre.
Have a wonderful weekend.
Guy Pearson
PRINCIPAL