Dear College Parents

The teacher who is indeed wise does not bid you to enter the house of his wisdom but rather leads you to the threshold of your mind - Kahlil Gibran
It was a very brief and busy holiday! Many of our boys and teachers were in involved in holiday activities and performed exceptionally well. The highlight was the performance of our boys at the National Individual Public Speaking and Debating Championships held at Michaelhouse. For this and other results, please see the assembly notices which are attached.
We enjoyed a wonderful start to the day with a performance by our excellent Wind Band who played two pieces for us.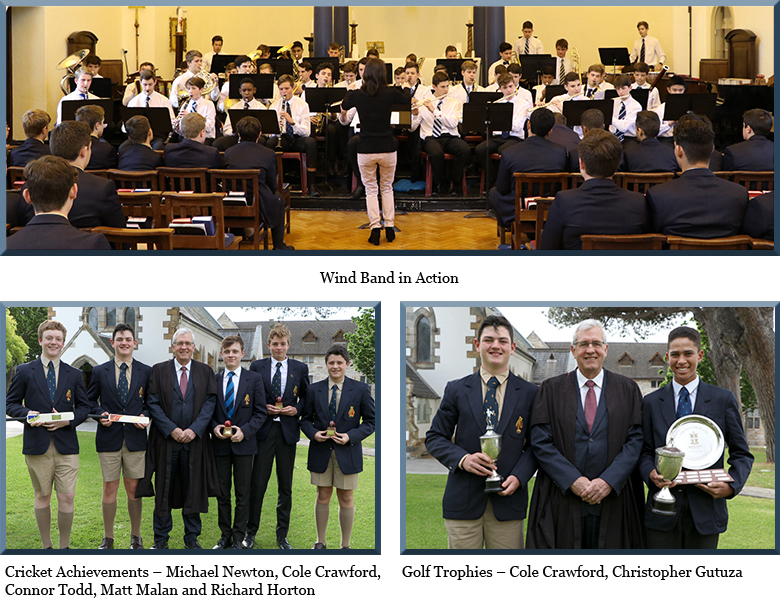 Diocesan College Rhodes Scholar-Elect (2020)
Bishops has a long and proud history with the Rhodes Scholarship, in fact the only "pre-will" scholarships were awarded to Bishops boys in 1902. Today there are 100 Rhodes Scholarships awarded annually around the world. The Bishops Rhodes Scholarship was opened up a few years ago to include partner schools; Herschel, St Cyprians, St Georges and the LEAP Schools. I am pleased to announce that OD Muhammed Razzak (2013M) has been nominated the Diocesan College Rhodes Scholar-Elect (2020). ( Please see attached profile).
Arrangements next week
On Friday next week we hold our annual Prize Giving and Valedictory Service. Please note that the Prize Giving and Valedictory is compulsory for Grades 8,11 and 12. It is voluntary for Grades 9 and 10 unless the boy is a Prize winner in which case he must be at Prize Giving. This is because of space constraints for these events. The boys have been briefed and understand what the expectations are.
A reminder to matrics that school on Monday and Tuesday is voluntary but they must be at school on Wednesday for their final assembly where they will be given their OD ties. After assembly they go to the Memorial Theatre where they will receive their exam numbers and briefed on expectations for the exam period. The first exam is AP Maths on Thursday, we wish them well.
ODU Event
The OD Union will be hosting an evening of 'strange kinetic sculptures' presented by award winning artist Justin Fiske (1991K). Please see attached for details.
Speed Bumps
Parents will have noticed that we are installing new speed controls down the avenue in the form of speed control domes. Please be patient with these measures which are aimed at improving the safety of our boys.
We have various waterpolo and cricket fixtures this weekend, our 1st XI is participating in the National T20 competition in Pretoria.
Have a wonderful weekend.
Yours sincerely
Guy Pearson
PRINCIPAL