Dear Parents

I cannot over-state how special the last few weeks have been with the resumption of inter-school sports fixtures. While participation is important in sport, games by their very definition do involve competition and, even though staff and boys have managed the last eighteen months very well mainly with intra-school competition, they do also need the inter-school, going beyond the "borders" of Bishops.

One factor though missing has been yourselves as spectators. It is a great pity as meeting parents at sports matches and other events is part of our connection and part of your involvement in school life as parents. It is difficult to understand that there can now be gatherings of up to five hundred people outside in terms of Level 2, but no spectators are allowed at sports matches. As a school we have to adhere to both broad lockdown level regulations as well as the specific regulations of the Education Department, so in the case of allowing spectators at school sport or concerts and the like, it is still not allowed in terms of the Department of Basic Education's Notice in the Government Gazette of 1 August 2021.

TRAFFIC
There was a very unfortunate incident yesterday outside our main entrance in Fir Road where parents refused to listen to our security guard, causing a major disruption to the flow of traffic. On days when we do not have a full extra-mural programme such as yesterday, there will be much more traffic around the school as everyone arrives to fetch their sons at the same time, so much patience is required.

The security guards placed around the school are there primarily to ensure the safety of our boys, to see them safely across the road, to ensure that cars are not obstructing visibility and so on. When he makes a request of a parent it is in the interest of our boys' safety. We teach our boys to show respect to all adults and so they always greet and thank the security guards. When parents undermine or ignore the request of the guards, they go against the values of respect and consideration for others which is an essential part of our education.

I know it is only a few parents who might do this, but please do not park in front of driveways, or in the middle of the road, or across the pedestrian crossing.

LIBRARY REVIEW
We have begun a process to review our three libraries across the school with a view to see how well we represent the school community in terms of our learning material and available literature. Do we, for example, celebrate African and South African authors sufficiently? We have brought in an independent consultant to assist in the process, but if there are any parents who have ideas or expertise in this area, you are welcome to contact me.

COVID UPDATE
We have had two boys test positive at the Prep this week.

I hope the sunshine holds for the weekend and I wish you a relaxing weekend.

Kind regards

GREG BROWN
HEADMASTER
| | |
| --- | --- |
| | DIARY Dates |
Saturday 18 September 2021
Inter-House Soccer

Please see further information under

TAKE Note

Thursday 23 September 2021

Green Day

Please see further details under TAKE Note

End of Term 3

School closes at 11h30
| | |
| --- | --- |
| | TAKE Note |
Inter-House Soccer

Dress: House t-shirt, blue shorts, long socks & takkies or boots.


Boys to pack own water bottle.


On Monday and Tuesday, parents may fetch at the venues.

Unfortunately no spectators allowed.

Please refer to the schedule HERE for match time and venues

Green Day

On Thursday 23 September we celebrate the 100th rugby test match between South Africa and New Zealand. We would like our boys to wear Springbok jerseys or green tops, hats etc. At the same time we celebrate our Bishops Rugby heritage and close ties with the Springboks, after all the Green jersey originated from Bishops.

There will be a quiz relating to the history of the Springboks and Bishops rugby.

We look forward to an exciting day celebrating our rugby heritage

Aftercare

Please note that Aftercare will close at 12h00 on the last day of term.
Bishops Community Week

Tickets are now on sale for the Bishops Community Week! Click HERE to book your tickets for the musical soirée in the Memorial Chapel, the Opening of the Art Exhibition and The Best of Bishops, a fine wine and dining experience. There's something for everyone! The week's events are in aid of the Invest in our Future Foundation. All events comply with the current lockdown level 2 regulations.
Traffic Flow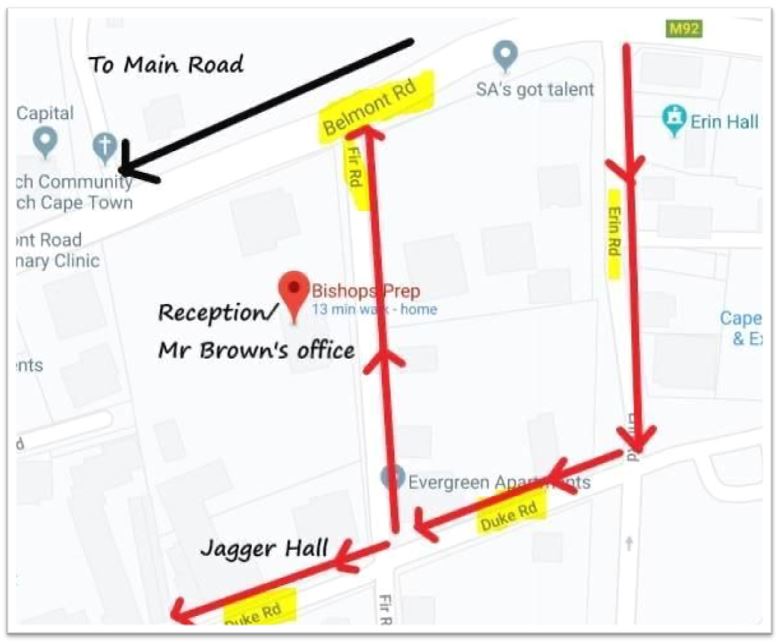 Please be reminded of the traffic flow around the Prep Campus. We need all parents to adhere to this arrangement to alleviate congestion.
Takkie Drive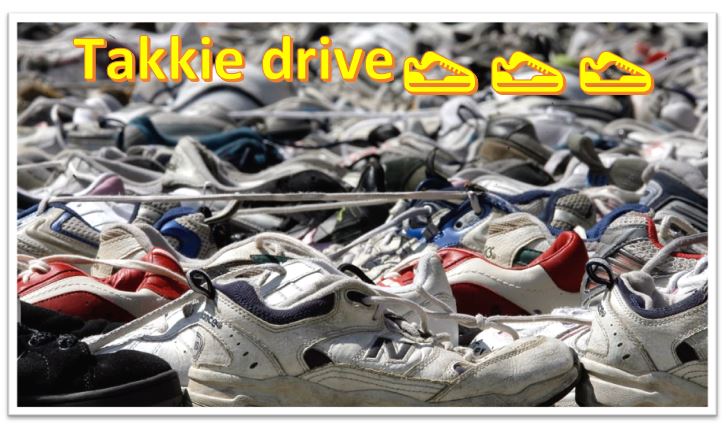 The Grade10 boys are preparing for their Epic to the Cedarberg in term 4, and as usual they have outreach programmes with 2 primary schools in the area (Elizabethfontein and Grootkloof). The boys will be doing some sporting activities with the children at these schools which is where they will hand over the takkies. Elizabethfontein and Grootkloof have both boys and girls ranging from Grade R to Grade 7, so gently worn takkies from sisters will also be appreciated.

Could you please consider donating a pair that has been outgrown? The Takkie Drive starts this Monday and will continue until the 31 October.
The class donating the most pairs will win a pizza lunch and a civvies day!
| | |
| --- | --- |
| | NEWS |
U9 Rugby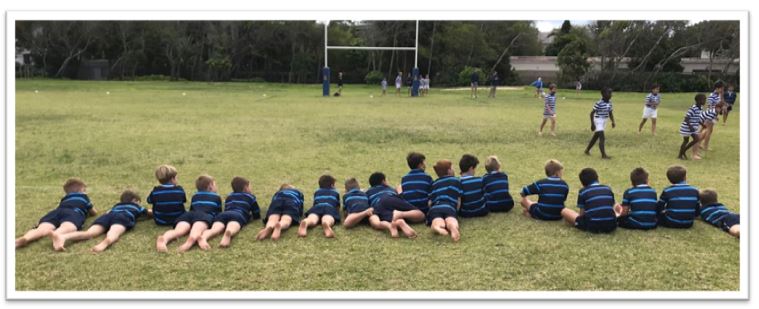 Watching rugby is also a team sport!
Hockey News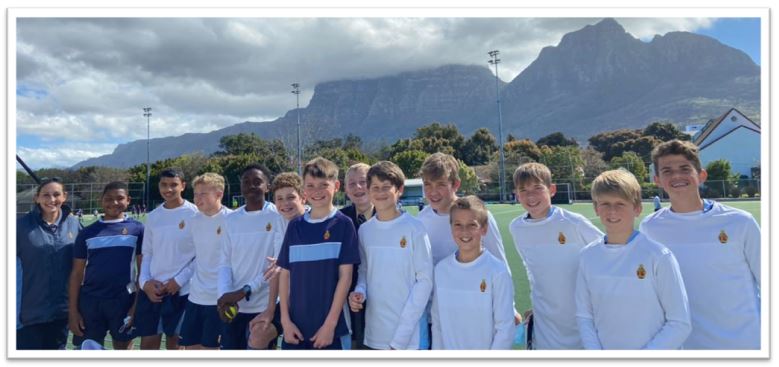 The U13A hockey side finished the season with a hard fought draw this week in their final match of the season and for the Prep. Well done to all of the boys on a great season! We hope to see them all continuing with their hockey next year.
Thank you!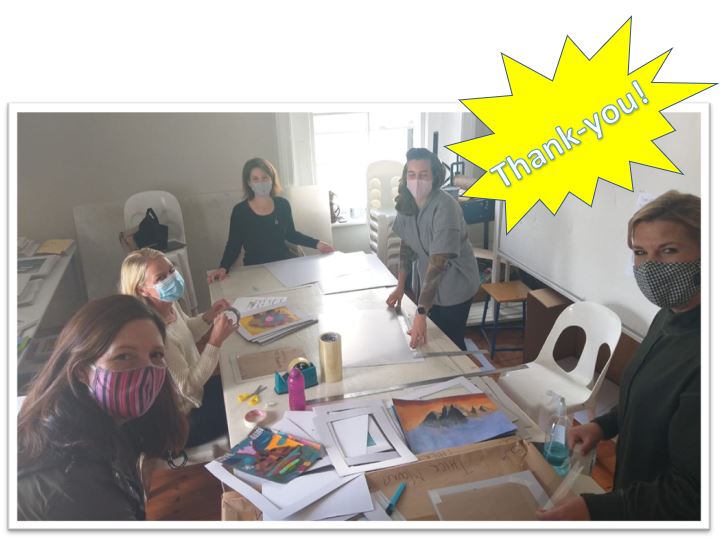 Sue Johns thanks all the Moms' who generously gave of their time to help with framing of art projects. Over a period of 4 weeks, we have framed 967 pictures that can now be appreciated by both parents and boys. Some of these artworks will be chosen for a fund-raising event organised by the OD union. These artists will receive a letter next week asking for permission to display and sell their art. There will be more information about this to follow. Before handing the art back to the boys, we also hope to display more of the art in Jagger Hall next term but will work around Covid protocols.
Thank you to the following parents who helped: Daniela Wakeford, Helene Planting, Nici Brits, Helen Harvey, Alex Bestel, Emma Townshend, Shelley Whiffler, Zanne Horrell, Victoria le Cour, Elizabeth Turnley-Jones, Carianne Freebury, Lisa Brunton, Jo Weiss, Anna Pfaff, Gretel Lampe, Tersia Velosa, Vanessa Fick, Tanya Hewat, Julie Lunn, Debbie Tanfield, Xenia Forrester, Charlotte de Waal, Natalie Ridl.
BISHOPS PREPARATORY SCHOOL
Fir Road, Rondebosch, Cape Town, 7700
Phone:+27 (21) 659 7222 | Fax: +27 (21) 659 7227