Dear Parents
June 16 marks the commemoration of National Youth Day in South Africa. This is the day the country reflects on the massacre of school children during the Soweto Uprising of 1976. Building age-appropriate conversations around this very tragic event is really important and we will be embarking on these in the days leading up to youth day. We have asked and we have listened to the needs of those institutions around us for toiletries to distribute to the youth at the schools and places of safety. The need is great and if you are in any position to assist, we would be most grateful for your contributions. We always try and involve boys as much as we possibly can but Covid has limited us immensely. We therefore ask that you too continue the conversations at home about why we are donating and where the items are being distributed to. As per my letter last week, many families are sitting with no incomes and toiletries are usually the first to be limited. We will also put a box up at the collection gate near the hall for all old school shoes/sport shoes/slippers that may now be too small, for redistribution to those who need them.
Our toiletries packs will go to: The Grade 7 group at Athwood Primary School, Beth-Uriel home for young men at risk and the footwear will be distributed to children in need.

Today all the boys got an opportunity to visit the display of hampers that are being raffled by the PA. The view is somewhat spectacular! Each boy got issued a free entry into the hamper of their choice and had the chance to pop their entry into the corresponding boxes. Thank you to the PA for this initiative and for making this process so exciting for the boys.

Kind regards



SHARLENE GROOM
HEAD: PRE-PREP
| | |
| --- | --- |
| | DIARY DATES |
Monday 07 June

Eye Screening

Notification has been sent out to those boys involved in eye screening. Please can we encourage those who have not yet responded, to do so.
Wednesday 16 June

Youth Day

In our attempt to reach out to the youth, we will be collecting deodorant, soap and face cloths. Any boys/parents/families that would like to contribute, please send items in by Friday 11 June as we would like to organise distribution by Wednesday 16th to neighbouring shelters, schools and youth homes.
| | |
| --- | --- |
| | TAKE NOTE |
Start Term 3

Please note the start of term 3 is Tuesday 20th July.
Hamper raffle
Click here for more information regarding the Pre-Prep Hamper raffle taking place. This is a PA initiative. Please remind boys not to pop tickets into the boxes if they have not written their name on it first.
Transformation update
The Focus Groups have started their engagement, both at the College and the Prep and we are excited to see what practical steps and ideas come from their work. The Transformation Committee met recently and will be communicating the progress made thus far in a separate newsletter.
The start of a new term is traditionally one where the staff have an opportunity for a professional development conference. Next term we will use the first day, Monday 19 July, as a staff conference day where we will be reporting back on progress made in the Focus Groups. Term will thus begin for the boys on Tuesday 20 July.
School times
We seem to have an increasing number of boys late for school at present. Please ensure that your son is up in time and allow for traffic. It is very disruptive to the other boys in assemblies and class when late boys are entering while everything is already in motion. The boys who are late are themselves flustered and miss the time to settle, organise and meet their friends before school. The gate at the hall will be closed at 8am and thereafter, If your son is late, he may only enter via the Sandown Road gate.
| | |
| --- | --- |
| | PRE-PREP PRAYER GROUP |
Message from our Youth Pastor
What's in a name?
This week with the Grade 1 and 2 boys we reflected on the story of Samuel.
Eli told Samuel, "Go and lie down, and if he calls you, say, 'Speak, LORD, for your servant is listening.'" — 1 Samuel 3:9.
Samuel was confused. He heard a voice and thought it was his mentor, Eli, calling for him. He kept going to Eli's room until Eli realized that the voice was God trying to get Samuel's attention. As we reflected on the story of Samuel one of the boys asked the following question. "Sir, "what is the meaning of Samuel's name".
 I found this question very interesting because names have meaning. One's name very often communicates something about the person's personality and character. I told them that the meaning of Samuel is, "heard by God". Upon hearing this the class was buzzing as the boys shared with me the meaning of their names. There were a few who did not know their meaning, and their task is to ask their mom, dad, or caregiver the meaning of their name and share with us the meaning next week.
This one, simple question sparked an interest into the lives and stories of the boys. Soon we listened as the boys unpacked stories of when they lived up to the meaning of their name. The classroom felt like a place of discovery, appreciation, and understanding as we shared the meaning, language, cultural significance, and ancestry of our names. Through this one simple act of sharing, we were connected and for that moment our humanity was celebrated. There so much learning and discovery we can take away from the boys this week as we stop, pause, and listen to the people we encounter on this life journey.
Praying God's love over you and all families. Amen.  
| | |
| --- | --- |
| | GENERAL INFO |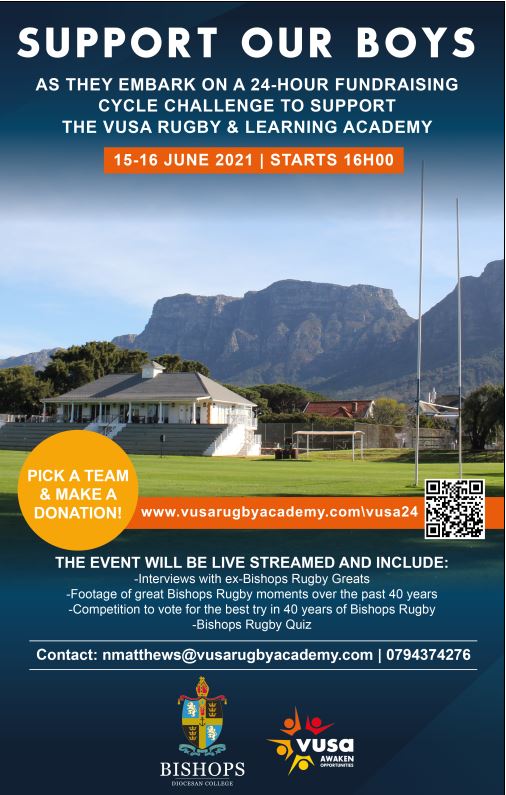 After a great start to the rugby season, the suspension of contact sports has been a huge disappointment for the boys. The 1st, 2nd. And 3rd rugby teams (as well as a few teams of staff), are thus redirecting their focus and have accepted a gruelling 24 hour, Youth Day Cycle Challenge, to raise funds for the VUSA Rugby and Learning Academy. Each boys' Team will be captained by an OD Rugby International who will offer them encouragement and support.
Bishops has a strong rugby history, and this will be celebrated via a live-streamed event which includes interviews with some of our OD Rugby Greats, 40 years of footage, competitions and even a quiz night. Please support our staff and boys as they slog it out for a really great cause. Visit the event page and click the button of the team you wish to support - https://www.vusarugbyacademy.com/vusa24.
A programme and a link to the event will be forwarded in due course.
Covid update
We continue to observe our safety protocols at school, reminding the boys what is necessary on a regular basis and making the best of the current situation. But as South Africa enters its 3rd wave of Covid, we do want to remind you of the following:
The country is seeing an increase in Covid cases and there is expected to be a dramatic increase in two to three weeks' time.
Birthday parties are not recommended, but if they do happen, they should take place outdoors with strict Covid precautions.
If you are lifting other boys, please ensure that the windows of the car are open and masks are worn.
We discourage sleepovers.
Doctors inform us that the incubation time for infections is 2-13 days with an average of 8 days.  Infections can often happen before symptoms appear.  This is a critical time and we encourage parents to be extra vigilant.
Pizza Friday
Our wonderful co-ordinator, Fenella Ebbs is looking for someone who would work alongside her for a while, with the view of taking over this very helpful role, as her son moves over to the Prep school. If you would be willing to take on this role or find out more about it, please contact bmanyela@bishops.org.za or sgroom@bishops.org.za and we can put you in touch with Fenella.
| | |
| --- | --- |
| | HIGHLIGHTS |
Grade N - Just a peep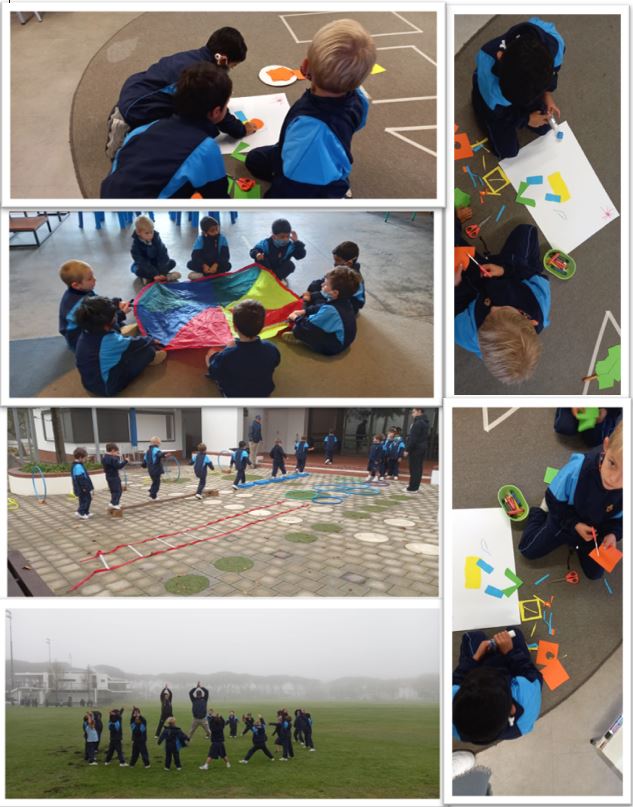 We know how hard it is not to be able to join us on campus so often. So, just a little peep at some of what we get up to!
Matric Dance Silent Auction Fund Raiser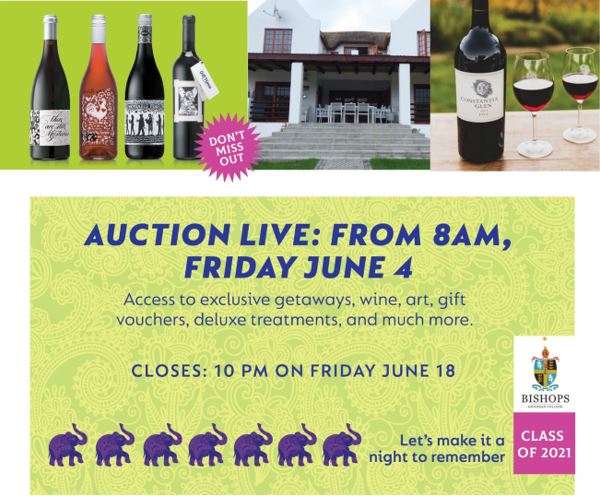 The Matrics 2021 are hosting an online auction to raise funds for their matric dance in September. Any surplus funds raised will be donated to the Bursary fund and to charity.
Registration and bidding for the online auction is open and you are able to bid from 08h00 on Friday 4 June until 22h00 on Friday 18 June when the auction closes.
Please use the link below to register.
https://bishopsmatricdance.clickauction.co.za/
BISHOPS PRE PREPARATORY SCHOOL
Campground Road, Rondebosch, Cape Town, 7700
Phone +27 21 659 1037 | Fax: +27 21 659 1922