Dear Parents
As we find our new rhythm for the year, we continue to cherish the opportunity to have all our boys back at school. The resilience and independence the boys show has absolutely astounded us all. The improvement in organizational skills, maturity, responsibility and so much more have been such a positive spin off of this epidemic. To the courageous parent body, thank you for entrusting your most precious possessions into our care. We do hope we can maintain this happy, vibrant, busy, noisy pace of learning.
We welcome Mr Matthew Grobler to our team. Matthew will be helping out daily at the Pre-Prep in the place of Mr Schubert. He will be in the drop and go area in the mornings as well, helping our little people in and out of your vehicles.
Now that we are formally allowed back on the beaches, we wish you a happy, restful weekend. To our Chinese families who are celebrating Chinese New Year, we would like to wish you much prosperity in the Year of the Ox.

Kind regards



SHARLENE GROOM
HEAD:PRE-PREP
| | |
| --- | --- |
| | DIARY DATES |
Monday 9 February

Extra mural programme starts

Afternoon activities to resume. Please click on the sport button at the top of the newsletter for the programme on offer. For any queries please contact canstey@bishops.org.za or bmanyela@bishops.org.za or your class teacher.

Friday 12 February

Valentine's Day Civvies and Picnic

All boys to wear something red/white/pink. Further details below
| | |
| --- | --- |
| | TAKE NOTE |
Drop and Go
I would really like to thank those Grade 1 and 2 parents that are using the drop and go area near our front entrance in the mornings, respectfully. It is a challenge having both Pre-Prep and College boys dropped off in one area but I have to admit that we do it far better than the College! The boys are ready to get out, bags accessible and a cheerful goodbye. Thank you to all parents who have helped to facilitate this amazing achievement. We have respectfully asked parents not to get out of their vehicles as it allows a far quicker traffic flow. I realise it is frustrating not to be allowed in before 7.30am but hopefully these levels will be revised soon and we can resume earlier drop off's.
Haircuts and uniforms
Most boys are looking super smart and ready for the day. I realise that there has been a little hiccup with certain sizes of brown sandals and library bags at the school shop and we hope that will soon be rectified. Thank you to all those who have ensured that the boys have nice neat, short haircuts.
I include an extract from Mr Reeler's newsletter last week: We are a school that wears a uniform. It gives our boys a sense of belonging and togetherness. With that uniform comes certain expectations regarding appearance. Each of our boys has a different type of hair, which is unique to him. We respect that and understand that one boy's hairstyle may look different from another's. We will, however, be insisting on a hairstyle that is conservative by nature, in line with the boy's culture and hair type, but which fits in with a school that wears a uniform proudly. We ask for your support as we will be insisting on hairstyles that are in line with our culture and uniform codes.
| | |
| --- | --- |
| | PRE-PREP PRAYER GROUP |
Message from our Youth Pastor
Courage and Confidence
Be strong, and let your heart take courage,
all you who wait for the Lord.
Ps 31: 24
So we can say with confidence,
'The Lord is my helper;
I will not be afraid.
What can anyone do to me?'
Hebrews 13:6
The word "confidence" is drawn from the same root from which we derive the word 'fidelity' (or "faith"): the idea of having full trust or reliance in someone or something, despite not being able to see everything one would like to.
This week I asked the boys if they ever feel afraid. The answers range between no, sometimes and yes.
If we honest with ourselves the uncertainty of life has caused many to feel afraid. That is why we focused on confidence and courage as our weekly theme.
Confidence is having faith in something or someone. It is a kind of trust. We understand it when we think of self-confidence: you believe in yourself, you trust that you have what it takes to handle whatever happens. Self-confidence is feeling sure of yourself. It helps you enjoy trying new things. When you are confident in others, you trust them, you can rely on them and you can confide in them. our God who has promised to be with us and has worked from the beginning of creation to have a relationship with us. We can be confident in a God who created us and loves us. We can be confident that God will always pick us up and help us start again. That in turn gives us courage to face anything life can throw at us. Life isn't always pretty or easy, and God will challenge us and grow us, but we can be confident that our God is standing beside us, cheering us on, as we live courageously and navigate through this tricky world.
| | |
| --- | --- |
| | GENERAL INFO |
Start and Finish times
From Monday we will start our extra mural programme. This will mean that some starting and finishing times will be slightly adjusted.
From Monday, Grade N boys will start with our Grade R boys at 8am. Screening from 7.30am.They will finish at 12.15pm and 12.30pm respectively.
Grade 1 boys will start and finish at the usual time of 8am - 1pm. Screening and drop off from 7.30am
Grade 2 boys will start at the usual time 8am but will finish at 1.10pm. Screening and drop off from 7.30am.


Valentines Day

Every year, valentines day presents us with an opportunity to "share the love" but this year, with school starting so late, it has been more challenging. We will still celebrate this wonderful day on Friday 12 February. Boys will spend some time making our school beautiful as it always is. I will share photographs of what it looks like in our newsletter.
Boys may wear items red/pink or white on Friday. Please pack them a picnic lunch (you may include a treat or two that they don't usually have) We will have a picnic outside but food will not be shared. Normally on civvies day, boys pay a 'fee' but this civvies day we ask for a donation of an item.
Our collection this year, will be to share the love of animals. We ask for any donations to be sent on Friday, of pet food, tins or bags. If you have any used bowls, dog beds, collars, leads or any similar items in good condition, please feel free to send those along as well. These will be distributed to an animal shelter to help those animals who are sick or abandoned. During Covid, many animals have had to be surrendered to these shelters as they can no longer afford to be kept. With valentines day being a day of love, we hope to be able to share our love by helping to feed some of these animals. Any contribution, no matter how big or small would be welcome
| | |
| --- | --- |
| | HIGHLIGHTS |
Physical Literacy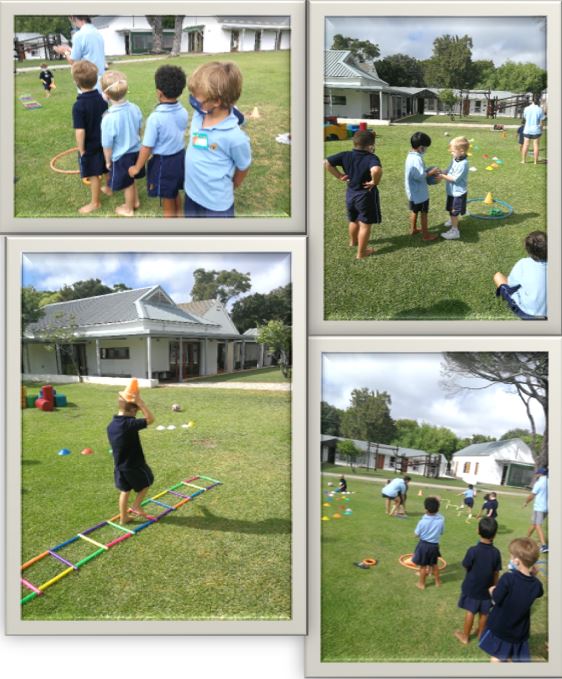 We are excited to welcome two new Biokineticist interns to work with our boys. They, together with the teacher facilitate and update our Physical Literacy programme. Above are some pics of our Grade N group who had their first experince of Physical LIteracy!
Back to school

Back to school is busy, challenging but also great fun. Investigating ants and their antics are most entertaining too! These boys miss nothing!
BISHOPS PRE PREPARATORY SCHOOL
Campground Road, Rondebosch, Cape Town, 7700
Phone +27 21 659 1037 | Fax: +27 21 659 1922