Dear Parents
As we work our way through this term and settle into the new rhythm of changing seasons and different sport programmes, we continue to grow and develop little minds and bodies to be the best that they can be. Carol Dweck put it so well: "If parents want to give their children a gift, the best thing they can do is to teach their children to love challenges, be intrigued by mistakes, enjoy effort, and keep on learning. That way, their children don't have to be slaves of praise. They will have a lifelong way to build and repair their own confidence." Let's continue to encourage children to think creatively, be problem solvers and be resilient and always challenge. In that way we are going to grow sucessful young men who can change the world but keep their feet firmly on the ground.

Apologies to those who have possibly not been receiving our emails. Please see below, a message from our IT department.

Wishing Mrs Nureen Maged, our aftercare supervisor, a very happy birthday celebration on Sunday 25th. May you all enjoy this long weekend ahead.

Kind regards



SHARLENE GROOM
HEAD: PRE-PREP
| | |
| --- | --- |
| | DIARY DATES |
26 and 27 April

School Holiday


School is closed on Monday and Tuesday 27th. Enjoy the long weekend!
| | |
| --- | --- |
| | TAKE NOTE |
Transformation Workshop
We are pleased to report that Monday's Transformation Workshop went very well, it involved all Bishops staff (more than 200) from every department across all campuses. Fifteen staff facilitators had been trained by our appointed specialist, Lele Mehlomakulu, and they facilitated the full day process in a number of different venues. The day was geared to self-reflection: acknowledging unconscious bias, opening oneself up to vulnerability, the danger of the single story. This led to the beginning of a series of conversations, some very difficult, and these conversations will continue on a number of topics around inclusion and diversity. We believe these will bring about many new understandings of each other and also where necessary, translate into direction actions, in policy change, curriculum, school programmes – essentially a school growing into an increasingly welcoming place for all.
Emails not delivered
Below you will find a brief description of mail errors.
When an email is rejected by a subscriber's email server, it's called a bounce. There are different types of bounces that depend on the reason the email bounced.
Soft bounces typically indicate a temporary delivery issue to an address. Usually due the following reasons:
Mailbox is full (over quota).

Recipient email server is down or offline.
If an email address continues to soft bounce in further email deliveries, it would go through a deferred status for a period and then the address will eventually be considered a hard bounce.
A hard bounce indicates a permanent reason an email cannot be delivered.
Common reasons this could happen:
Recipient email address does not exist.
Domain name does not exist.
Recipient email server has completely blocked delivery due to continually soft bounces.
While an email address is active on the Rejection Blacklist, emails to the address will be given a state of rejected and our bulk mail service won't try to deliver the emails. This helps prevent sending emails to an email address that is no longer valid, may be having temporary issues, or doesn't wish to receive emails from Bishops.
This issue may have been resolved, if not we would urge you to contact your service provider and request that the domain @bishops.org.za is white listed or marked as a safe sender.
| | |
| --- | --- |
| | PRE-PREP PRAYER GROUP |
Message from our Youth Pastor
Encourage one another and build each other up, just as in fact you are doing. — 1 Thessalonians 5:11
Loving others includes encouraging one another. When people accomplish a common objective together, all are encouraged. This past Sunday many of us woke up to a regular Sunday morning, only to discover that our beloved Table Mountain was burning. Social Media reports, news reports and the WhatsApp threads and groups were beeping and buzzing as information of the fire spread and dropped closer many suburban spaces. A spirit of solidarity and common good motivated many to participate, assist and stand with those affected and on the frontline.
Our text above reminds us of the importance of unity. It speaks to our humanity and the softer aspects of who we are as people. I wonder what it would be like when we do not need a fire, crisis, or urgent matter to drive us to be more human and considerate to one another. A crisis should never be the motivation for us to draw closer to others.
The invitation today, is to you and I to do something for someone else. Let us build a school, city and country that reflects all that is good and loving. Let us build each other up for the common good of humanity. For its in unity, embrace and love that we are most human.
Let us pray, Loving God, you invite us to be your hands. Let us be available, in reach and willing to embrace those who need it most today. Amen
| | |
| --- | --- |
| | GENERAL INFO |
VUSA
After what has been a catastrophic year for many children in the Langa community, it is wonderful to see the delight on children's faces as VUSA's sport and academic programmes resume. Yesterday saw the launch of the mobile library programme which will support three registered ECD centre's in Langa. For more on this and other news, please see HERE. (https://mailchi.mp/7b3cfd2d8b6f/andwereoff)
| | |
| --- | --- |
| | HIGHLIGHTS |
Early morning Cross Country and Tag rugby

While trying to work within the boundaries of Covid, we are having some early morning cross country runs! This starts around 7.40am and Grade 1 and 2 boys are allowed to join on respective days. Each round earns the boys an arm band and they are added up at the end of the morning. Needless to say, the challenge is on to see which class collects the most bands! Tag rugby and hockey got started this week, much to the delight of the boys. We hope to be able to post some more pics next week.
GR 2 Cultural Day

The Grade 2's enjoyed a Cultural Games Day on Tuesday to kick off their Life Skills theme 'South Africa, Our Rainbow Nation'. They played all sorts of fun games that have been experienced over generations in South Africa. Thank you to the Lead 4 Life team that facilitated this great day.
Piggy Bank Market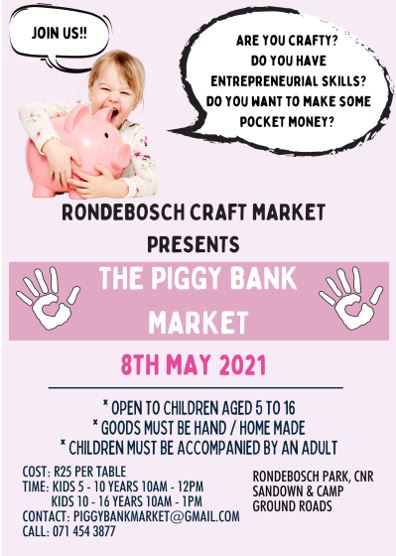 The boys are invited to participate in The Piggy Bank Market, which is held monthly, at the Rondebosch Park Craft Market. May 8th will be the second market, in a long while, that will be hosted. Kids between the ages of 5 and 16 are invited to bring along their home made / home crafted goodies, along with a parent, and join in the festivities of the day by becoming a vendor with their wares.
BISHOPS PRE PREPARATORY SCHOOL
Campground Road, Rondebosch, Cape Town, 7700
Phone +27 21 659 1037 | Fax: +27 21 659 1922