Dear Parents

As we near the need to turn the page in our planners to a brand new month, we have taken a little time to reflect on all that we have achieved, being back to school for the past 5 weeks.
The boys in our care have achieved so much in such a little time. From coming in to their classrooms independently, to packing and unpacking their belongings, looking after their possessions, dressing and undressing, remembering so much, learning to walk in a line, being considerate and caring towards their peers, working hard, learning to read and write, playing games, eating and managing our lunch boxes, pizza Fridays and the best of all, having friends around every single day! They have learnt to show care and compassion by donating food and goodies to the animal shelter, they have learnt how important it is to greet others, be patient and kind. Some have become a year older, lost a tooth or two and tried to come to terms with the restrictions that Covid have imposed on us. All of this in 5 weeks, is a remarkable achievement. An enormous thank you to our incredible staff who have been mindful of how much was lost last year, but also moved forward in creative, fun and enthusiastic ways.
We continue our conversations about manners, greeting, dress, behaviour and friendships. Please be encouraged to continue these conversations at home.
You may have heard your boys talking about the fire drill we had yesterday. Please rest assured that these types of drills are necessary and important to stop any kind of panic, should this ever occur. Kindly reassure the boys that it is normal to do these kinds of practise runs, so that we can stay safe and well prepared.
An enormous thanks to those 3 parents who have responded to our appeal for help with morning screening. Your assistance is greatly appreciated during this time. Should anyone else be willing to help us, please email bmanyela@bishops.org.za to find a slot that suits you.
Happy weekend to you all!

Kind regards



SHARLENE GROOM
HEAD: PRE-PREP
| | |
| --- | --- |
| | DIARY DATES |
Tuesday, 02 March
Gr 2 Butterfly World Outing

The Grade 2 boys are heading off to their first outing this year. We look forward to lots of exciting news on their return!
| | |
| --- | --- |
| | TAKE NOTE |
Hats

A gentle reminder that hats are worn outside in winter and summer. The sun and the glare is still quite strong and we really endeavour to protect the boys as much as possible.
Covid communication
Since the return to school last year we have had one positive diagnoses at the Pre-Prep. Fortunately, we have no evidence of any "at school" transmissions. We have been asked to explain the procedure we follow in the event that we are informed of a positive diagnosis at the school. Immediately, at the Pre-Prep, we gather information from the boy and family (contacts, mask wearing, rooms, ventilation, etc). This information is then discussed with our school doctor, Dr Steve Cornell, who is in regular contact with other doctors and specialists on Covid, and he advises on the course of action. Families of close contacts are then telephoned and informed. Depending on the circumstances, close contacts may have to stay home and quarantine for the regulated period. The room/s is/are disinfected. Except in exceptional circumstances, a whole class or grade is not informed, nor are contacts of a contact or potential contact informed. Please be assured that this process is very carefully managed and has been thoroughly researched and thought through. We continue to place great emphasis on the preventative measures that are carefully supervised and monitored.
| | |
| --- | --- |
| | PRE-PREP PRAYER GROUP |
Message from Our Youth Pastor
The Lord be with you,
As we reach the halfway mark of our first term. We thank God for all the wonderful opportunities that has shaped us. For many it may have been a first-time experience at Pre-Prep and for others the start of a new grade with meeting new teachers and making new friends. In all thing we give God thanks!
A Prayer of Thanksgiving
We thank you God for the many blessings we experienced this term. Thank you for granting us the opportunity to learn, play and make new friends. May you bless our teachers, children and parents. Thank you for being with us in all our joys and sorrows, for your comfort in our sadness, your companionship in our loneliness. Thank you for yesterday, today, tomorrow and for the whole of our lives. May we live this and everyday conscious of all that has been given to us that we in turn may support and build up others. Amen.
| | |
| --- | --- |
| | GENERAL INFO |
Early care

As you have been informed, our early care will commence from Monday. Boys need to be dropped at the top gate near the hall, between 7 and 7.30am. From 7.30am our normal routine resumes, where Gr N and R boys enter via the top gate and Grade 1 and 2 boys use the drop and go area down near the waterpolo pool. At 7.30 am, those boys who are being supervised in early care will be taken down to their respective classrooms to meet their groups.
What did you do today?
If you ask your child "what did you do today?", don't be surprised if they have nothing to say
The question's so big, where should they begin? It's hard to remember everything!
Better to say "nothing", that's easy to say, it really was a busy and complicated day.
For better information, it's best to say, "Did you hear a story or paint or do a puzzle today"? Then help them remember what it was about, and before you kow it, more things will pour out.
So ask for specifics about things we do, it will be much easier for your child to tell you.
| | |
| --- | --- |
| | HIGHLIGHTS |
Life beyond the gates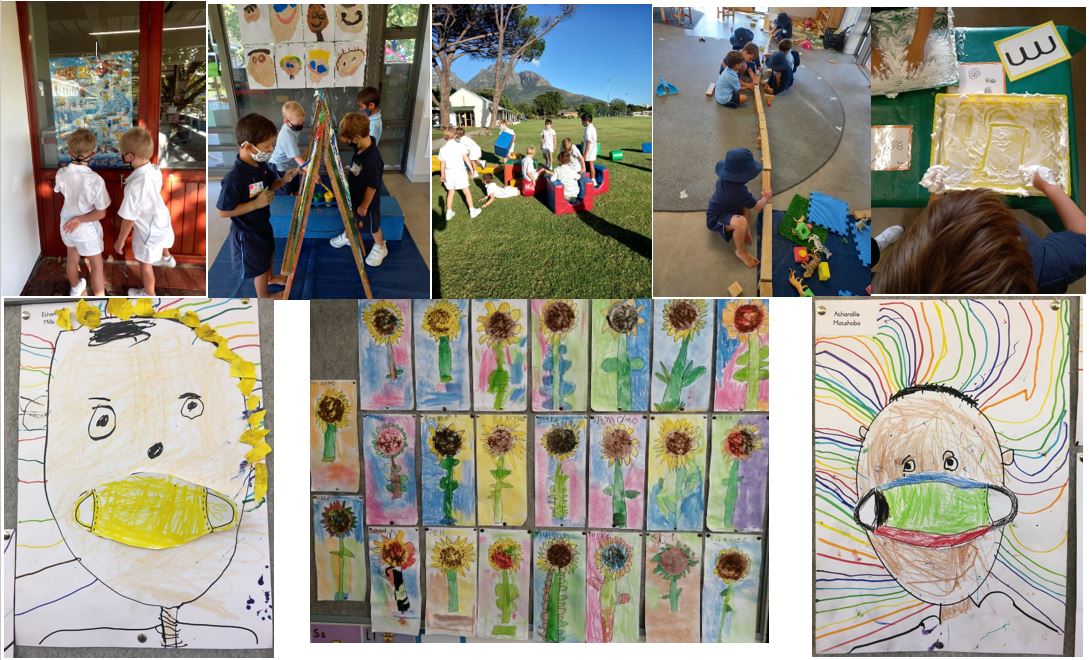 Its been hard keeping parents out on Fridays when they usually pop in to see what we have been up to. Hopefully soon we will be able to have you all visit our classrooms again! In the meantime, we will try and fill the gaps...
BISHOPS PRE PREPARATORY SCHOOL
Campground Road, Rondebosch, Cape Town, 7700
Phone +27 21 659 1037 | Fax: +27 21 659 1922