Dear Parents

I cannot let this opportunity pass, without giving the biggest thanks to our amazing, hard working parents, who made a huge contribution to the success of our Carnival. Your tireless work and enthusiasm are greatly appreciated and contributed to the wonderful evening that we were all able to enjoy. We will send updates of the funds raised as soon as we have been notified.

It seems strange that we are approaching the final week of Term 1 already! We seem to have packed so much into these few weeks but leave with a sense of achievement and looking back, admiration for all that has been covered.
Many boys have learnt to read and write, others have mastered skills that were challenging for them before, some have grown immensely in responsibility and learnt to foster new friendships, to be mindful of others and even to express their own opinion. Any little development, no matter how small, needs to be celebrated as they all form part of this journey of education.
As we move into the Winter terms, please be aware of the changes in sport and uniforms. We will allow boys to continue wearing summer uniforms at the start of next term, until further notice. However, because sport changes, we ask that you please consult the Term 2 and 3 Extra Mural Calendar on our website to familiarise yourself with what is on offer. We will be sending out sport sign up documents next week for you to make the relevant selections. Please ensure that your son has a hat at school as boys still wear hats at break time throughout the Winter months.

Kind regards



SHARLENE GROOM
HEADMISTRESS
| | |
| --- | --- |
| | DIARY DATES |
14 March 2019

Grade 2 Mini Argus Cycle Tour

Venue: Bishops Pre-Prep
Dress: Civvies/Cycling gear and a safety helmet
Bring: Your bicycle or scooter if you are not a bicycle fan!


No other types of wheels allowed please. No electric scooters or bicycles.
This is an event for the Grade 2 boys only. It will take place during the school day. Parents are not required to be there. The event will not be a race, but rather we will take a fun bike ride through the school. There will be teachers riding with them. Boys are to wear civvies or cycling gear for this fun occasion.
Please mark their bicycle or scooter and helmet clearly.
We are very excited about this FUN event!!!


15 March 2019
Term 1 Ends

School closes at 09:30 after final assembly. Please remember that Aftercare will only run until 11:00 on that day.
2 April 2019

Term 2 Begins




All Grade 1 and 2 boys wear khaki uniforms on the first and last day of each term. Sport will only commence in the second week of the new term.
| | |
| --- | --- |
| | TAKE NOTE |
Election Day

8 May has been declared Election Day. This will also be a School Holiday.
Sports Kit
Please note the kit required should your son sign up for the following Winter sports: all items are available at the school shop.
Hockey: Whites, long Bishops hockey socks, white takkies, shin guards, mouth guard and hockey stick.
Tag Rugby: White shorts, tag t-shirt (parents will be notified next week what colour shirt to purchase).
Cross Country: Whites

If boys do not have the correct kit, they will accompany the group, but watch the practice.
School Shop
The School Shop will remain open during the school holidays.
Hours are as follows:
07:30 - 16:30 - Monday to Thursday
07:30 - 16:00 - Friday
08:00 - 12:00 - Saturday
Holiday Clubs

There are two Holiday Clubs running during the school holidays. Mrs Nolte is managing the Club from 18-21 March and Mrs Rheeder's Club will run from 25-29 March. Please see the respective flyers attached to this Newsletter for further information.
In addition to the Holiday Clubs for children, Anande Uys, our resident OT, will be hosting a very innovative workshop for Child Minders and Au Pairs, to run concurrently with the 18-21 March Holiday Club. Please see the attached flyer for more information.
| | |
| --- | --- |
| | PRE-PREP PRAYER GROUP |
Prayer Groups

The Men's Prayer Group will meet on Tuesday at the Woodlands from 06:50 and the Parents' Prayer Group will follow from 07:30.
Should you have any questions, please feel free to contact our Youth Pastor, Justin Woolls, jwoolls@bishops.org.za.
| | |
| --- | --- |
| | GENERAL INFO |
Winter uniforms
As mentioned, our boys start wearing Winter uniforms during the course of next term. This would require a slight change and these are noted below:
Grade N and R: In addition to the shorts and golf shirt, a Bishops Tracksuit (top and pants need to be worn together), a sleeveless or long-sleeved navy Bishops jersey, plain white socks and takkies may be worn. A rain jacket is an optional extra but needs to be taken off once the boys are at school.
Grade 1 and 2: Long sleeved khaki shirt that buttons at the neck (yes, we do require the top button to be fastened), Bishops tie, long grey socks and black lace up school shoes. Short or long-sleeved navy-blue Bishops jersey and a rain jacket is optional, but this needs to be removed when the boys get to school. A track suit (top and pants) may be worn over the uniform on cold days but please note that the top or pants may not be worn separately.
Boys do not go to swimming during the morning in Winter so there will be an added day of Gross motor skills which require boys to wear whites to school. This will be communicated to you via your class teachers.
Please ask your son's teacher should you have any further queries. Kindly ensure that boys return to school with a neat, short haircut. No fashion styles or hair gel is permitted.

| | |
| --- | --- |
| | HIGHLIGHTS |
Ash Wednesday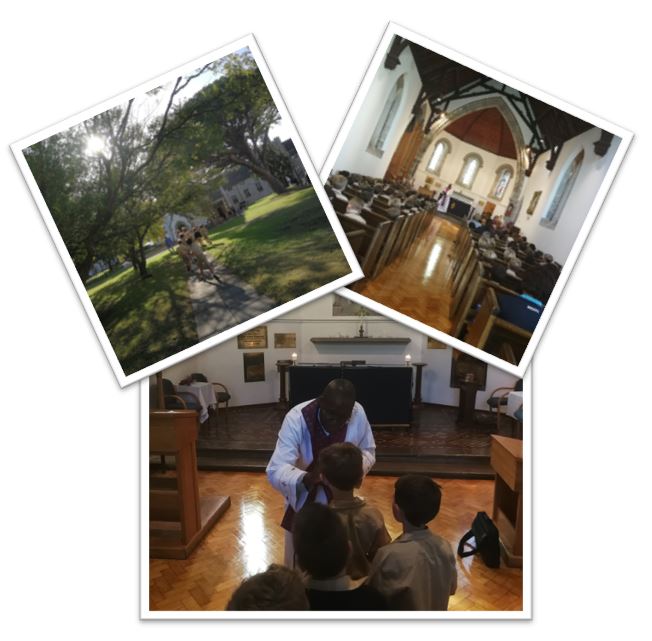 The Grade 1 and 2 boys attended a wonderful Ash Wednesday service in the Brooke Chapel and heard a lovely message about the meaning of Ash Wednesday. Fr Monwabisi blessed those who chose to have an ash cross on their forehead.
Knitting Initiative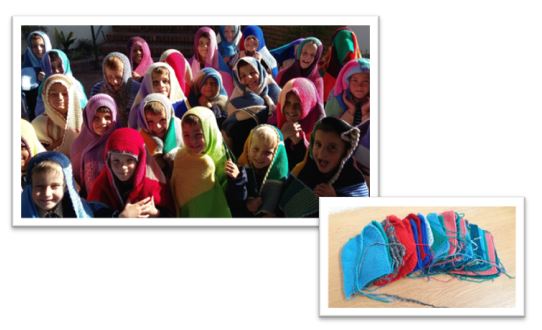 As we head into the Winter months, we are reminded of all those that have so little. We would like to continue our fantastic knitting initiative, knitting squares to make blankets for various recipients from newborn babies, to knee rugs for the elderly to blankets during sleep time for rural childcare centres. If you would like to be part of this amazing cause, please join us by knitting squares or if you are unable to knit, perhaps you could sew some squares together to create a blanket. We use size 4 knitting needles and double knit wool, cast on 30 stitches and knit until you form a square, then cast off. Completed squares can be handed in at the office to be sewn into blankets. The shops are filling up with pretty balls of wool so please feel free to keep those hands busy and by doing so, keep someone warm from the bitter cold.
BISHOPS PRE PREPARATORY SCHOOL
Campground Road, Rondebosch, Cape Town, 7700
Phone +27 21 659 1037 | Fax: +27 21 659 1922