Dear Parents and Guardians
Our Grade 12 boys leave us officially today with their Prize-Giving and Valedictory service signifying the end of the chapter in their lives of formal schooling. While they still have their final examinations ahead of them, we thank them for all they have done in their time at Bishops and wish them all the very best for their future. We hope their examinations run smoothly and that they are able to attain the very best result they can achieve.
My thanks go to the Grade 12 parents and guardians for their support of their son and the school in this time and in the last two years in particular as we have managed the pandemic as best we can as a school and in our homes. This has not been easy for our boys, their families and the school yet we have done our best, and I thank you all for what you have done. This year we were able to have some activities such as winter sports and sports tours and festivals, the Eisteddfod (albeit online), the Bishops Community Week, our Confirmation Service, Assemblies, Chapel and a number of other activities that brought our community together once again and I thank all those who made this possible.
It was wonderful to be able to meet people in person as we engaged in these activities, particularly the events of the Bishops Community Week in support of the Invest In Our Future Foundation, an OD initiative that supports deserving boys in their endeavours after school. We are delighted to note that Deputy Head Boy, Nassar de Kock, has been awarded the first of these scholarships and we wish him well for his studies in actuarial sciences next year at UCT.    
Covid-19
While infections continue to decrease, our priority right now is to keep our Grade 12s safe and Covid-free as they write their final exams. If a boy tests positive, he will, in all likelihood, be required to miss an exam which he can only take again in June next year, resulting in a loss of a year. All other exams, Grades 8 -11, are internally written and we can manage these as always, allowing for illness in the normal course of events but with an external exam, we have very little control. Please hold our Matric boys in your thoughts at this time for a safe and successful exam period.   
With new regulations being promulgated this week regarding the attendance of spectators at professional and non-professional sport, it appears as if we might be permitted to have up to 750 spectators or half the capacity of the venue indoors and up to 2000 spectators outdoors, provided social distancing and all other Covid protocols are maintained. This is wonderful news for parents in particular as you will now be able to watch your son and his friends play sport. We are still awaiting confirmation of this from the Department of Basic Education but we hope to be able to welcome you back with open arms and ask that you please respect any arrangements there are in place for spacing and sanitizing and that masks are worn at all times.
Transformation
We have received feedback from parents and boys on the proposed Diversity and Transformation Policy and will be discussing these ideas in the Transformation Committee next week along with a proposed Anti-Racism Statement.
The audit of the three libraries in the school has begun and looks like it will be a very valuable exercise as we try to make our libraries resources where all boys feel at home and which celebrate the works of South African and African authors as well as international authors.
Academic News
The annual Matric Prize-Giving was held today and we congratulate all those who were recognized for their achievements. The list of prize-winners is attached.
School News
On Sunday, we welcomed the Visitor to the school, Archbishop Thabo Makgoba, as we celebrated a rite of passage in the spiritual journeys of our boys and a number of girls from the other Anglican schools in the Service of Confirmation. This was a very special event and Father Monwabisi Peter is to be thanked for making it happen this year. 
At Prize-Giving, we also acknowledged the role our school leadership team played and we commend Jonathan Roche and his team, Nassar de Kock, Liam Harrison and SRF Chair Isaiah Sonn-Pather, for their efforts in difficult times. Their contributions were significant and highly valued and we wish them well for the future.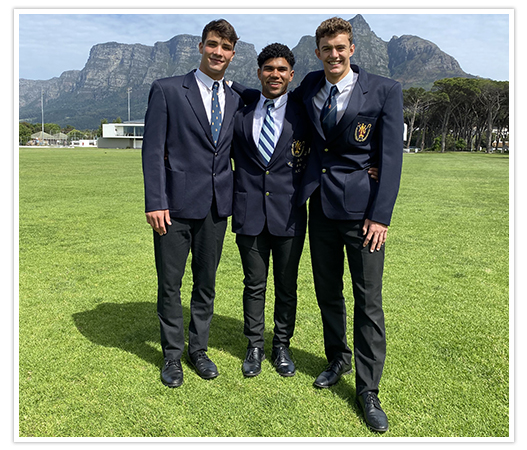 We congratulate these boys on their appointment and wish them all the very best as they lead their Houses through the upcoming year.
In particular we wish Suhayl, Robbie and Daniel well as they lead the College. Well done and good luck!
Head Boy:   
Suhayl Khalfey
Deputy Head Boys:         
Robbie Dicey and Daniel Neuhoff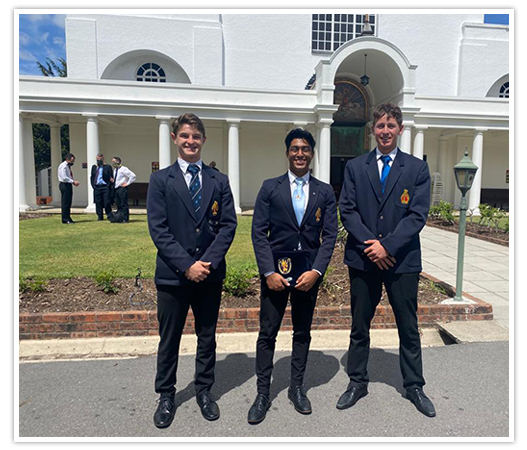 Heads of Houses:
Founders
Robbie Dicey
School
Ross Martin
White
Shariq Davids
Gray
Storm Lanfear
Ogilvie
Rob Kotze
Kidd
Daniel Neuhoff
Birt
Chris Hodgson
Mallett
Jonty Couves
Deputy Heads of Houses:
Founders
Connor Todd
School
Kyran Spotswood
White
Joshua Smith
Gray
Ben Reid
Ogilvie
Tim van Heerden
Kidd
Liam Petersen
Birt
Brett Horn
Mallett
Michael Richardson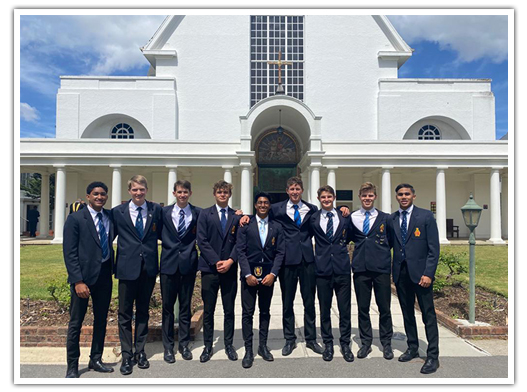 Staff News
We also welcome new support staff or staff who have been internally promoted and I share their personal introductions to our community below:
Carryn Boden - Nursing Sister
It is a privilege and joy to introduce myself to the Bishops community.
I was born in Pietermaritzburg, did my nursing training at Greys Hospital and commenced my nursing career in Johannesburg. I have had the opportunity to work in various fields in nursing and have had many years of leadership and management intertwined.  I am a dynamic and driven woman who loves spending quality time with all my stakeholders.
I have three loving and supportive sons at university- (one at UCT, one at Stellenbosch and one at Vega) and three dogs who complete me. Zeus and Athena, my Staffies and Grace (who is far from graceful) my little Scotty. I am passionate about my family and my career have learnt how to weave them to ensure success in both spheres.
I believe that my expertise lies in developing deep and real relationships and I understand the importance of effective and prompt communication. My passion is for people and their wellness - their physical, emotional, mental, and spiritual wellness. I believe that through my personal life experience and adversity, I can care with compassion for each individual as required. I enjoy both leading and participating as a team player. I have a wealth of knowledge and experience that lends itself well for this Bishop's School Nurse position.
Nicole Lewis - BSU Administrator
Born in Cape Town and the oldest of three siblings.  I attended E.C. Primary and completed high school at Grassy Park High.  After matriculating and not having the privilege to further my education, I started working in January 1992 as a Junior Secretary amassing different skill sets personally and professionally along the way by completing workshops and short courses.  I had the pleasure of working at three educational institutions, namely, Yeshua Christian School, Norman Henshilwood and Springfield Convent where I thrived and enjoyed the interaction with colleagues, learners and the culture and uniqueness each school had to offer.
Working with children definitely keeps you young at heart.  I have been married to my husband and best friend, Clayton for 24 years and we have two lovely daughters, Shannon and Jessica whom we are very proud of.  Marriage and parenting are not easy, it's a full-time job and requires team effort, consistency, honesty, accountability, commitment, patience and discipline but well worth the effort.  Besides spending time with my family and friends, I enjoy coffee dates, baking, walking, watching movies, glitter art and reading.  I believe in keeping things simple in life and I am often drawn to these quotes:
Unknown – "The best things in life are not things."
Mahatma Gandhi – "Be the change you wish to see in the world."
Nthabiseng Thloloane - Part-time Debtors Administrator
I am the first born of 4 siblings - 3 girls and one boy.   I was born and grew up in the Free State and matriculated in Cape Town at Fezeka High School.
After matriculating and not having funds to study further I worked as a waitress before joining Business school of Netherlands as a Logistics Administrator in 2002, which was such a blessing as they groomed me to be who I am today. In 2005 I moved to Lodge Staff and Habari Media as an Administrator. Whilst there I completed my Financial Accounting, Bookkeeping and Pastel certificates. In 2009 I moved to The Pearson Group International Institution (previously known as CTI Education Group) as a debt collector. I worked myself up from being a Debt Collector to a Credit Control Supervisor managing the Claremont, Durbanville and Midland Campus. I then moved to Transaction Capital Business Solutions in 2017 and retrenched last year due to covid.  
I am a senior credit controller who has been in the industry for more than 12 years, enjoying dealing and interacting with people or clients.
My previous working experience has taught me a lot on how to be a professional in my working environment; how to deal with students, sponsors, parents on a personal level and how to adapt in a fast-paced corporate environment dealing with various industries big and medium size.
I am fit, healthy and try to work out 3-4 days a week, hike every second weekend, and in my spare time enjoy connecting with friends for dinner and lunch.  My passion is pursuing my hobby in the fashion industry.  Most importantly, I am Christian, and I love God.
"As long as you don't quit you can never fail".
Rashied Goliath - Cleaning Supervisor 2022
I was born in District Six Cape Town and completed my schooling at Alexander Sinton Senior Secondary School in Crawford. I have been married for 36 years and we are blessed with 2 children, a daughter now aged 34 and a son of 28. My support and encouragement come from my wife and children.
Before coming to Bishops, I worked in the furniture industry as a factory/manufacturing manager for top Cape Town manufacturing concerns.
I have been employed at Bishops since 2014 and employed permanently for the past 5 years. With my exciting new position comes the responsibility of new challenges and I strive to achieve the goals I have set for myself and to work in harmony with the team.
My mentor, my late dad used to say, "Failure is a good thing" and I would reply "why?", and he always smiled and said "What did you learn?" So, I hope to learn a lot in my new role and strive to take it to the next business level.
Sonya Hamdulay - Assistant Cleaning Supervisor 2022
I have been married for 28 years and have three children, two boys, a girl and a proud grandmother of four.  I enjoy interacting with people, am involved in community youth structures and passionate about reaching out to others.
I have worked at Bishops for 12 years and love the environment; it is family oriented and there is always room to grow my persona and educationally. I like to set goals for myself and those around me.
The cleaning department is the right place for me, where I feel that what I do matters and I am important.
The Music Department is my joy and I like the interaction with boys and staff. The Eisteddfod is my "baby" and I nurture this project with Mr Mitchell.  I love cheering for the boys on the sports fields and my relationships with the grounds/maintenance /boarding houses are something I treasure.
I am eager to learn and always enthusiastic to unpack challenges. Education is my master key to success.
My mentors at Bishops are the late Caroline Pekeur and my current supervisor Carol Witbooi and am grateful for everything they have taught me over the years.
I look forward to the challenges that will come with my new position as Assistant Cleaning Supervisor.
Final Thoughts
As the schooling cycle continues and we bid farewell to a group of boys, we will welcome a new group into the College community next year. With a greater understanding of the challenges facing us regarding Covid, we hope to be able to provide more and more for our boys and parents and we will be looking to the existing College community of staff, boys and parents to lead the way in shaping the future of our school.
There is a strong desire amongst our Grade 11 group, next year's Matrics, to build a more inclusive environment that allows for greater mass participation in events such as Eisteddfod and supporting sports fixtures as a whole school. Let us hope for the best!
Thank you for your support.
Kind regards
Antony Reeler
Principal