Dear College Parents
"The secret of change is to focus all your energy, not on fighting the old, but building the new". Socrates
It is a pleasure to welcome you all to the start of the 2018 academic year. We look forward with great expectation to a wonderful year for Bishops. The year has started well with the news of the excellent performance of the Matric Class of 2017 in the final matric exams. I have already communicated the results to parents in a circular mail, suffice to say that they were superb. At the WCED Awards Ceremony, our Dux Christopher Aubin was awarded a certificate for being the top English student in the Western Cape - a fantastic achievement! In addition, Christopher Aubin, Kwanghen Ko and Felix Burt were awarded Certificates of Merit for coming in the top 20 in the Western Cape, very well done indeed!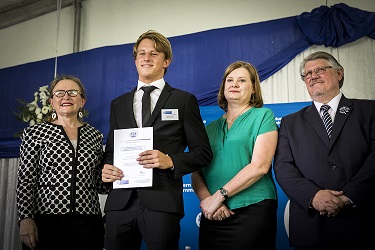 On Wednesday we welcomed 156 new boys to Grade 8, six to Grade 10, three to Grade 11 and one to Grade 12; a total of 166 new boys. In addition we welcome four exchange students Mathieu Dullaert - Rijnlands Lyceium Wassenaar (Netherlands); Douwe Vis - Rijnlands Lyceium Wassenaar (Netherlands); Mika Wehrli - Schweiz Alpine Mittelschule, Switzerland; Nicolas Letelier (Orchards College, Chile).
It was good to welcome Richard Smith back to Bishops. As you know, Richard was seriously injured in an armed robbery in June last year. Richard has shown tremendous fighting spirit and determination and has been an inspiration to all of us.
We welcome the following new staff:
Academic – Ms Nadia Snyman (Afrikaans); Mr Marvin Bester (Life Sciences); Mr Chris Ekron (Life Orientation)
Interns – Ninga Mohlabe (Maths); Thandeka Tshabalala (Maths); Gavin Maasch (qualified English teacher)
Stooges – Kyle Bowman (Founders); Edward Bester (School); Aphiwe Qaba (School); Lihleli Xoli (School); Matthew Shone (White); Lwandile Msutu (White)
Sick leave replacement – Mrs Wendy Moult for Mrs Cheryl Douglas
Long leave replacement – Ms Renate Röhrs for Mr Gibbon (from 1st Feb)
Promotions – Mr Ronald Jacobs: House Director, Ogilvie; Mr Ruan Ellis: Assistant House Director, Birt
Admin changes – Mrs Verna Leverzencie (BSU Administrator and Learner Support); Alex Riley (ICT Support Technician)
In addition, it has been wonderful to welcome the Revd Bob Commin as our intern Chaplain. Bob was a Chaplain at Bishops from 1975-1980 so he has come back full circle. Bob understands boys very well and has already made a positive connection in his first few messages to them.
We congratulate Mrs Bradley and Mr Bester who were married during the holidays. Mrs Bradley is now Mrs Gardner.
Drought
The Western Cape continues to be in the grip of a severe drought with Level B water restrictions in place from 1 February and 'day zero' is now predicted for mid-April. We will continue to allow the boys to wear the 'drought uniform' to school in order to reduce washing of clothes. The day boy uniform will be:
boys are allowed to wear official sports clothes to school on the days that they have sport;

blazers must be worn to Chapel;

only collared shirts may be worn;

navy or white sports shorts

;

school track suit; and

closed shoes/trainers.
Bishops is fully committed to managing water and a number of municipal water reduction measures are being implemented throughout all campuses. Please note that sport remains a fundamental part of our education process for boys and is integral to our offering at Bishops and for both educational and safety reasons we will continue to water pitches, fields and hockey astro and fill our swimming pools with borehole water. This will happen in the evenings and early mornings when there is less evaporation and every effort will be made not to over use borehole water. Ornamental gardens will be manually managed after 6pm in the evenings on a rotational basis.
We are currently assessing which toilets on campus are in key locations (boarding houses, specific classroom precincts and selected sports venues) and their water source will be changed from municipal water to borehole.
We encourage all boys to be very frugal with their water consumption and we will get through this crisis together.
For the information of new parents, this newsletter is published fortnightly and includes information which will keep you informed and connected to the school. It will include assembly notices which highlight the fantastic achievements of our boys and any other special notices for your attention. Today we celebrate two fantastic achievements by David Naude in rock climbing and bouldering; and Michael Houle in swimming. Please also follow us on Facebook and our website. Photos from today's assembly can be viewed here.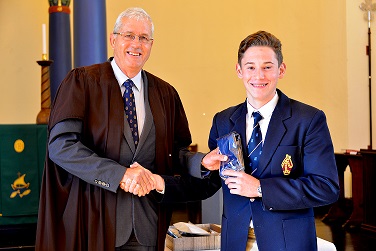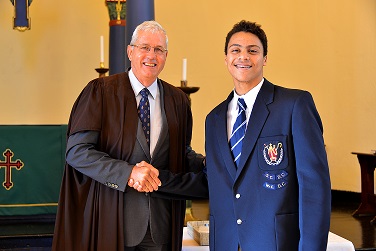 Please see the note from the Bishops Trust about a breakfast where we will be privileged to listen to Dr Michael Mol; his topic, "Healthy Living". Please support this event, proceeds will go to bursaries for disadvantaged pupils.
Have a wonderful weekend.
Yours sincerely
Guy Pearson
PRINCIPAL