FROM THE PRINCIPAL - 23 APRIL 2021
Dear Parents/Guardians
The second term has begun well, and we welcomed all our boys back to a term many of them had been longing for – a return to winter sport! We are delighted that we can play contact sports again and are cautiously optimistic that we will be able to have a number of fixtures for our boys. As you saw in my recent letter, we are not permitted to allow spectators. This is part of the regulations covering a return to play and we ask that parents respect this and comply with the ruling – for the sake of our boys. We will be streaming as many games as we can, of different teams and sporting codes, to allow parents to watch their sons play and we hope that we will be allowed to continue to have fixtures in these strange times.
Our Covid records continue to show that cases are low, and we are ever hopeful that with an impending vaccination programme, which we fully support, we are able to finally be rid of a pandemic that has affected us all so much.
The recent fires and the devasting impact on human beings has been a lesson to us all on the frailty of life and property. We will continue to try to support those who have lost so much or who have worked so hard to help. As is always the case in a tragedy close to home, we have had opportunity for introspection and analysis of our own fire safety and other risk items and will continue to do so as we strive to create an environment that is safe for our boys and staff and that protects our heritage, our buildings and our history.
Staff News
We welcomed two new permanent staff this term, Ms Rebecca Goble in Life Sciences and Mr Sam Mofokeng in the History department. We are delighted to have them on our staff and wish them well for their time at Bishops. Ms Keren Setten joins us this term as a temporary junior Art teacher and Mr Peter Hyslop comes out of retirement to help with the Accelerated Art programme.
The staff of all three campuses, had a day of diversity, transformation, equity and belonging training. This was a unique event where over 220 staff from all areas of the school came together to listen to each other's stories, discuss challenges and important issues and think deeply about their shared personal stories and how we can grow as a school. It was such an important day for us and I thank all those who made it happen. Further transformation news will follow shortly in a separate communication. 
Plagiarism
We have had a number of incidents of plagiarism recently that have resulted in disciplinary action and some unpleasant consequences. Our boys need to understand the serious nature of plagiarism, copying or cheating and that while at school the consequences are not life-affecting, they can be in university or in the world of work. We ask that parents discuss this with their sons and stress on them the importance of original work or at least the acknowledgement of others' efforts in the work they produce as their own. 
Ramadaan
Our thoughts are with our Muslim community as they observe the holy month of Ramadaan. May this be a time of spiritual awakening and upliftment within families and communities.
Kind regards
Tony Reeler
Principal
Freedom Day
On 27 April 1994, all South Africans 18 years or older, gathered at voting stations around the country to vote, for the first time in our history, as common citizens with equal rights. This was truly a special moment in our country's history and, while none of our current school children were alive in 1994, many of their teachers and parents were and indeed those in their late 40s would have voted themselves in this historic event.
We celebrate Freedom Day for two main reasons: firstly, to acknowledge the efforts of those, black and white, male and female, old and young, who fought against oppression and who helped set South Africa free.
But it is also a day where we look at where we are now, what we have achieved and where we need to go. It is a day where we celebrate our difference and acknowledge that difference can actually be a strength. It is a day where we should be proud of who we are – South Africans together no matter what our race, language, belief or culture. It is a day for us to unite in a common purpose of a better life for all our people.
As we celebrate freedom in terms of access to the ballot box, let us remember the countless other freedoms that we still have to work at – quality healthcare, education, economic freedom and freedom from hurtful and harmful practises such as racism, sexism, homophobia and xenophobia to name a few.
"The fight for freedom must go on until it is won; until our country is free and happy and peaceful as part of the community of man, we cannot rest." Oliver Reginald Tambo.
While we have many things that make us different, we do have this song that unites us – written in five of our languages. It is a beautiful anthem that speaks to each of us. This is not just an anthem sung in schools but it is sung in many events. Some of you will have the chance one day to represent your country. Can you imagine singing this anthem in front of 60 000 people at a soccer or rugby game or hearing it play as the flag is hoisted and you stand on the gold medal podium at the Olympics. I guarantee you there will be gooseflesh on your arms and a tear in your eye because it represents so much of who we are.
So, what does it mean and where does it come from?
Enoch Sontonga, a Methodist school teacher wrote the first verse and chorus and also composed the music in "Nkosi Sikelel' iAfrika" (which means "God Bless Africa") as a hymn in 1897. Sontonga wrote the first verse in isiXhosa.
In 1942, Moses Mphahlele published a Sesotho version of the hymn.
At the first meeting of the South African Native National Congress (SANNC), the forerunner of the African National Congress (ANC), Nkosi Sikelel' iAfrika was sung immediately after the closing prayer. In 1925 the ANC officially adopted it as a closing anthem for its meetings. It was later adopted as an anthem at political meetings and sung as an act of defiance during the Apartheid years. It became known as the unofficial national anthem of South Africa. It was sung by five African countries as a National Anthem – now only three.
Die Stem van Suid-Afrika is a poem written by C.J. Langenhoven in 1918. Suitable music was ultimately supplied by Marthinus de Villiers in 1921. In 1936 the "Federasie van Afrikaanse Kultuurverenigings", unanimously selected the poem by Langenhoven and the music of de Villiers as the winners of a competition to find the best lyrics and music for an official National Anthem. In 1952, an English translation was selected from more than 220 submissions. It was only in 1957, however, that the government acquired the copyright and accepted "Die Stem" as the official National Anthem of South Africa.
The combination of the two in 1996 was symbolic – symbolising that our differences can be overcome and that we can work together. The music is designed to build up to a crescendo – from a hymn sung with such beauty and harmony to the final line which is almost like a war cry. These contrasts are deliberate and add to the beauty of the anthem.
National Anthem of South Africa Words, Lyrics and Translation
| | |
| --- | --- |
| Nkosi sikelel' iAfrika (isiXhosa) | God [Lord] bless Africa |
| Maluphakanyisw' uphondo lwayo, (Xhosa) | May her glory be lifted high |
| Yizwa imithandazo yethu, (Zulu) | Hear our petitions |
| Nkosi sikelela, thina lusapho lwayo.(Zulu) | God bless us, Your children |
| | |
| Morena boloka setjhaba sa heso, | God we ask You to protect our nation |
| O fedise dintwa le matshwenyeho, | Intervene and end all conflicts |
| O se boloke, O se boloke setjhaba sa heso, Setjhaba sa, South Afrika. | Protect us, protect our nation, our nation, South Africa |
| (Entire verse is performed in Sesotho) | |
| | |
| Suid Afrika! | South Africa! |
| | |
| Uit die blou van onse hemel, | Ringing out from our blue heavens, |
| Uit die diepte van ons see, | From our deep seas breaking round, |
| Oor ons ewige gebergtes, | Over everlasting mountains, |
| Waar die kranse antwoord gee, | Where the echoing crags resound, |
| (Entire verse is performed in Afrikaans) | |
| | |
| Sounds the call to come together, | |
| And united we shall stand, | |
| Let us live and strive for freedom, | |
| In South Africa our land. | |
| (Entire verse is performed in English) | |
Each time we sing our anthem I ask you to think of its meaning for us as South Africans, particularly on Freedom Day.
Garden Route Golf Tour
A group of 10 very keen and enthusiastic boys and two staff took advantage of our two-week Easter holiday and set off on a Garden Route golf tour. We played Mossel Bay GC on the first day – a course from which you can see the sea from every tee. The second day we played the Knysna GC in the morning and the back nine at Plettenberg Bay in the late afternoon. On day three of the tour we played the stunning Kingswood course in the morning – and then for good measure played the 1st nine again in the afternoon. The boys decided on the scramble format for the afternoon nine which was lots of fun – the winning fourball were nine under for the nine holes (admittedly we played off the red tees). On the last day we played the magnificent Ou Baai course. It was a real treat to play golf on these wonderful Southern Cape courses with such a nice group of Bishops golfers.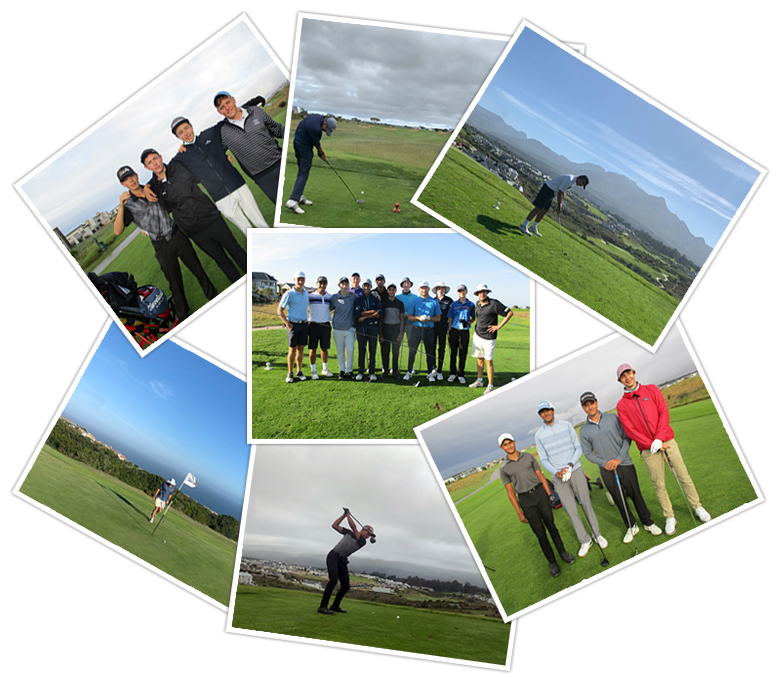 Art Show
Our Head of Art Mr Husain Essop was a part of the The Standard Bank Gallery's first exhibition for 2021, Photographs in Our Mother Tongue includes images from the Standard Bank Corporate Art Collection produced by major South African artists working in the photographic medium between 2003 and 2017. These years of transition in South African society were also a period during which photography became a more prominent feature of the country's visual arts scene. Click here to view the narrative for information around the exhibition, and click here to view the virtual tour.
History Tour
The Grade 10 History class undertook a walking tour of the historic sites of Cape Town last week as per its recent study of the impact of colonial rule on the city. The days' activities encompassed undertaking focussed research in the Company Garden; a 90-minute guided tour of the 'Slave Lodge'; a visit to the Castle; a stop, and chat, beneath Robert Gray's memorial in St George's Mall and a 'trek', in unseasonably hot weather, up Wale Street to explore Bo-Kaap.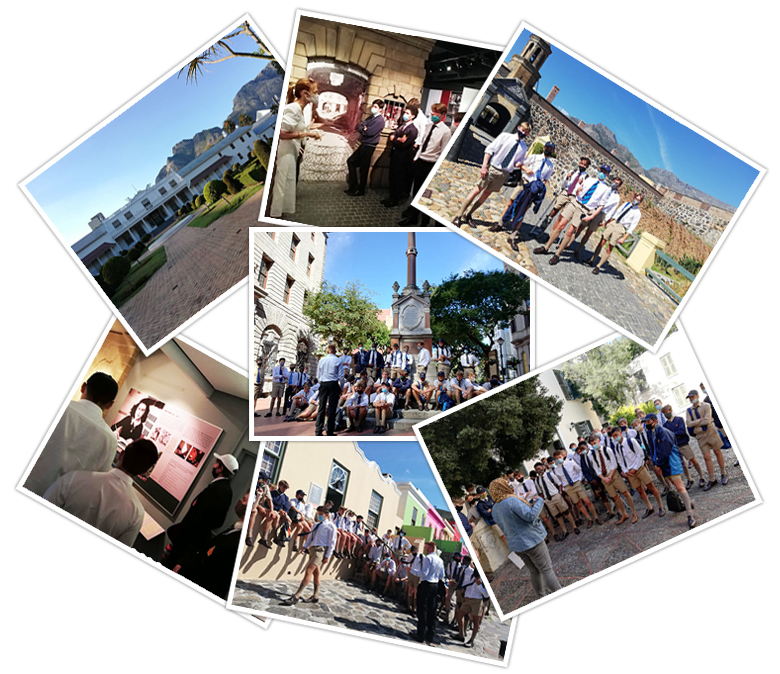 Vusa Academy
After what has been a catastrophic year for many children in the Langa community, it is wonderful to see the delight on children's faces as VUSA's sport and academic programmes resume. Yesterday saw the launch of the mobile library programme which will support three registered ECD centre's in Langa. For more on this and other news, please click here.
The Leading Society
We are looking for parents or ODs who would like to share their leadership stories and experiences with the new Leading Society. If you have a story to tell and would like to share it with the boys in the society please contact:
Angus Firth afirth@bishops.org.za
The Leading Society Aims to:
Give you the opportunity to cultivate and develop your insights, skills, and excite your interest in leadership.
Expose you to influential leaders from all walks of life both locally and internationally.
Host meetings by way of informal talks, presentations, panel discussions and so much more.
Enrich you on your journey to becoming a 21st Century Leader with the attributes of:
integrity to become leaders of your word, with the courage to do what is right.
curiosity so you can learn to challenge the status quo, take the initiative to pursue new ideas.
humility to be thankful for opportunities and awareness of who you are.
compassion to empathize and care for those around you.
diversity in respecting all people and celebrate differences.
excellence in setting high standards for yourselves and celebrating the achievements of others.
Sailing
One of the many wonderful aspects of a boys school with a long tradition such as ours, is that on the sporting front there are always people who are willing to volunteer, offer to help or offer services.  On the sailing front we have two stories we wish to share.
Andrew Collins (OD) offered to run a skippers course for boys and parents in 2018 with a view to it being completed in 2019.  Then Covid happened…The net result is that two of our 2019 matrics (Andrew Low and David Boyes) still need to write their theory exams and do their final practical and James Mason now needs to do time on the boat to complete his.  The picture below shows the Clark family of Barry, Jane and Cameron (captain of sailing in 2019) who completed their Coastal Skippers and Jordan Welsh who completed his Day Skippers along with Andrew Collins and another OD who helped with the teaching, Oliver Steynor.  Our congratulations to those who completed and are completing their skippers and our grateful thanks to Andrew and Oliver for making this happen!
Felix Scheder-Bieschin (father of Theo who is in Grade 9) offered to take sailors out on his boat on Friday 16 April.  Felix is also the Commodore of Zeekoe Vlei Yacht Club – the club from which our dinghy sailing happens.  A group consisting of Theo, James Mason, Richard Mason, Andrew Lawson, Michael Lawson, Ben Derman, Aidan Burns and Diyara Govender (who sails with us during sailing terms) had a wonderful time.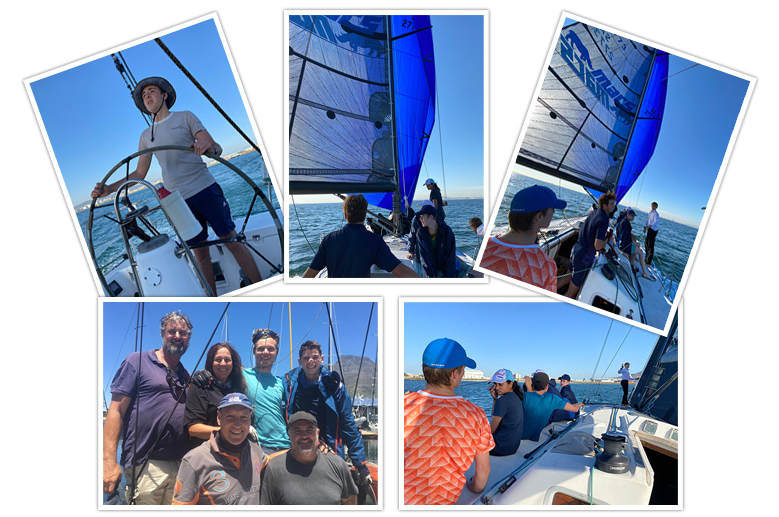 Coffee at the Mitre
Our coffee cart at The Mitre is back up and running next week and open to all. Please join us week days from 7:30 am. You are welcome to pop in for a social catch up, make use of the space to work and hold meetings, or a quick drop and go cuppa! Wifi is fast and free.
School Shop
The School Shop will communicate all important information to parents and boys via the Instagram listing schoolshopatbishops. If you would like to be kept informed please follow @schoolshopatbishops on Instagram.
JAG Foundation Alumni Prize
Our Deputy Head (White House) Nassar de Kock, has received the JAG Foundation Alumni Prize for his contributions and achievements at Bishops. We are immensely proud of you, Congratulations Nassar!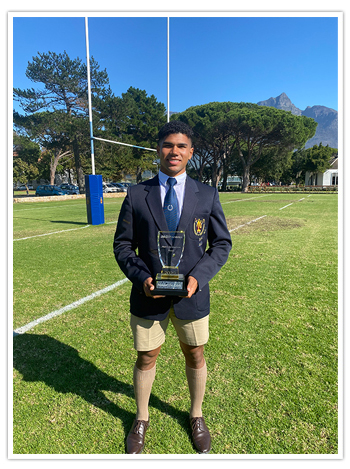 All Rounders Tie
Abdul-Mateen Kader (B12) is to be congratulated on being awarded an All Rounders Tie.
Golf
Christopher Macdonald achieved a very rare feat at the Royal Cape Golf Club last week - he made a hole in one on the 13th during a practice round. Congratulations!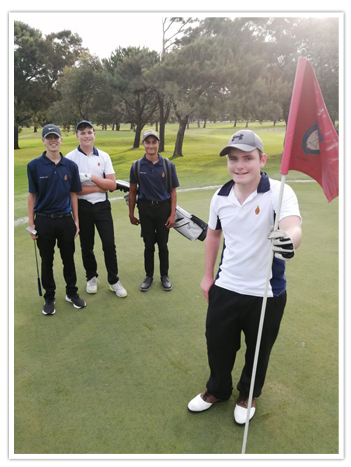 Cricket
Adam Constant (u15A) receives a signature bat for his 103* against Rondebosch at the end of Term 1 and Michael Kotze receives a mounted cricket ball, as he took 7 wickets in the same match. Well done on your amazing achievements.
Life Saving
Congratulations to Ryan Voight for being awarded full Provincial and District colours for the sport of lifesaving by Lifesaving Western Cape.
Athletics - ASA Junior National Championships
Congratulations to Daniel von der Heyden, who competed for Boland in the ASA Junior National Championships in the first weekend of April. Daniel competed in the u16 Long Jump event and achieved a 5th place, with a jump of 6.31m. It is significant that Daniel, an u14 athlete, competed against athletes two years older than him. Well done, Daniel!
Swimming
Thomas Truter (White House) participated at the recent South African Junior Swimming Championships. Thomas did exceptionally well and won a gold medal in the 50m back stroke and a bronze medal in the 100m back stroke in his age group. Congratulations Thomas!
BISHOPS DIOCESAN COLLEGE
Campground Road, Rondebosch, Cape Town, 7700
Phone +27 21 659 1000 | Fax: +27 21 659 1013