Dear Parents/Guardians
The end of the second term has come and school holidays are upon us – a time for reflection, rest and relaxation for our boys and staff. I do hope families are able to spend some time together too, reconnecting and sharing moments with each other.
I hope the examinations went well for your son, and that he is happy with his results. If not, that he has spent some time thinking about how he can change his outcomes for the last six months of this year. He will have to make a conscious change in habit, preparation or in attitude if he is to effect change going forward. These exams are often called teaching exams precisely because of the opportunity to learn from them for the future. The exams at the end of the year determine an outcome at the end of a process. These exams, being in the middle of that process, allow for readjustment and adaptation of practise and performance.
In assembly this week, I shared three incidents where members of the public engaged with me about Bishops boys, and their impression of the school as a result of their interaction. Sadly, two of them were negative with a lack of basic courtesy being the common theme. Failure to greet or even acknowledge the presence of an adult or visitor gave a very poor impression. The third was one where a new hairdresser of mine said how much she liked Bishops boys and always knew who was from Bishops because they were always warm, engaging and polite. I know that schools play a big role in developing teenagers' lives but I ask that parents support us as we work together to insist that our boys have good manners, greet others around them and acknowledge their presence, just treating people kindly and with respect. It is such an important part of basic humanity and something that speaks volumes about the home the boy comes from and the school he attends.  
Covid
With the onset of the third wave of Covid in the country, and the slow rollout of vaccines is potential risk. Add to this a term where boys have had the chance to play sport taken from them, three weeks of exams and now holidays and you have a high possibility that boys will engage in risky behaviour, attending large gatherings and parties and not wearing masks. We are asking parents to keep going, despite your weariness! Please keep our boys safe this holiday. In the past we have seen an upsurge in infections, the last one after the December holidays. With winter added to the already mentioned factors, we are going to be under great pressure and need to work together, supporting each other by keeping ourselves safe, our families safe and following the rules.
Transformation
As mentioned in the Transformation newsletter, the staff have formed four Focus Groups, each with a separate theme that came from the initial conference at the start of the term. These groups will be reporting back to the staff on the first Monday of next term, 19 July, with action plans to be rolled out thereafter. School will therefore start for the boys on Tuesday 20 July.
Eisteddfod
I wish to extend a massive thank-you to Mr Mark Mitchell, the staff who ran the Eisteddfod and the boys who took part. To have something at all under these conditions is simply remarkable, and the effort it took to create an event for the boys was significant. The results are available online but I wish to compliment all those involved on their creativity and "can-do" attitudes.
Thanks
A group of boys and staff took part in a 24 hour cycle marathon on Youth Day. This was the day after the College had finished exams and was a chance for the boys to put their feet up and relax but a number of them chose to give up their time to raise funds for our partnership project in Langa, the Vusa Rugby and Learning Academy. We have raised just over R260 000 and this money will make a significant impact on the lives of so many children. Our sincere thanks go to the staff and boys who took part, the many ODs who volunteered their services in various capacities and to the Vusa staff who put the event together. Well done – you can be most proud!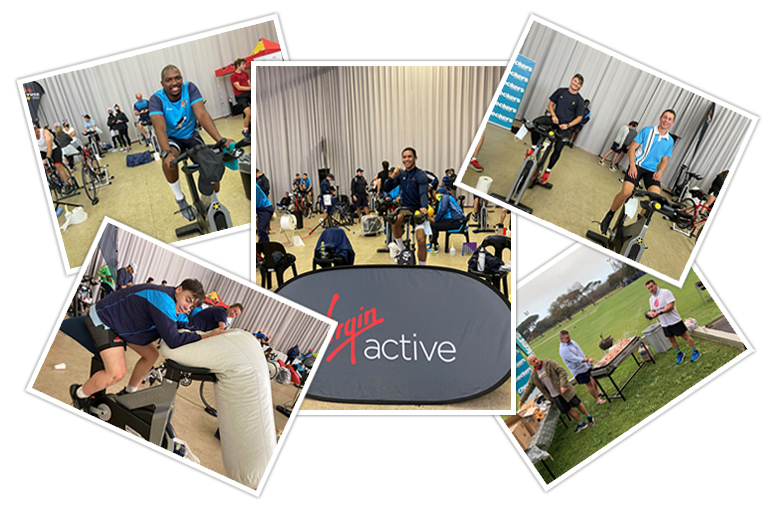 The second thanks go to the boys and staff of the music department who put together a video performance of Mango Groove's "Special Star" as the opening musical item for the International Boys Schools Coalition virtual conference 2021. Each region was given a day to present material and we opened the Africa Day with a performance from the Maritzburg College gumboot dancers and the musicians from Bishops. It was a real celebration of South Africa and the talent that exists in our schools and I thank all those who made it happen.
Click here to view https://youtu.be/H1skgtnCAgo
Bishops Pride
In 2019, when we could still travel, my wife and I went to New York on holiday at the end of a conference we attended in Canada. We arrived in New York, took the underground to our hotel in Times Square and emerged at 10:00 in the morning into the middle of World Pride celebrations! The cacophony of noise was indescribable as was the riot of colour, but for us what was the lasting impression that people were able to feel authentic, to be authentic, if only for a short period of time. They were in a very big "safe space". It was a wonderful moment I will remember forever.
Bishops Pride, has decided to put up a pride flag for the final days of school this term to show support for global pride month, which signifies the Stonewall riots of June 1969 in the US. These riots were started by frequenters of the Stonewall Inn, a gay bar, resisting the harassment and brutality of the police that had plagued the entire community for decades, effectively starting the gay pride movement both in the US and in many other countries around the world.
South Africa also has its own history of an amazing queer pride movement which worked hand in hand with the anti-apartheid movement, leading to South Africa's new constitution being possibly the most supportive and protective of queer people in the world. This proudly South African history will be remembered and celebrated later this year during October to commemorate when the first South African (and African) pride event took place on the 13th of October 1990. Ultimately, Bishops commemorates these events to show support for the global and South African queer communities, as well as Bishops' own queer students.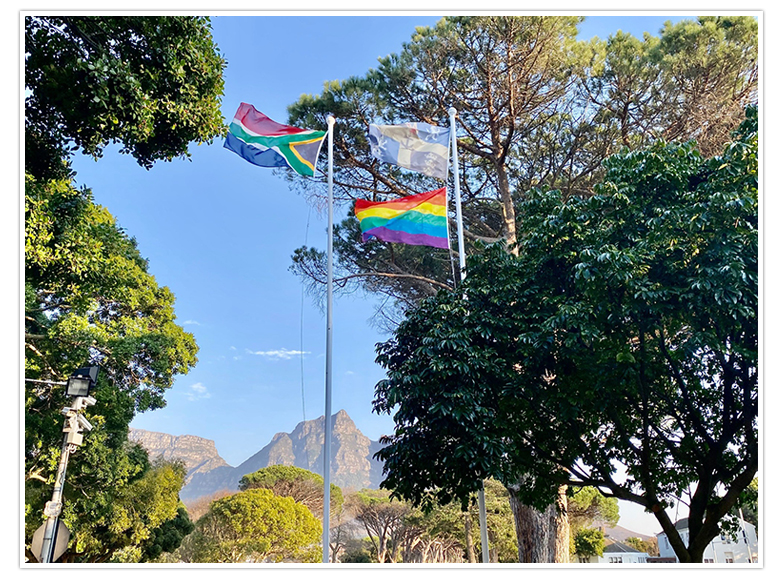 Kind regards
Tony Reeler