FROM THE PRINCIPAL - 26 FEBRUARY 2021
Dear Parents/Guardians

The release of the much-anticipated matric results took place this week and I am exceptionally proud of the Class of 2020 who produced quite outstanding results. The summary of the results has already been shared in the community and I will not repeat it here save to reiterate my congratulations to them, their teachers, their parents and their support structures, all of whom helped them through the difficult year we experienced. We are aware that our boys are indeed more privileged than most and that this allowed them to cope far better with the disruption of the year, but the work still had to be done and our boys can be justifiably proud of themselves. Their determination and resilience will be qualities I will remember of them for many years to come.

I am aware that the Class of 2021, this year's matrics, had similar challenges to overcome in their Grade 11 year and continue to do so in this, their final school year. I am sure they will rise to the occasion and do their best as they strive to reach whatever goals they set for themselves and the goals we have set for them as a College.

Leadership
My congratulations go to the boys who were elected to the SRF and to Isaiah Sonn-Pather on his election as Chairman of that body. The SRF plays a vital role in our school as a consultative body, representing all the boys, and we are sure they will take their responsibility seriously and help lead the College going forward.

I have been impressed with the Grade 12 leader group so far, and how they have taken to their role as school leaders, particularly in the way they have helped our new Grade 8s fit in

Transformation
The training for the staff facilitators took place this past weekend and a feedback session was given to the boys by Lele Mehlomakulu, during the first lesson on Tuesday. I hope the boys have used this as an opportunity to think deeply about transformation, diversity and equity and that many discussions have ensued both at school and at home. Her training process continues with a session for the whole school Executive team and Council

Covid
We continue to monitor the infection rates in the country, and the Western Cape in particular, and are delighted with how the rates seem to be remaining low, allowing us to be forever hopeful of a return to the school activities we all want to see. We are bound by law, however, and even as an independent school, we have to comply, no matter how we may feel either personally or as a school leadership team. Please be patient as we continue to help our boys while remaining within the bounds of the regulations.

The playing of sport remains a vexatious issue and, while we feel we can cope quite comfortably with non-contact sports in a safe manner, legislation is proving difficult to interpret and we may have to postpone matches with other schools as we seek clarity. Be assured that we will not compromise your son's safety and will strive to provide him with a healthy lifestyle, including exercise and sporting competition.

I wish you well for the weeks ahead and ask that you spend some time reading the letter I sent about the matric results. They are truly remarkable.

Kind regards

Tony Reeler
Principal
So How Was Your Day?
One of the questions we most often ask our sons when they come home from school is "How was your day?" Most often, this is answered with a noncommittal grunt of "fine". Every now and then we get a "good" or "awful" depending on their experiences. Today I want to talk about good days and how good days cannot, in my mind, happen without us also having bad days.
I share two examples. I used to fish a lot in my youth. I still try to fish when I go on holiday and there is great pleasure in standing on the side of the ocean with a rod in hand, a line in the water, watching the sea constantly change and move and hoping that I catch something. And sometimes I do! But if I caught fish every time I went fishing or on every cast, would I still enjoy the experience?
You know by now that I also play golf – sometimes with some success but mostly with a combination of good and bad shots that often causes me to question why I actually play! But what would happen if every time I went out to play, I shot 65? For those who don't play golf this is indeed a good score, an exceptional score. If every time I played I did well and was successful, would I still go out and play?
Part of why we do things such as fishing and golf and many other activities we do, is the challenge associated with that activity. We like to overcome obstacles, beat the odds. If we did so every time, if there was no difficulty, I think we would lose interest. It would be too easy.
I think human beings like challenges and so we should. If every day was perfect, every task easy, our lives would become bland as we would miss out on the rollercoaster of highs and lows that bring us back. So not every day will be perfect and that is fine. Because bad days make the good ones so much better. And good days give us hope.
So, don't get down on yourself if things don't go your way – if you don't catch fish or shoot 65. Cherish the fact that you are blessed that you can do the activity you are doing and that you can come back next time to do better.
And if you are having a good day, enjoy the moment, live it and love it. Appreciate that it will not always be so. Value these times greatly.
Every year, when I welcome new boys to the school, I wish them well for the year. I give them advice and I express my wish that they enjoy their time at school. But I also wish them challenges along the way. Moments when they will be tested and they will have to overcome obstacles. In effect, I am hoping that a few bad days will indeed happen. This may sound strange but what I am doing is hoping that the experience of a bad day gives them fuller appreciation of the good days and a desire to dig deep and overcome whatever it is they need to overcome.
We need to have good days to eradicate the memories of the bad ones, but we need the bad days to truly appreciate the good ones.
So – how was your day?
"If we had no winter, the spring would not be so pleasant: if we did not sometimes taste of adversity, prosperity would not be so welcome."
Anne Bradstreet
Sports Performance and Wellness (SPW)
The Bishops Sports Performance and Wellness programme aims to address the conditioning, wellness, rehab, injury management and implement an active, accessible, and efficient communication channel between staff, heads of sports, medical personnel, and boys at Bishops Pre-Prep, Prep, and College.
To achieve this goal, an overall holistic and structured programme is required to address the wide variety of sports that Bishops offers and further understand the school's unique environment. The programme focuses on the overall development of gross motor skills and hand-eye coordination at the Pre-Prep, which progresses to more specialised conditioning programmes that target high-performance sports development and promotes general wellness at the College. The team running the programme consists of:
Head of SPW
Head Biokineticist
Head Physiotherapist
Intern Biokineticists
The implementation of the below list, will help achieve the programme's objectives:
Sports goal setting, time management, training monitoring and mentoring.
Sports specific testing.
Strength and Conditioning (Teams and Individuals);

Gym based Team Strength and Conditioning.
On-field Team Strength and Conditioning.

Injury Rehabilitation/Final Phase/Return to Play Intervention.
Implementation of injury prevention and performance programmes across all sports.
Management of injured sportsmen.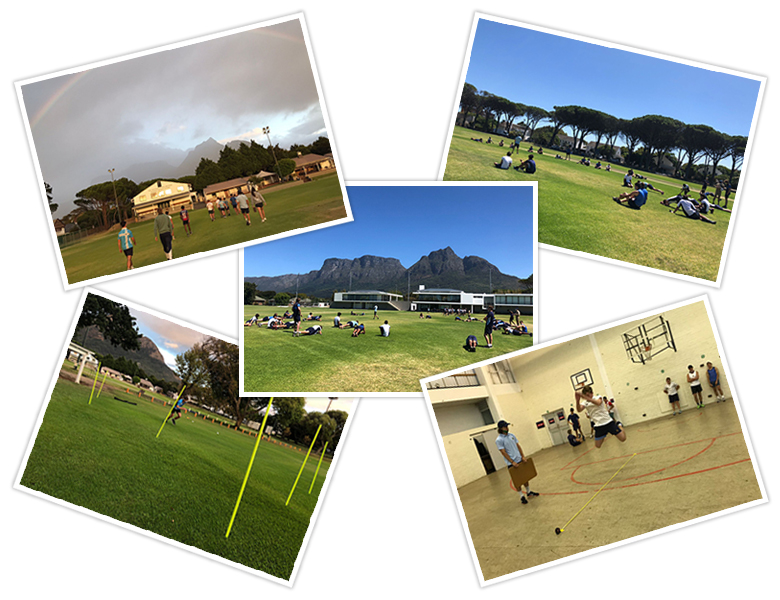 The Art Room
Our new head of Art, Husain Essop, has been busy at work with the boys and put together a video of a few fun moments in the art centre.

The Grade 12s have been introduced to the art of JH Pierneef, which explores the South African landscape in a unique geometric and scientific style. To better understand his compositional arrangement and style, a lesson was designed where learners would adopt the Fibonacci rectangles and golden spiral. This mathematical construction of rectangles and spirals would act as a framework to arrange a selection of sweets. This exercise was designed to get learners to think about experimenting with the medium of paint and adopting a new style and strategy. This exploration is a key component in the sourcebook planning and will allow students to gain a deeper insight into the works of Pierneef.

Photorealism 101
This lesson is designed to introduce grade 11s to the art of photorealism. Students were required to complete simple sketches of a cube and sphere using charcoal along with the process of adding and removing coal off the page. After completing these simple forms, students needed to move onto parts of the face in order to familiarize themselves with the anatomy of, as well as rendering the face, using this additive and subtractive technique. This is just the first step in achieving a photorealistic portrait which grade 11s will have to complete for the end of this term.
Click here and here to watch our Art Room in action.

Matric Field Trip
The annual Grade 12 Geomorphology fieldtrip took place on Thursday 18th February 2021. The matric geographers enjoyed a day out hiking, swimming and kloofing on the Elandspad River Trail. They were accompanied by Messrs Court, Firth and Hale.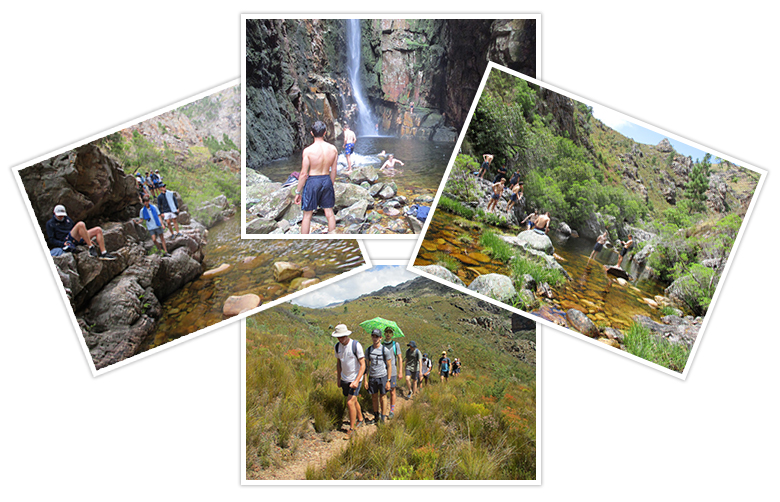 Inter-House Swimming Results
A huge thank you to everyone involved with this year's inter-house swimming gala. It was a wonderful event filled with good sportsmanship and "gees"!
The results are as follows:
8th - School House
7th - Founders House
6th - Kidd House
5th - Gray House
4th - Birt House
3rd - Mallett House
2nd - Ogilvie House
1st - White House
Congratulations to the 2nd runner up for the Fastman-event, Gregor John (Gray) with a time of 26.49sec, 1st runner up, Max Cary (Founders) with a time of 16.13 sec and the winner of the event, Jonny Roche (Mallett) with a time of 15.45sec.
Trophies will be handed over by the House Directors on Tuesday during House Meetings.
Coffee At The Mitre
At the beginning of 2020, the Parents Association (PA) started Coffee at the Mitre to give Bishops parents an opportunity to meet over a delicious cup of coffee. While the initiative was a great success, it had to be closed due to lockdown. The PA is re-launching Coffee at the Mitre on Wednesday 10 March 2021 - this time with free and fast WiFi. The Mitre is located upstairs in the Raymond Ackerman centre, above the OD museum and next to the Woodlands hockey astro. It will be open from 07h00 - 09h30 every weekday. All espresso drinks and hot chocolate will cost R25. Payment can be made via SnapScan and cash will also be accepted. Please note that all covid protocols will still be in place, as will screening on arrival. Please head to the screening station downstairs in the Woodlands tuck shop before making your way up the ramp to the Mitre.
We look forward to seeing all the familiar faces and meeting new ones!
Proudly A Stormer
There has been much change within the Stormers set-up of late, and we are beyond thrilled to see two Bishops ODs make their debut at the new home of Stormers Rugby at the Cape Town Stadium, this weekend.
Congratulations to Cornel Smit (W15) who will play at inside centre and Tristan Leyds (S15) who runs out as full back.
We wish them both all the best for their first game as a Stormer at our new home of rugby, along with their coach John Dobson, who is also proudly an OD.
Whilst we may not be able to be there to support them - we can cheer them on by watching the game live at 5pm on Saturday!
Matric Results
Congratulations to our exceptional class of 2020!
In a year full of adversity, challenge and change you managed to excel at the highest level. We could not be more proud of this group of young men who worked so hard this year.
These impeccable results are a reward of your commitment and hard work:
100% Pass rate
98% Bachelors Pass
3,55 Distinctions per pupil
540 Total Distinctions
73 Students with A aggregates
43% of the class achieved 5 distinctions or more
We thank all our teachers and parents whose guidance and motivation made such a huge difference.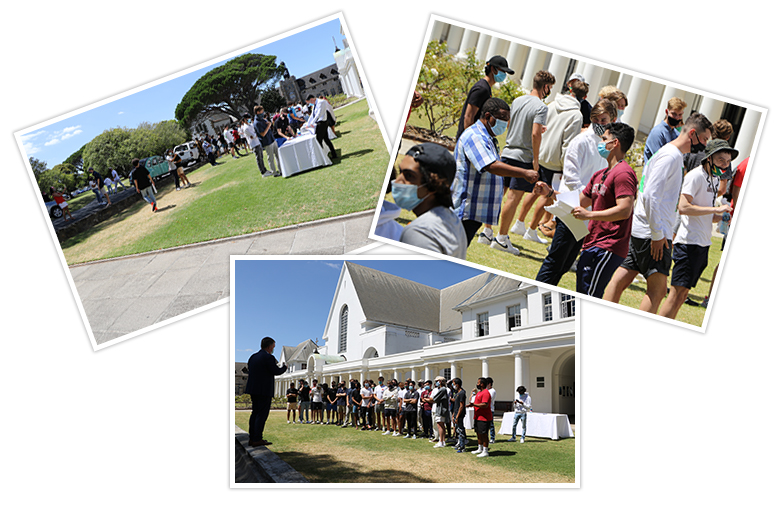 Music Theory Results
A number of boys were able to write the Royal Schools of Music grade 5 theory exam last year. The following boys achieved a distinction (a mark above 90%) for the exam:
Nic Allison
Sam Berrisford
Ross Collins
Michael Comitis
Divakaran Govender
David Handley
Kieran Hollis
Kaspar Holm
Oliver Hufton
Benjamin Karlein
Michael Kruse
Malick Majiet
Justin Pillay
Dylan van Coeverden de Groot
African Relations Society 2021
Congratulations to the following pupils who will be leading the African Relations Society during 2021:
Chairperson : Alex Myeki
Vice-chairperson: Dylan Wood
Our committee members for 2021 are : Mpofana Skwatsha, Daniel Kruger, Sam Bury, Liam Harrison
The African Relations tie (for loyalty and dedication), to be awarded to the following boys :
Mpofana Skwatsha
Dylan Wood
Daniel Kruger
Liam Harrison
These ties will be awarded to the boys at our next meeting. (Thursday 25th February)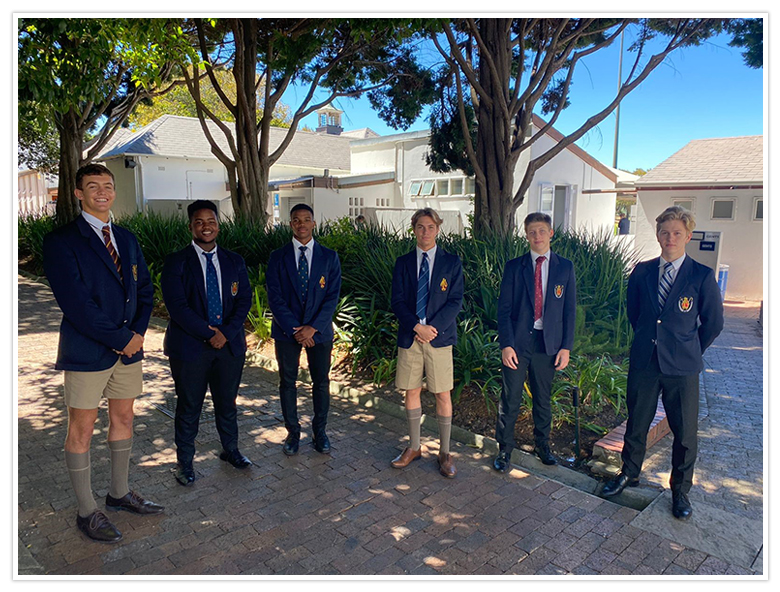 All Rounders Tie
Michael Beaumont is to be congratulated on being awarded an All Rounders Tie.
SRF
Congratulations to the Chairman of the 2021 SRF Council, Isaiah Sonn-Pather and The Secretary Michael Kruse.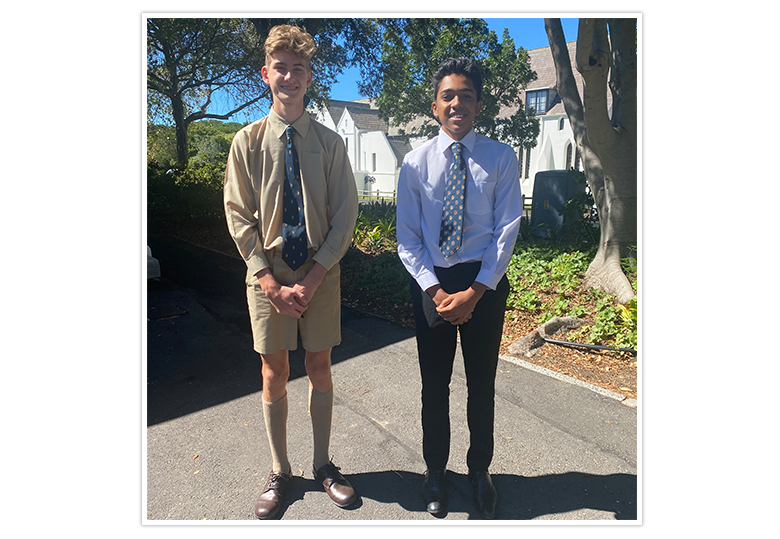 BISHOPS DIOCESAN COLLEGE
Campground Road, Rondebosch, Cape Town, 7700
Phone +27 21 659 1000 | Fax: +27 21 659 1013