Bishops Inter-House General Knowledge Quiz
After an absence of many years the Bishops General Knowledge Quiz was re-introduced this year as an Inter-House event, held on 11 August. Each house entered a team of six boys, which had to include two juniors, and answered 100 questions set by quiz master, Mr Eric Lefson. The lead was tightly contested throughout the competition, and ended with a 3-way tie for 2nd place. After a run-off the final four placings were: 4th White, 3rd Kidd, 2nd Birt and 1st Gray. Well done to Gray on winning the Eric Rosenthal General Knowledge trophy for 2021.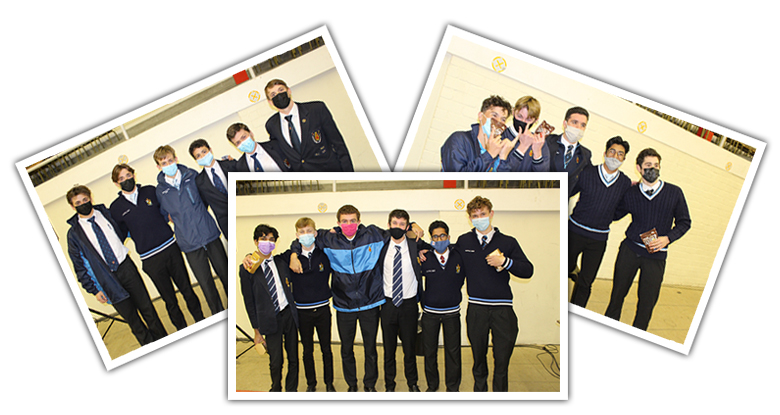 Annual SAIIA Quiz
Nine Bishops boys participated in the annual SAIIA School Quiz (Robert Kotze, Ben Anderson, Eric Todd, Daniel Kushner, Stuart Whitelaw, James du Preez, Suhayl Khalfey, Zuhayr Mohamood and Michael Ritz). Bishops usually hosts the Quiz in the Mallett Centre but due to Covid regulations the Quiz was online this year. 92 pupils from all around the Peninsula took part in the event. Robert finished 5th and received a prize of R1000.00. Ben placed 8th and Eric and Daniel tied in 10th place.
Debating Achievements
The following boys recently made Bishops Debating history:
Saleh Ameen
Ben Anderson
Jacob Fried
Milan Sandri
Landa Tsobo
The above boys have all made one of the four junior provincial teams, which means we have a Bishops junior debater in every single junior provincial team. A special mention for Milan and Jacob, who only started debating a few weeks before the championships, while Saleh and Landa also deserve applause as they only started debating this year.
These boys, under the guide of their coach OD Robert Dugmore, went on to win the Rotary debating championship finals on Monday. They have won a cash prize, of which they will donate to charity.
We would also like to congratulate Nimba Mahlati for being chosen for the senior provincial debating team.
Interact Committee for 2022
Suhayl Khalfey - President
Liam Peterson - Vice President
Robert Kotze - Secretary
Aadam Jaffer - Head of Communications
Zuhayr Mohamood - Treasurer
Well done to the following boys who have been elected as the new Interact Committee for 2022.
Sports App SOCS
We have had a number of queries about My Bishops Life and the SOCS App – please click here for earlier communication sent, where everything is explained in detail for your convenience.
Bishops Travel Agent
Peter Kilpin, from Bishops Travel, has just returned from a site visit at Shearwater Explorers Village Victoria Falls, where he has negotiated a Great special for the Bishops Community.
Book your accommodation at The Explorers Village Victoria Falls - Situated 400m from the Victoria Falls Rainforest in panoramic bush surrounds.
3 night package : R3300 per person sharing
2 night package : R2650.00 per person sharing
Our packages include:
Accommodation in a standard chalet
Breakfast daily
Return airport / hotel transfers
A luxury Riversong cruise
Upgrade to a deluxe chalet for R150 per person per night.
Book with Bishops Travel before the end of September and get a further 10% discount on our already discounted rates.
Contact Bishops Travel for your booking :
Tel: 0712437082
Email: bishopstravel@suregiltedge.com