Celebration of Bishops Rugby Fund Raiser
After a great start to the rugby season, the suspension of contact sports has been a huge disappointment for the boys. The 1st, 2nd, and 3rd rugby teams (as well as a few teams of staff), are thus redirecting their focus and have accepted a gruelling 24-hour, Youth Day Cycle Challenge, to raise funds for the VUSA Rugby and Learning Academy. Each boys' Team will be captained by an OD Rugby International who will offer them encouragement and support.

Bishops has a strong rugby history, and this will be celebrated via a live-streamed event which includes interviews with some of our OD Rugby Greats, 40 years of footage, competitions and even a quiz night. Please support our staff and boys as they slog it out for a really great cause. Visit the event page and click the button of the team you wish to support - https://www.vusarugbyacademy.com/vusa24.

A programme and a link to the event will be forwarded in due course.

Invest In Our Future Fund
The Old Diocesans Union, in partnership with Citadel, launched an exciting initiative earlier this week - The Invest in our Future Foundation. This initiative will provide financial support to Bishops school leavers from 2022 to enable them to pursue a tertiary education. While there are bursaries and scholarships in place for Bishops learners at school, there has been no formalised programme in place to support them with their tertiary studies. The ODU and Citadel will be working to fill this gap and empower our school leavers to realise their dreams. Read more about The Invest in our Future Foundation and how you can get involved at https://www.odunion.com/pages/iioff. Watch the launch video here.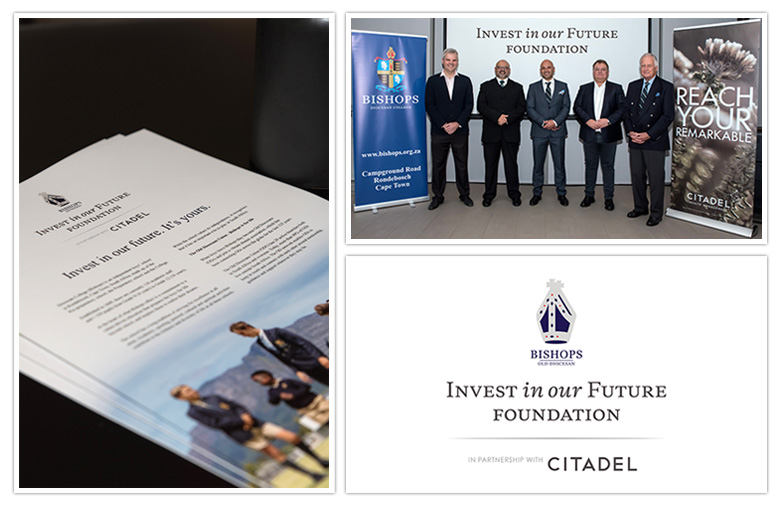 Matric Dance Silent Auction Fund Raiser
The Matrics 2021 are hosting an online auction to raise funds for their matric dance in September. Any surplus funds raised will be donated to the Bursary fund and to charity.
Registration and bidding for the online auction is open and you are able to bid from 8h00 on Friday 4 June until 22h00 on Friday 18 June when the auction closes.
Please use the link below to register.
https://bishopsmatricdance.clickauction.co.za/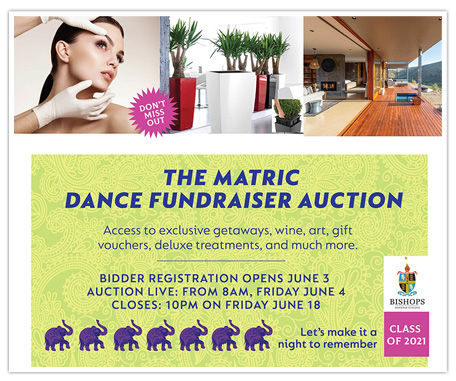 The link can be shared with family and friends. The auction is open to anyone who is interested. Please support the exciting initiative.
My School Card and School-Days
Woolworths and Dischem both have initiatives that enable us to support up to 3 causes. In addition, the school also benefits with receiving cash back rewards.
My School Card
It is as easy as registering on the Woolworths website. Remember to link your My School card to your Woolworths card, and nominate Bishops as your beneficiary - every swipe feeds a child AND now enters you into a competition, while also helping to raise funds for the school. Swipe your My School Card along with your Woolworths card every time you shop. Enter here after you are registered and linked.
School-Days
The School-Days programme enables you to raise funds for our school simply by shopping at School-Days Earn Partners. Join School-Days and support our school. The programme also enables you to raise funds for our school simply by shopping at School-Days Earn Partners. Click on the link to register and join.
School's registration link : Bishops Diocesan College Registration Link
View our Partners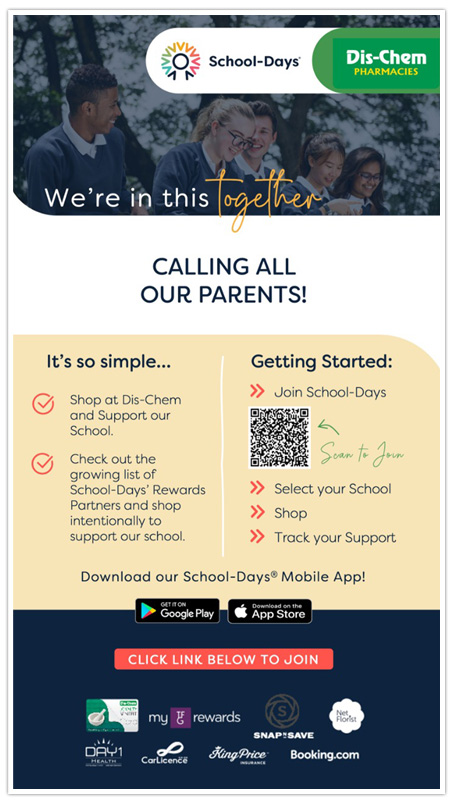 Big Ideas – Parent Connections
Our Grade 9 Big Ideas Course is ready to take flight again in Term 3 this year! We invite all College parents, who are intricately involved in one of the United Nations' Sustainable Development Goals (SDGs), in whichever capacity, to help out, should the opportunity present itself during the course of the year. If you are happy to be involved, either by way of a talk to the boys, being contactable by one of the teachers involved or just to be on the database for the time being, please send a short email to Julian Vincent (jvincent@bishops.org.za), introducing yourself and in which grade your son is, as well as in which SDG your involvement is (and in which capacity). If we are able, we would love to involve you!
For more information on Big Ideas, please visit the following page: https://college.bishops.org.za/academic/BigIdeas.aspx
Sports Performance And Wellness Programme
Bishops created a programme that launched in 2020, SPW. The Sports Performance and Wellness programme, aims to achieve a holistic development of the boys by addressing their conditioning, performance, wellness, rehab, and injury management. The programme focuses on developing gross motor skills and hand-eye coordination at the Pre-Prep, which progresses to a more specialised conditioning programme that targets high-performance sports development and promotes general wellness at the College. Click here to view in detail the management of the SPW.