Academic
Mathematics
Over this past weekend, the South African Mathematics Foundation had their annual awards evening. This was to celebrate learners and school in various categories and Olympiads. It is with great pleasure that Bishops was the recipient of one of the most prestigious awards - The top performing school. This is a team effort by both the Mathematics Department and the learner body as a collective. Well done to all.
Cultural
Ten Club 2022
Congratulations to the following boys who will make up the Ten Club in 2022:
Michael Beaumont
James du Preez
Suhayl Khalfey
Rob Kotze
Michael Naude
Daniel Neuhoff
Sebastiano Panieri
Liam Petersen
Ben Reid
Erik Todd
Debating Colours & Tie
Congratulations to the following boys on achieving Half Colours for Debating as well as fulfilling the requirements for the Debating Tie:
Ché Nanoo
Nicholas Basson
Jacob Fried
Ben Anderson
Milan Sandri
Trenowyn Giles
Caden Chuang
David Brunt
Resource Centre Service Ties
Congratulations to the following boys on receiving their Resource Centre Service Ties:
Ferris Moser
Johann Steyn
Abdul Kareem Kerbelker
African Relations Society for 2022
The African Relations Society Leaders for 2022 are:
CHAIRPERSON 2022: Zimvo Joxo (Mallett)
DEPUTY CHAIRPERSON 2022: Sipho Ndlovu (Founders)
COMMITTEE MEMBER 2022: Onwa Roji (School)
Our Society
Congratulations to the following boys on receiving their ties for loyalty and dedication to our Society:
Tyrique Nair (Mallett)
Zimvo Joxo (Mallett)
Sipho Ndlovu (Founders)
Liyema Liwani (Mallett)
Janoodien Suhail (Gray)
Sport
Karate
Kai and Reyne De Klerk started their karate journeys at ages 5 and 4, respectively. Karate taught them focus, discipline and control. Through the sport, they represented South Africa at tournaments around the country and in Germany, Sweden and Croatia, earning their Protea colours along the way. They were once again both selected to represent South Africa at a world tournament in 2020, which was unfortunately cancelled due to the pandemic. Kai and Reyne both received Distinction Ties for Karate. Congratulations.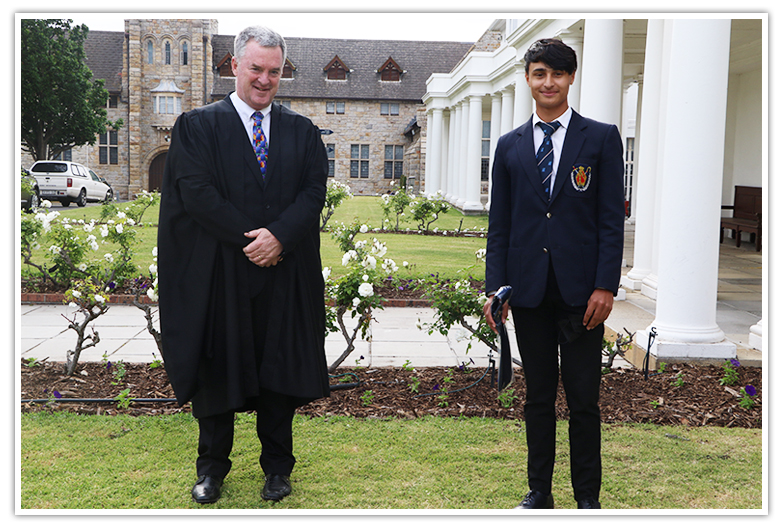 Go-karting
Joseph Oelz was crowned the SA Champion in the Rotax DD2 category of go-karting during the September holidays at the Zwartkops International Raceway. As a result of this he will be participating alongside 73 other National Champions in the World DD2 Championship in Bahrain in December. Well done Joseph, all the best for your preparations for the upcoming Worlds and congratulations on receiving your trophy and the ticket awarded to you for participation in the World Championships.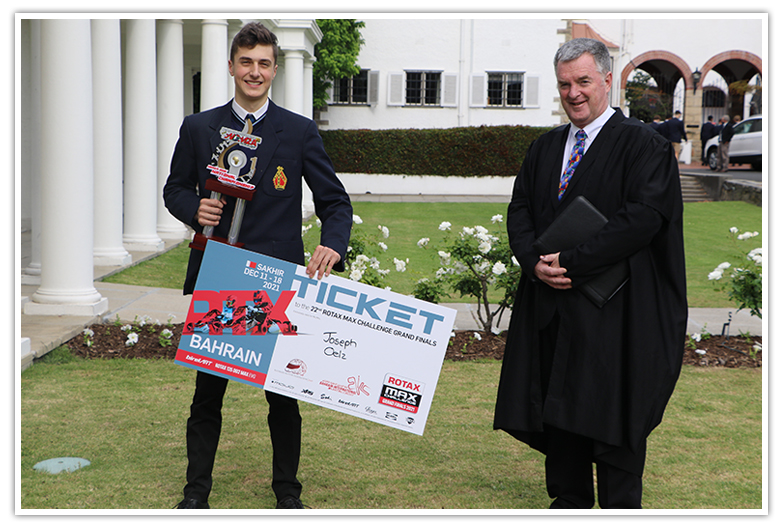 Shooting
Congratulations to William Jones for claiming the bronze medal at the SA championships. William competed in the u16 air rifle division.
Squash
The WP Youth Squash Executive and Selectors have recently announced the players that have been selected to represent WP in 2021. Congratulations to Tristan Swanich who has been selected as number 2 for the u14 A side and Nicholas Basson as the number 4 for the u16 B side.
Tennis
The following boys have been awarded their CT/WC Disa colours:
Carl van Wyngaarden
Nicholas Leith
Chris Hodgson
Benjamin MacFarlaine.
Water Polo
Last week our 1st Team Water polo travelled to Johannesburg for the annual St Stithians Stayers Water polo Festival where 20 teams competed. They played 8 matches losing only one match in the pool stages to Hilton College 8-10. In the quarter-finals they lost 5-8 to St John's College who ultimately lost to SACS in the final. In the play-off stages they beat Grey College 4-2 and Hilton 5-4, finishing 5th overall. Highlights of the tour were the wins against St Andrews College 6-2 and the turnaround win against Hilton College in the 5th/6th playoff. We congratulate Nicholas Steinhagen who was selected for the tournament team.
Nicholas was also selected for the South African U17 team that took part in the EU NATIONS JUNIOR MENS U17 WATER POLO TOURNAMENT 29 – 31 October 2021, BRNO, CZECH REPUBLIC. The team won Gold at the tournament, and we are proud to present Nicholas with his well-deserved medal.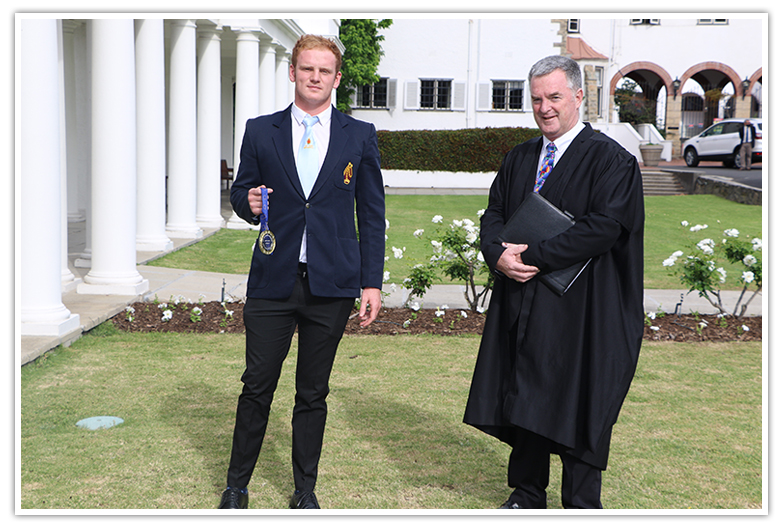 Water polo service award
Jack Moyle has been awarded a service tie for his contribution to Water polo service over the last 3 years. This award is in recognition of the time Jack has spent coaching, refereeing, and tabling.
General
All Rounder's Tie
Congratulations to Bradley du Toit on being awarded All Rounder's Tie.