Dear Parents
Where, after all, do universal human rights begin? In small places, close to home – so close and so small that they cannot be seen on any maps of the world... unless these rights have meaning there, they have little meaning anywhere. Without concerned citizen action to uphold them close to home, we shall look in vain for progress in the larger world – Eleanor Roosevelt
It has a been a busy few weeks as we head towards the end of the first term. Last week we enjoyed Founders Day and celebrated our 169th year since our foundation in 1849. It was good to interact with old boys from the different year groups who always enjoy reminiscing about their time at Bishops. It is also an opportunity for the school to engage with them and inform them of the changes that have taken place over the years. Bishops is a dynamic environment, always open to change and new possibility while respecting and cherishing those aspects of our heritage and tradition which are special to all of us.
On Tuesday evening I attended the Annual Rowing Dinner held at Suikerbossie. It was a wonderful celebration and a reminder of the extraordinary commitment from all involved in this very demanding sport. The staff, boys and parents deserve special congratulations for their terrific efforts - a fine example of the great collaboration and team work which can take place in school sport. Please see the assembly notices for all the awards made at the dinner.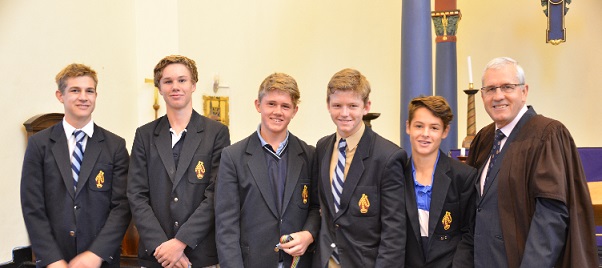 I was privileged to attend our school production, Of Mice and Men on Wednesday evening. This is based on the classic John Steinbeck novel written in 1937 and performed on Broadway in the same year. It is a literary and theatrical classic and the Director Wayne Tucker, his Assistant Director Caroline Bester and their team put on a superb production. The acting of our boys was truly exceptional, they managed to keep the audience spellbound from beginning to end. Well done to all involved.


The past week has also marked the 'change-over" from summer to winter sports. Our hockey and rugby teams have been preparing for the various festivals and tournaments which they will be attending over the Easter holidays. Tomorrow several of our rugby teams kick off the season with matches at the Porterville Festival. We wish all our hockey, rugby and soccer players all the best for the season ahead.
26th March - Holy Week Music – Bishops Memorial Chapel
In the last week of this term we will be celebrating Holy Week through two musical events in the Memorial Chapel.

On Monday 26th March at 19:00 the Bishops Chapel Choir will be singing a Choral Vespers service. This is a devotional service combining poetry and music. The service will include the choir performing works written by David Butlin (OD), Stephen Carletti (OD) and Michael Tippett. The Bishops String Ensemble will perform the slow movement from the Vivaldi Concerto in A minor (two solo violins and strings) and there will be a performance of Arvo Pärt's Spiegel I'm Spiegel, an evocative work for Viola and Piano.

On Wednesday 28th March at 19:00 the staff and guests of the Music Department will perform a concert of solemn and contemplative sacred music specifically selected to encourage times of stillness and self-reflection in the lead-up to Easter. The works being performed are the Sinfonia 'Al Santo Sepolcro' by Vivaldi (string instruments), the hauntingly beautiful cantata Schlage doch, gewunschte Stunde by Hoffmann (voice and strings), and the much-loved Stabat Mater by Pergolesi (soloists: Lente Louw and Vasti Knoesen). Lucia di Blasio Scott will be leading a special ensemble of period instruments, chosen to enhance an intimate and nuanced performance. Both events are open to the public and there is no charge.
Please see attached assembly notices, message from the Principal and an update from the Bishops Trust.
I would like to wish you all a wonderful Eastertime with your families.
Yours sincerely
Guy Pearson
PRINCIPAL