Dear Parents
"Trust yourself, you know more than you think you do": Dr Spock
The matrics are well under way with their final exams having all written English on Monday and Mathematics today. When I wandered around the exam venue today they all seemed to be happy with the Maths paper! This evening is the opening of the matric art exhibition in the Woodlands Pavilion. This is well worth visiting, our boys have produced some superb work.
The rain this week has been a welcome relief but certainly not enough to make a dent on the severe water crisis in the Western Cape. We have received notice from the City of Cape Town of the implementation of water shedding between the hours of 05h00-09h00 and 17h00-21h00. There is no roster so we are putting plans in place on the assumption that it could occur on any day. We are asking boys to at least bring a bottle of water to school for drinking water during water shedding hours. As I announced at Prize Giving, the intention is to be off the water grid by February/March next year. In the meantime we all need to save every drop of water we can.
It is also that time of the year when bees are very active and throughout Cape Town you will see swarms of bees flying around. At Bishops we have a bee keeping society which tends 5 hives in the fynbos garden next to the Oaks cricket field. There have been concerns about this being a problem and I have asked our beekeeper Kevin Kruger to comment:
"As is normal during Spring season, we are seeing more bees than usual at Bishops. We are aware of swarms of bees on our property – these are bees passing by and looking for a new home and may be obvious for a day or two. While they may be considered dangerous, we do not want to exterminate them since they are a precious part of our food cycle. Bees from managed hives (boxes) are seldom seen as they go about their daily functions. They do not swarm. There are two hives in boxes at Bishops, and are used to educate boys about bee management. There are also 3 other hives located in trees which do not pose any specific problem. If a swarm is encountered, move away if possible. If that is not possible, lie down. If you feel you are being pursued by bees, run through bushes. If a swarm enters your garden, spray water on them. Bees generally get annoyed by high pitched sounds such as lawn-mowers and weed-eaters, as well as the smell of cut grass.
The last time you encountered a honey bee was probably when the little insect caused havoc when it invaded your alfresco dining. At any point did you ever think that the bee was responsible for most of the food on your table. We all make the obvious link when we purchase our bottles of honey, and we all know that bees are used for pollination, but maybe we're not very clear on how crucial the honey bee is in our food production chain. Bees pollinate a third of all our crops, including fruits like apples, pears, plums, almonds, mangoes, peaches and guavas. If bees did not pollinate these crops, such foods would eventually disappear. The humble honey bee is an integral part of a R12-billion industry."
I am sure that most of you would by now have seen the video of the wonderful acceptance speech made by our incoming Headboy, Tim Sharples, at Prize Giving. He has become quite a social media celebrity in the process! It is tradition that the incoming Headboy addresses the school at this time of the year to set out his goals for the year ahead. Tim did this in assembly today and I attach his speech for your interest. Please see also the full list of our pupil leadership which I announced at Prize Giving.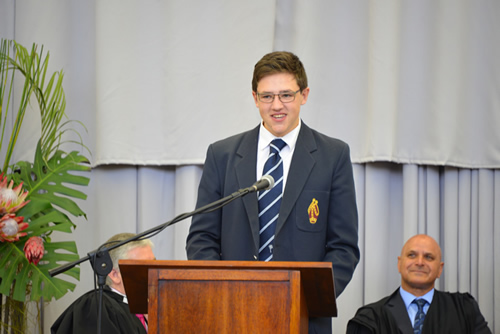 Over the past few years, at the initiative of Leon Glanvill and Graham Robertson, it has become custom for Bishops to host children from the disadvantaged schools in the Cederberg for a weekend. This is a wonderful initiative and I commend all those involved. Please see the attached report on this years' experience.
Please find attached an update from the Bishops Trust regarding the 175 campaign.
Have a wonderful weekend.
Yours sincerely
Guy Pearson
PRINCIPAL