Dear College Parents
"A problem difficult at night is resolved in the morning after the committee of sleep has worked on it." - John Steinbeck
On Wednesday evening we enjoyed a very meaningful Welcoming Service for our Grade 8s which marks their "rite of passage" to the College. From all accounts the new boys have settled well and enjoyed their camp.
Springbok Scout
Last week Mr Wrensch and I were invited to a ceremony at the 1st Claremont Scout Group at which Daniel Le Jeune (G12G) was awarded his Springbok for Scouting. This is the highest award that a Scout can achieve in South Africa. Well done Daniel!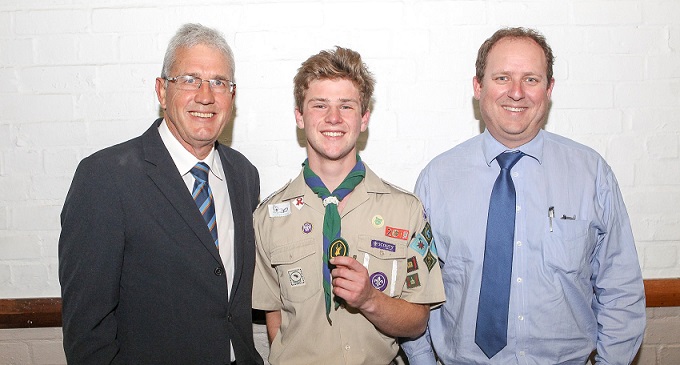 Confirmation
This year Confirmation is on 19 August in the morning. The Confirmation group will be meeting at Bishops soon and the Chaplain Bob Commin would like to know which boys would like to be confirmed this year. Would parents please discuss this with their sons and let the Chaplain know by email (bcommin@bishops.org.za) should they wish to join the group.
Condolences
Our sincere condolences go to Dimitri Kapoutsis (G10M) on the passing of his father Jimmy. Our thoughts and prayers are with Dimitri, his mum Margy and sisters Tina and Katerina.
Water crisis
We wish to assure you that the School has been working tirelessly in putting in place a workable and robust strategy to deal with the current water crisis and keep the school operating throughout the year.
The strategy is comprised of a number of phases, with some of the salient parts highlighted below:
Phase One – Water saving and improving the quality of our borehole water
Education and behaviour change – general water saving initiatives
Reducing shower times and catching the water with buckets for flushing toilets in boarding houses
Fitting low flow shower heads and tap nozzles, installation of hand sanitizers
Converting urinals to waterless
Installation of a large de-ionizer at source to treat and improve the quality of the borehole water. Another de-ionizer will be installed at the Prep
Installation of irrigation lines to all fields (All water cannons now decommissioned)
Reducing of watering times of fields and gardens to a minimum
Roofing of the water reservoir to improve water quality/reduce evaporation
Phase Two – Upscaling the capacity of storing potable water
The School has been ordering jojo tanks for distribution across the 3 campuses
Despite the scarcity, the School has managed to secure the delivery of an additional 10 x 10 000L tanks this week
These will be placed at key locations, with kitchens and accessible drinking stations being the priority
These will be filled with Municipal potable water whilst available to allow for interim rationing
The School has ordered a 2 500L trailer based water bowser for collection of Council water from designed collection points, and for distribution across the campus in the event of Day Zero. This is to be augmented by a water truck bowser from Turf Works, capable of transporting an additional 10 000L
Phase Three – Converting toilets from Council water to treated de-ionized borehole water
The School has selected thirteen well located toilet clusters across the entire School, where the cisterns are to be disconnected from the Municipal supply and fed with de-ionized borehole water.
This process is well underway and will dramatically reduce the usage/need for potable water
These key toilet clusters will also have waterless urinals or the existing will be washed down with borehole water
Basin taps will be closed off and replaced with hand sanitizers. One basin tap to be left on.
Phase Four – Installation of a mini-treatment works to create our own high quality potable drinking water.
Plans are well advanced in the design, pricing and contract awards for the installation of our own mini- treatment work to be located near the White House central kitchen
The plant will be designed specifically to treat the unique characteristics of our de-ionized borehole water, and will employ various treatment methods
This plant will be designed to meet Municipal and National standards, and tested on a daily basis to ensure it meets with acceptable safety standards
The plant will have the capacity to generate 60 000L of clean potable water per day
This water will serve the central kitchen and be piped to key locations, including shower clusters in the three boarding Houses
In addition, this clean water will be piped to key well positioned locations across campus, including the Heatlie ablution block, the Frank Reid kitchen, the water polo ablution block, and cricket toilet complex near the SCTICCS
This will ensure adequate showering and basin facilities across the School using our own treated water
Clean water will be delivered to the Pre-Prep and the Prep School kitchens by bowser, as well as to key storage locations at shower and basin clusters
The Jojo tanks scattered around the School will be filled by the bowser from the treatment plant, ensuring adequate, easily accessible drinking water for all
Three clean water taps will be installed in key locations for topping up of drinking water bottles, and 3 taps for vehicular collection
Phase Five - Beyond day Zero
Continue to convert the remaining toilet cisterns onto borehole water and converting urinals to waterless
Extend the treated water reticulation to other parts of campus – dependent on capacity
Upscaling the treatment plant to increase output, if desired
Ongoing behaviour change to reduce consumption
Explore other grey water solutions (i.e. rain water harvesting into the jojo tanks, construction of a rainwater retention pond, etc.)
Sport and Sports Facilities
Sport is an integral part of our curriculum and we are committed to continue our sport programme within certain constraints. From Monday 5 February, the school will close two of its three pools (Prep and one of the College pools). Water polo will continue as far as possible with some adjustments to the programme. Prep and Pre-Prep swimming will be discontinued for the remainder of term. Where necessary, alternative activities will be introduced.
You will have read about the Western Province Cricket Union's decision to stop all amateur fixtures. The school is discussing with other schools how best to respond and manage the sport going forward.
Water Bottles
With the level 6B restrictions in place, we are requiring every day boy to bring a full water bottle to school (500ml). These may be replenished from the school water supply during the day, if necessary.
Conclusion
The School Executive is satisfied with the measures it is taking to ensure that Bishops can continue to operate as normally as possible, given the circumstances, and will keep the Bishops Community updated as the projects proceed.
I wish you all an enjoyable weekend.
Yours sincerely
GUY PEARSON
Principal