Dear Parents

Thank you to all those who have volunteered as Class Reps for this year. It was wonderful to be able to chat to you at the breakfast and I look forward to working with you all.
This is indeed a busy year, with our Grade 1 and 2 production coming up in August. For those who are not familiar with our shows, all grade 1 and 2 boys are on stage for four nights in an amazing production in our theatre. We look forward to a very exciting term 3! More information will be sent out as we prepare.
Please keep an eye on our live calendar for any dates that may change. This is the same as the Prep School so an important way of communication that you need to get used to.
Wishing Mrs Desire Swanich and Ms Yoliswa Mphahlele many blessings on their birthdays on Saturday and Tuesday respectively.
As we head into the fourth week of this term, I wish you a wonderful weekend.

Kind regards



SHARLENE GROOM
HEADMISTRESS
| | |
| --- | --- |
| | DIARY DATES |
Friday, 8th February

Coffee Connections


Time: 07:30
Venue: Pre-Prep Hall
Speaker: Anande Uys

Parents please feel free to join us for a conversation titled:

The pursuit of playfulness - Finding the balance between play and screen time within the hustle and bustle of daily life.

Friday, 8th February
Prep Sports Day

This event only involves a few selected runners from the Pre-Prep but if you would like to go and watch, your support will be appreciated.
Monday, 11 & 12th February

Individual and Class Photographs


All boys will have photographs taken so please make sure hair is neat and boys are at school. These photographs will be accessible online, and further information will be sent to you.

Friday, 15th February
Civvies Day

On Friday 15 February boys may come dressed in something pink, white or red. Donation explained under

TAKE Note

Friday, 22 February
Family Chapel Service

Venue: Memorial Chapel @ 8.30am. Parents are invited to join us at the chapel @ 8.30am for a short service.
Friday, 1 March
Prep Carnival

Please see details under

TAKE Note
| | |
| --- | --- |
| | TAKE NOTE |
MySchool Card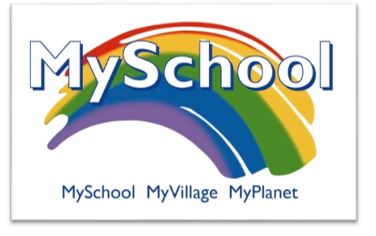 Since re-launching the MySchool Card initiative at Bishops the response has been very positive, and many members of the Bishops community have, either applied for a new card, or have started using their old ones again.
Our thanks to those who have taken up the challenge of 'Every Swipe Counts'!
As this is a painless way to fundraise, we again appeal to you to please apply for your MySchool card and use it as much as possible at any Woolworths or partner store. Regular feedback on the progress of this initiative will be made available.
The funds raised from this project will be used to upgrade the present libraries, which are used by all the Bishops boys from Pre-Prep to College.
Our aim is to change these facilities into 21st Century Resource Centres which will equip our boys with the skills needed for the future!
So, all that is left for you to do is apply for your card and use it!
Please download the MySchool Application HERE.
Please direct your queries to Rosemary Wilke at rwilke@bishops.org.za
Many thanks for your support.
Carnival Tickets are now on Sale!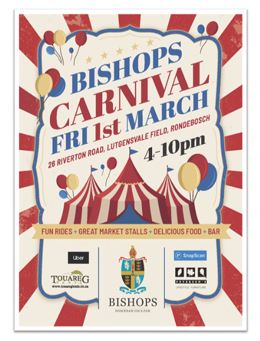 Because the carnival is taking place at Lutgensvale with more space at our disposal, there are going to be more and bigger rides on offer than in previous years. For this reason, it has been decided to offer 1 ticket for all the rides with unlimited access, so you won't keep having to put your hand in your pocket as your child asks to go on a ride yet again!

There will be 6 rides for the Pre-Prep age group for R100, and 9 different and bigger rides for the Prep age group for R250 with unlimited access from 4pm to 10pm! (Last year your R250 would have bought you 8 single rides). The 2 areas will be kept separate, so the younger children will not be jostled by the older ones.

To buy your tickets, please click on the online booking form HERE. You will be able to collect your tickets from a committee member at the Reception at Prep on Tuesday and Friday mornings from 07h00 to 07h45.
Valentine's Day/Civvies Day
At the Pre-prep we celebrate Valentine's Day by wearing civvies and donating something to a good cause. We look at our environment and our fellow man and try and fill a need. This year we will be doing exactly that. We ask each boy to donate something on the list below, to be donated to the wonderful people who are feeding the flamingo chicks that are in danger. We will show the boys what the need is and talk about it at school as well. If you would prefer to donate cash, the money will be used to purchase solar torches to donate to the night staff at Red Cross Children's Hospital. They have expressed that this is a need and we would like to contribute in some way.
Goodies needed for the flamingo babies: Please choose one (or more items)
Nestum baby cereal stage 1, frozen and de-shelled prawns, frozen sardines (A grade), eggs, black bags, Auto washing powder, sieves, paper towels, bamboo cotton buds, 10ml and 20ml syringes, brooms (soft and hard), mops and cable ties.
| | |
| --- | --- |
| | PRE-PREP PRAYER GROUP |
Prayer Group

Please feel free to join our parents prayer group in the Woodlands Pavilion on a Tuesday from 7:30am.
This will be a combined parent's Prayer group for the Pre-Prep, Prep and College.
Contact our Youth Pastor Justin Woolls - jwoolls@bishops.org.za if you need assistance.
BISHOPS PRE PREPARATORY SCHOOL
Campground Road, Rondebosch, Cape Town, 7700
Phone +27 21 659 1037 | Fax: +27 21 659 1922