Dear Parents

We seem to have taken a huge dive into winter. Thank you to all the parents who have facilitated the change into Winter uniform so well. We do understand that some boys are still finding the top button of shirts tricky. Please can I urge everyone to label all items of uniform including socks, shoes and ties. These are items that are often found lying around and cannot be returned to their owners for lack of names.

Kind regards



SHARLENE GROOM
HEADMISTRESS
| | |
| --- | --- |
| | DIARY DATES |
Saturday, 4 May 2019

Grades 1 and 2 Tag Rugby

Tag Rugby will be played on the Cemetery Field on Saturday morning. Please contact gnolte@bishops.org.za for any further information.

Wednesday, 8 May 2019
Election Day

The School will be closed. All classes and extra mural activities will commence as usual on Monday 6th and Tuesday, 7th May.
| | |
| --- | --- |
| | TAKE NOTE |
Rain jackets

A gentle reminder that boys are requested to wear rain jackets to and from school only. They are restricting when in the classroom and do not allow airflow. Please remember to send a school jersey to school every day.
Exams and Students

Our interns (Ms Yi-Yi Lin, Ms Shemone Rudolph and Ms Laura de Klerk) are heading into midyear exams. We would like to wish them well during this time. We will have some students from other institutions doing their practical teaching with us from next week, in case you see some unfamiliar faces around the school. Welcome to Ms Hanje du Plessis, Ms Jessica Houliston and Ms Erin Nel. Ms Meisie Modiga will join us from 13 May.

| | |
| --- | --- |
| | PRE-PREP PRAYER GROUP |
Prayer Groups

The Men's Prayer Group meets every second Tuesday of the month at the Woodlands Pavilion at 06:50.

The Parents' Prayer Group meets every week from 07:30 at the Woodlands Pavilion.
Should you have any questions, please feel free to contact our Youth Pastor, Justin Woolls, jwoolls@bishops.org.za.
| | |
| --- | --- |
| | GENERAL INFO |
Birthdays

We would like to wish Ms Jamie-Lee Raman (Gr R) a happy birthday for Thursday 9th May.
Parking

Parking at the Sandown corner is always tricky. On these rainy days we ask that you park respectfully and not double park, leaving your car unattended.
Aristocats

Our production of Disney's Aristocats, involving all Grade 1 and 2 pupils, is well underway. Please be reminded that absence from school around rehearsal times has implications on the whole cast. We have tried to notify all parents from very early in the year and therefore trust that our parents will support our requests. An enormous thank you to all the parents who have responded to help with costumes and wardrobe requirements. These too are in full swing and we are very excited about this upcoming event!
Thank you for Clothing and Blankets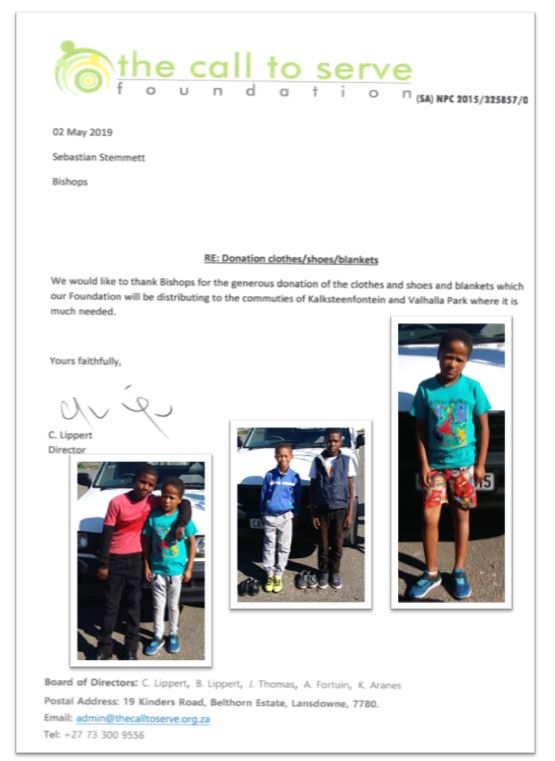 Again, an enormous thank you for your generous clothing donations. To date these have been distributed far and wide. Above is a letter and some pictures of the very grateful recipients, the rest was delivered into the community. Other donations were to Saartjue Baartman home for women and children, Lielieblom orphanage and The Make a Change Project in Malmesbury,
| | |
| --- | --- |
| | HIGHLIGHTS |
Grade N Play to Learn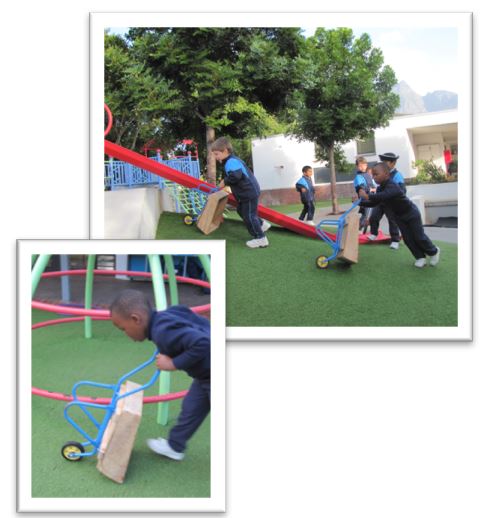 Amanda Morgan writes " Before we even put a pencil in a child's hands, those hands should dig, climb, press, pull, squish, twist and pinch in a wide array of environments and with a variety of materials." Today we mowed the lawn in Grade N. :)
Flexible seating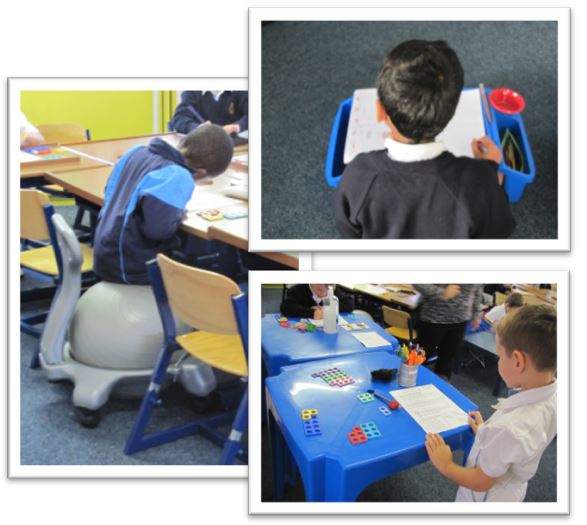 Some of you may have heard of our vision for flexible seating in some of our classrooms. Here is a sneak peek.
Pre-School Art Materials

We are collecting items for the Pre-School Art Rooms such as toilet paper roll cores, ice cream containers (with lids if possible), cereal and toothpaste boxes and any other boxes that can be used for box construction. We would also appreciate any wood offcuts for our woodwork bench. Please drop off these items in the brightly coloured wheelie bins which will be placed outside the hall next week.
BISHOPS PRE PREPARATORY SCHOOL
Campground Road, Rondebosch, Cape Town, 7700
Phone +27 21 659 1037 | Fax: +27 21 659 1922