Dear Parents

A very warm welcome back to Term 2. We have been blessed with beautiful weather and now a little rain to ease us into Autumn. Thank you to those parents who sent very smart looking boys back to school with short haircuts and correct uniforms! Just a gentle reminder that boys need to get used to tying shoe laces to make it easier for them to adjust to black lace up school shoes.
We would like to welcome a new staff member, Mrs Deirdre Harris, who will be teaching our Art Classes. Mrs Harris has moved to Cape Town from Gauteng, having taught at Hilton College and St Stithians College. We wish her a long and happy stay at Bishops.
Wishing you all an exciting, busy and fruitful term ahead. In the words of Wernher von Braun: "I have learned to use the word impossible with the greatest of caution" after all, "the Wright brothers flew right through the smoke screen of impossibilities" - Charles Kettering

Kind regards



SHARLENE GROOM
HEADMISTRESS
| | |
| --- | --- |
| | DIARY DATES |
Monday, 8 April 2019

All Extramural Sport starts

Please remember the kit required should your son be signed up for the following Winter sports:

Hockey: Whites, long Bishops hockey socks, white takkies, shin guards, mouth guard and hockey stick.

Tag Rugby: White shorts, specific colour tag t-shirt for Grades 1 and 2. Whites for Grade R.

Cross Country: Whites If boys do not have the correct kit, they will accompany the group, but watch the practice.

Friday, 12 April 2019

Coffee Connection

Time: 07:30
Venue: Pre-Prep Hall
Speaker: Anande Uys

Back by popular demand! Parents please feel free to join us for a conversation titled:

The pursuit of playfulness - Finding the balance between play and screen time within the hustle and bustle of daily life.
| | |
| --- | --- |
| | TAKE NOTE |
Chapel Service

Please take note of our adjusted family chapel service this term. It will be on the last day of the term and all parents are invited to join us. Boys will need to return to their classes to be dismissed for the holidays.
Easter Eggs collection

Thank you so much to all those families who have sent in marshmallow Easter eggs. We will continue to collect until just before the Easter Weekend so that we can distribute for Easter.
Knitting initiative

Our pile of squares is growing, albeit slowly! Please send along any squares or pop in to collect some to sew into blankets for distribution. Your help is much appreciated and to see the delight on the faces of the recipients makes it even more worth it. Please consider knitting just a few squares to help our cause.
| | |
| --- | --- |
| | PRE-PREP PRAYER GROUP |
Prayer Groups

The Men's Prayer Group meet every second Tuesday of the month at the Woodlands Pavilion at 06:50 commencing 9th April.
The Parents' Prayer Group will meet again every week from at 07:30.
Should you have any questions, please feel free to contact our Youth Pastor, Justin Woolls, jwoolls@bishops.org.za.
| | |
| --- | --- |
| | GENERAL INFO |
School Uniform
Just a reminder of our school uniform expectations:
Grade N and R: Shorts and golf shirt with a jersey and if cold, both tracksuit top and pants with takkies and white socks. This is a mix and match uniform except for the tracksuit that needs to have the top and pants worn together. This allows for boys to remove their tracksuit if it warms up during the day. Please make sure all items are clearly marked.
Grade 1 and 2: Khaki shorts, Khaki long sleeved shirt, long grey socks and black lace up shoes, school tie, jersey and tracksuit (top and pants) may be worn over the uniform if particularly cold. Jerseys please to be worn, or in their bag each day. Please note that tracksuits are not worn over summer uniforms as a jersey is a suitable addition if it gets colder. Tracksuits are only worn in winter.
Skeeles 7s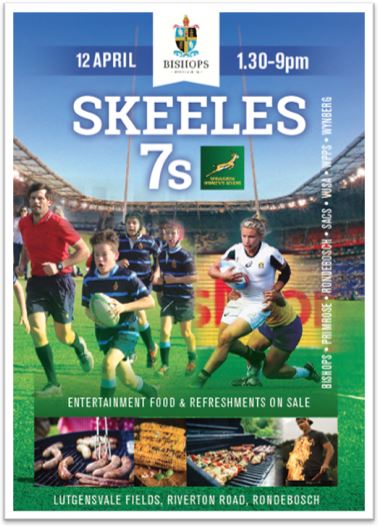 On Friday 12 April, the Grade 7 parents will be hosting the annual Skeeles 7s rugby tournament. This will be held at the Lutgensvale fields starting at 13:30.
There will be loads of fun and food stalls for all, extending way into the evening with a braai, tuckshop and bar. Parents are also welcome to bring and braai, with the idea that we invite and meet our fellow school teams that are playing. The SA womens 7s team will be playing a game against the teachers at 16:00. It is also a fundraiser for Grade 7 leavers, Tour and VUSA. Please support this event as we kick off our rugby season at Bishops.
This is always a lovely festive occasion and we encourage all parents to come down for an afternoon of fun for all.
Book Display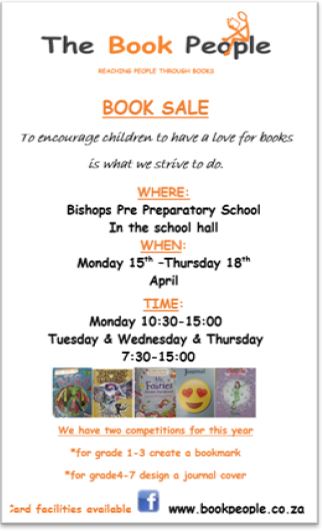 Please see the above flyer and take some time to come along and browse through the wide selection of books available for the boys to purchase.
| | |
| --- | --- |
| | HIGHLIGHTS |
Winter Sports Kick Off Next Week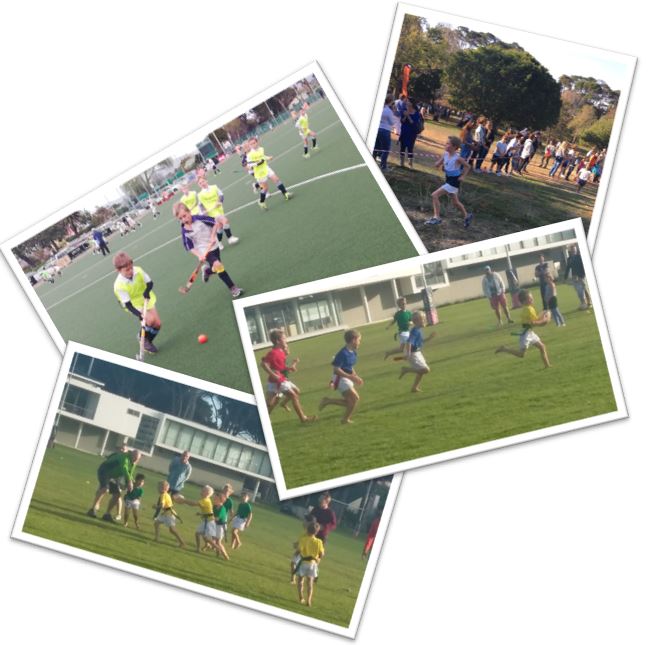 The boys are excited about the winter sport season starting on Monday, with amongst others, Tag Rugby and Mini Hockey.
BISHOPS PRE PREPARATORY SCHOOL
Campground Road, Rondebosch, Cape Town, 7700
Phone +27 21 659 1037 | Fax: +27 21 659 1922