Dear Parents and Guardians
This is the last newsletter for the year and, when writing, I was filled with a sense of gratitude. I am grateful for sure that the year is at an end and that there will be time to relax and spend time with family and friends but I am even more grateful to the Bishops community for their support over a challenging yet inspiring year gone past. We have all had to deal with so much, personally and professionally, yet have managed to do so with the help of those around us.
My thanks go to all parents and guardians who supported their sons and the College with your words of encouragement and gratitude. I hope your son has enjoyed the year. A special word of thanks goes to the Matric parents who did so much in support of their boys, and I single out Mrs Marycke Roche in particular for her enthusiasm and drive in leading a committee of parents who arranged the various Matric festivities and the yearbook. This was not an easy task, yet they led the team with aplomb, and I thank her and Mrs Trudy Hoefnagels as teacher liaison for making this a memorable year for the Grade 12s.
Staff Acknowledgement
I wish to thank our staff for their contribution this past year. They have, once again, stepped up and delivered the very best experience they could under often challenging conditions. I acknowledge them all, teaching staff and support staff for their role in making Bishops a special place for our boys.
We are delighted to welcome our Grade 9 and 10 boys back from their various adventures on Grade 9 camps and Epic respectively. My very grateful thanks go to Mr James Swift (Grade 9 Camps) and his team of staff and Mr Graeme Klerck and his team who arranged and ran Epic. Epic is a massive exercise in logistics that requires meticulous planning and the ability to make decisions as the situation changes. Mr Klerck did so superbly, and I thank him on behalf of the Grade 10s for providing this memorable experience for our boys.
I would also like to thank those who are leaving and wish them well for the future. We have a number of temporary staff and interns who have been with us for a short period of time. They are:
Ms Kelly Johnson (part-time Art)
Ms Tia Mesias (English intern)
Ms Nombuso Khumalo (Mathematics intern)
Mr Matthew Samuels (Mathematics intern)
Mr Clause Coskey (Economics intern)
Ms Yusrah Gamiet-Petersen (BSU Ed Psych intern)
Ms Genevieve During (BSU Ed Psych intern)
Ms Jeandre Gabriels (BSU fixed-term temp administrator)
Dr Paul Murray (fixed-term temp History but carries on as archivist)

We thank them for their service and wish them well for their future careers.
Two support staff leave us to enter retirement:
Sister Sharon Hicken retires after just over 10 years as our San Sister. During this time, she has helped thousands of boys and many staff and has always been thorough and professional in her work, She has coped with various outbreaks along they way, Covid being the last of the major incidents which has affected us all so much. We thank her for her service and wish her well for her retirement.
Ms Carol Witbooi has served Bishops for 17 years, taking over as Cleaning Supervisor. She has been incredibly hard-working and committed to her job and her school and takes great pride in her work. She is devoted to her duty and her team and led from the front, often undertaking jobs herself that many managers would allocate to others. She is indeed a servant leader who puts the needs of others before self, and we will miss her enthusiasm and commitment. We wish her a good rest after a job well done.
Two teaching staff are leaving:
Mr Kuthula Ntshontsho leaves to return to his home province of KwaZulu Natal and takes up a teaching position at Hilton College. In his three years here, he has made a significant impact on College life with his caring nature and devotion to his subject and his boys. We thank him for everything he has done and wish him well for his new position.
Mr John Holtman is, quite simply, an outstanding educator. Apart from his work as an inspiring English teacher in the classroom and enthusiastic and committed sports coach, Mr Holtman's strengths lay in the relationships he had with boys and staff. As a Tutor he was remarkable, caring deeply for the boys in his care. As a colleague on the staff he was both empathetic and kind yet consummately professional in all he did. His passion for debating and public speaking bore much fruit and it is a tribute to him that Bishops has done so well in this arena for so many years. He kindly agreed to stay on for a year after retirement to help us out. We thank him for the extraordinary example he set us as a teacher and as a human being and we wish him all the best for what we hope is a long and well-deserved retirement.
Finally, our cricket professional for the past 8 years, Mr Neil Carter, is relocating to the Lowveld and taking up a position at Uplands College. We thank him for his service to Bishops cricket and for the many hours he has spend developing cricketing talent. We wish him and his young family well for the new opportunity.
Two Heads of Department have finished their term of office and we thank and congratulate Mrs Bev Morris and Mrs Gloria Bassett for their contributions to the LO and Music departments respectively. They will still be with us but the role of HoD will be taken by Mr Richard Smith (LO) and Mrs Andrea Rutter (Music). We congratulate them on their appointment and wish them well.
Robert Gray Medal Award
We were able to make our final Robert Gray Medal award to a most worthy recipient, Mr John Gardener. Mr Gardener is a committed educationalist who devoted his life to the education of young people and had a distinguished career over many years, including time as Principal at Bishops. We congratulate Mr Gardener on his award and thank him for his significant contribution.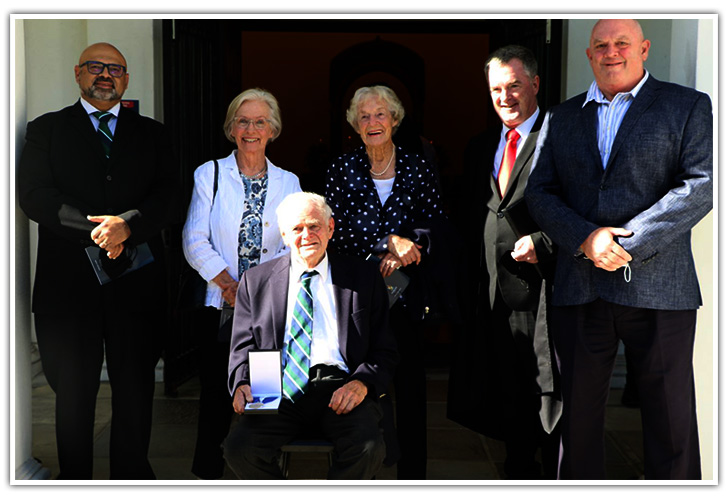 Final Thoughts
My assembly message was brief but centered around hope and I shared two quotes about hope that I found inspirational.
"You may not always have a comfortable life and you will not always be able to solve all of the world's problems at once but don't ever underestimate the importance you can have because history has shown us that courage can be contagious and hope can take on a life of its own."
Michelle Obama
"They say a person needs just three things to be truly happy in this world: someone to love, something to do, and something to hope for."
Tom Bodett
Let us all hope for tomorrow with a combination of optimism and realism as we look ahead to 2022. Enjoy this time with your families and enjoy time for yourself.
The celebration of the birth of Christ is a momentous occasion in the Christian calendar and we can use this moment to reflect on the hope He brings to us. New life often signifies new beginnings and a renewed sense of purpose and hope. To those who are celebrating Christmas, I wish you a Blessed Christmas and that the occasion is marked with a deep sense of spiritual fulfilment.
To all parents I wish you a safe, relaxing and enjoyable festive season and all good wishes for the New Year.
Kind regards
Antony Reeler
Principal