Sport
Rowing
Misverstand Regatta took place at the end of October. The competition was split over two days - the first day being multiple 500m sprint races in varying boat classes and on Sunday a 4 or 6-kilometre heads race, depending on the age group. The Grootwinterhoek Mountain range as the backdrop makes Misverstand the ideal spectator venue, just ask the parents who went to support!
Well done to the following athletes on their commendable results:
Open Results
Scull: 2nd - Traut and 3rd - Calow
Pair: Calow - 3rd
Coxed Four: Calow Crew - 1st
Eight: Breslin Crew - 3rd
Heads Race 6 kilometres: Breslin Crew - 3rd
U16 Results
Scull: Redfern - 1st and Frankel - 4th
Pair: du Plessis and Daya - 2nd, Breslin and Maurel - 3rd
Coxed Four: Breslin Crew - 1st
Eight: Breslin Crew - 2nd
U15 Results
B Scull: 1st - Ratcliffe, 2nd - Moran, 3rd - Bromley
A Double: Planting and Ratcliffe - 4th
Coxed Quad: Planting Crew - 3rd
Oct: Planting Crew - 2nd
Heads Race 4 kilometres: Planting Crew - 1st
Athletics Spring Meetings
Congratulations to Joe Phillipson who won the Mickey Allis Memorial Mile Trophy at the Wynberg Athletics meeting earlier this term.
Other notable performances were from:
Daniel Von der Heyden who won the shot put u15 event
Danny Newton who came second in the u14 long jump
Nic Perez who won the u15 800m
Liam Day who won the u17 400m
MVP Volleyball Trophy
The winner of the inaugural "Most Valuable Player" Volleyball Trophy for 2022 goes to the captain of the club, Fabian Gaertner Grade 11 Mallett, who has so efficiently run all the meetings, practices and matches this year. He also captained the team in the tournament win over Pinelands as well as winning the Camps Bay Beach challenge. In addition he has been selected to play university volleyball for the UCT 2nd side as a left side swing hitter. He has progressed in 2 man beach; 4 man grass and 6 man indoor volleyball and is well set to make even further progress in the New Year!
Water Polo Leadership For 2023
Congratulations to our Water polo leadership for 2023.
Captain: Benjamin Hatty
Vice-captain: Trento Lambrechts
We wish you and the coaching staff a successful and fun season.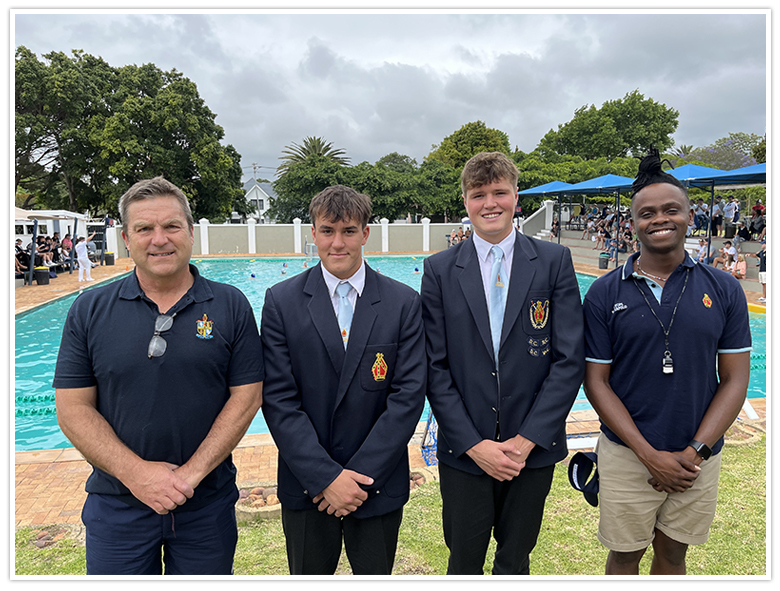 Litha Mbiko: WP u16 Cricket Team Selection
Congratulations to Litha Mbiko on his selection to the WP u16 cricket side. This is a particularly remarkable achievement in light of Litha being u14. Litha and his provincial team-mates will travel to Gauteng to participate in the Cricket South Africa (CSA) u16 National Cricket Week to be staged between the 11th and 14th November 2022.
Visser Gildenhuys: 1st XI cricket coach 2023
Congratulations to Mr Visser Gildenhuys on his appointment as 1st XI cricket coach. Since arriving at Bishops two years ago, Mr Gildenhuys coached, with success, the 14As and is extremely excited at the prospect of working with the 1st XI cricketers. He will collaborate with current 1st XI coach, Mr Brendon Hamman, and will work closely with Head Coach, Mr Brad Barnes, ahead of the team's first assignment of the new year: the Peninsula Cricket Festival, at Bishops in January 2023.
Change of training days for junior and senior cricket teams as of Term 1 2023
Please note that cricket-specific training days, for junior and senior sides, as a standing arrangement, will change to the following days as of Term 1 2023:
U14s and u15s: Mondays and Wednesdays 15:30-17:45.
U19s: Tuesdays and Thursdays 15:30-17:45.
This is to align with local leagues as well as to correspond with water polo and winter sports and to make whole-year planning for Bishops' families a simpler process.