Interhouse Hockey
Interhouse hockey took place at the end of the season this year and was filled with some great hockey and competition.
In the junior section Gray House beat Kidd House to make it into the final and after showdowns School House won against White House. The final standings in the junior interhouse were: 4th Kidd House, 3rd White House, 2nd Gray House and 1st School House.
In the seniors there was once again some excitement in the playoffs with showdowns, resulting with Kidd House and Gray House in the final and Birt House and Ogilvie House playing for 3rd and 4th. Senior interhouse hockey ended with Ogilvie House in 4th place, Birt House 3rd , Gray House 2nd and Kidd House 1st with a well-deserved win in the final.
Well done to all boys who participated and special congratulations to the winning houses School House and Kidd House.
Royal Society Essay Competition
The Royal Society run an annual schools essay competition, and boys doing Science are encouraged to enter. There is a choice of three topics and whilst we have often had a runner up, 2022 is the first time since 2005 that we have a winner! Trenowyn Giles chose to write on a topic relating to 2022 being the International year of Glass, and for his efforts he received first prize of R5000. Congratulations on this incredible achievement.
Water polo
SACS U19 Water Polo Tournament
The 1st Team played in the SACS U19 Water polo tournament over the holidays, from 1st  to 3rd October. They won 7 out of 9 pool games and finished 3rd  in their pool. Unfortunately, the team lost 6 - 4 to St John's College in the quarterfinals, who went on to win the tournament. Well done to all the players and coaching staff. This was the last tournament for several matric stalwarts in the team, including: Nicholas Steinhagen, Dean Sneddon, Max Cary, Jack Moyle, Louie Hart, and Tim van Heerden. Dean Sneddon was also selected for the tournament team.
Hilton U14 Water Polo Festival
The U14A team travelled to the midlands at the start of the holidays to play in the Hilton College Water polo festival, from 29 September – 2 October. They won all their games beating Michaelhouse, Westville, Kearsney, St John's, Clifton, and Hilton. Well done to the players and coaching staff.
Cricket
The 1st XI, 17As, 15As and 14As all participated in festivals during the holidays.
The 1st XI travelled to Cape Schools Cricket Week (CSCW) hosted by Selborne College. The havoc created by the weather necessitated a change of fixtures and formats, and the cancellation of all scheduled matches on the Saturday. The rain did eventually abate and the 1st XI managed fixtures vs Waterkloof (45-overs-side) on Sunday 2nd October, and T20s vs Grey High School (at Buffalo Park) and Graeme College on Monday 3rd October, and a morning T20 vs Parel Vallei, and on Tuesday 4th October. Wins v Graeme and Parel Vallei were offset by losses vs Waterkloof and Grey.
The 17As headed to Michaelouse on Friday 30th September and, in the four days of cricket that followed, Bishops recorded a draw v Kearsney College before losing matches to St Charles, Michaelhouse and Hilton. The final games, scheduled, for Tuesday 4th October were cancelled due to inclement weather.
The 14As and 15As travelled to Pretoria and Gqeberha/Makhanda, respectively, and both returned to Cape Town having won three out of four games. The 14As recorded wins vs Jeppe, Waterkloof and Pretoria Boys before going down, off the last ball of the game to Affies on Tuesday 5th October. The 15As won declaration matches vs Jeppe and Grey High School on Day One and Day Two of the festival before fading in a 270-odd run chase vs Affies, in a 50-overs-a-side contest on Day Three. The 15As did get it right 24-hours later, under lights vs St Andrews in Makhanda, and succeeded in reaching the 265-run target set by the hosts to end the tour on a high.
There were a number of very impressive personal milestones recorded by Bishops cricketers during the aforesaid festivals.
Milan Sandri 17A vs St Charles and Reece Van Wyk 15A vs Grey returned five-wicket hauls. Fayyaad Domingo 1st XI vs Graeme College went one better and recorded 6/21.
Litha Mbiko 14A vs Jeppe, Waco Bassick 14A vs Pretoria Boys and Adnaan Lagadien 15A vs St Andrew's, all scored 100s (Waco's and Adnaan's tons were undefeated).
And Thaafier Japtha 14A achieved something particularly special at schoolboy/any level of the game by way of registering a double century, in a 50-overs-a-side game, vs Waterkloof. His remarkable numbers vs Waterkloof: 217 off 137 balls. 18 x fours and 12 x sixes.
Karate
Zuhayr Mohamood represented the South African Team in the Commonwealth Karate Championships in Birmingham, which took place from the 7th to 11th September. Zuhayr made it into the semi-final, which he lost, but won Bronze. We congratulate Zuhayr on this outstanding achievement.
As a collective, Team South Africa came 4th overall in the medal standings.
Rowing
Boston Tour 2022 - Head of the Charles Regatta
With less than 10 days to go until race day, 11 strong Bishops Senior Rowers and two coaches, Mr Bradley Smith and Mr Christopher Hale will depart for the State Capital of Massachusetts, Boston, on Thursday evening 13th October for the 57th Head of the Charles Regatta.
Known as the biggest regatta on the rowing world calendar, The Head of the Charles hosts over 7000 athletes, boats sprawled on the bank and river - it is a sight to behold. The course winds through the heart of The City of Boston. The Charles River is flanked by Harvard, MIT and Boston University. The river is home to some of the biggest names in University and University Rowing. We wish the rowing team an incredible tour.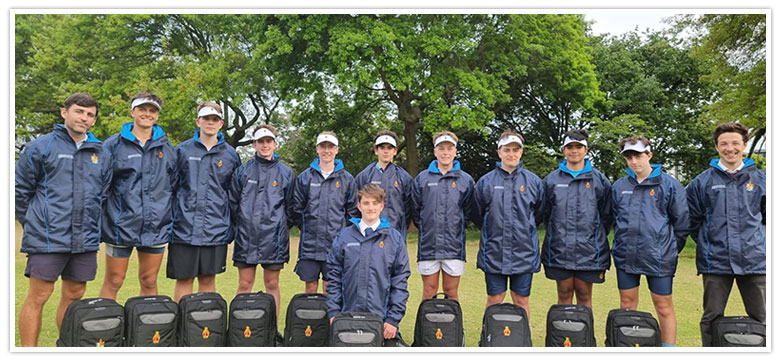 Music
Sebastian Boeddinghaus recently received the news that he is a first prize winner in the International Youth Music Competition in the category "Piano". In order to enter for this competition, he had to submit a video recording of himself playing a piano piece. There was an invitation for him to travel to New York to perform the piece with other first prize-winners at the New York Prize-Winners Concert. Unfortunately he was unable to attend due to his matric commitments. We are very proud of Sebastian for this outstanding achievement and congratulations also go to his teacher, Mrs Erina Westgarth-Taylor.