Rondebosch U17 Youth Cup
A squad of U17 soccer boys participated in the inaugural Rondebosch U17 Youth Cup over the long weekend, 6 - 8 August. The competition was tough, but the Bishops boys showed determination and courage as they battled it out to the end. With an even spread of 3 wins and 3 losses, the boys managed a 4th place (out of 7 schools) at the tournament, only just missing out on a podium spot.
A special mention must be made to Thami Siko, who scored a brilliant goal from about 15 meters out to put us one up on Reddam in an exciting 2 - 1 victory that concluded the tournament for us.
A special congratulations to Calum Daniels who scored a hat-trick in the team's 6 - 1 victory  over Hout Bay. Well done to all these boys who displayed great sportsmanship and enthusiasm.
Public Speaking and Debating
Bishops competed at the National Individual Public Speaking and Debating Competition at Parklands College. Our boys did exceptionally well, and despite it being an individual competition, they were completely supportive of one another and worked as an excellent team. Competitors were impressed by the Bishops poise, eloquence, and evident intelligence of their speeches.
Five boys won places on the South African team.
Ché Nanoo placed twelfth overall and was a finalist for Impromptu Speaking and Persuasive Speaking. Divakaran Govender was also a finalist in Impromptu Speaking and Persuasive Speaking and placed seventh overall.
Jamie Chester won the Impromptu Speaking and Persuasive Speaking categories and placed fifth overall.
Ben Anderson won the Debating category and was runner-up in both Persuasive Speaking and Impromptu Speaking. He placed fourth overall.
Jacob Fried was a finalist in the Impromptu Speaking, Interpretative Reading and Persuasive Speaking categories. He placed first overall and won the competition.
Simply Blue in Edinburgh
Simply Blue and the matric drama production of "Tapestry of Strength" have just returned from a successful tour as performers at the Edinburgh Fringe Festival and in a swelteringly hot London, where Simply Blue performed at the combined Bishops and Rondebosch OD function. We were hosted by the Reid family at Portmore House, their family estate, and performed at "The Space" venues at Symposium Hall and "On the Mile" respectively. The five performances were very well received. In their free time the boys were able to attend other Fringe productions, but the highlight was the 75th anniversary "Military Tattoo" on a perfect evening. While in London the boys were also lucky enough to attend the award winning musical "Hamilton".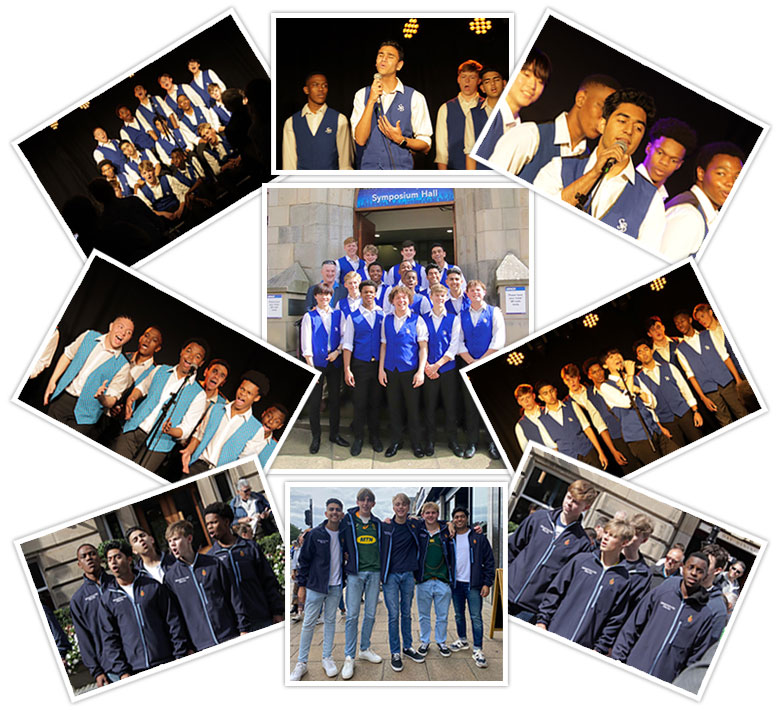 Interact
Vision Child and Youth Care Centre Fun Day
Please join The Interact Society on Sunday the 21st  of August for the "Vision Child and Youth Care Centre" Fun Day. The event will be held at Bishops in the Simpson Centre from 11h00 to 16h00. Join us for fun activities and games to make a difference in the lives of underprivileged children. If you would like to get involved or have any questions, please email zuhayr.mohamood@bishops.org.za.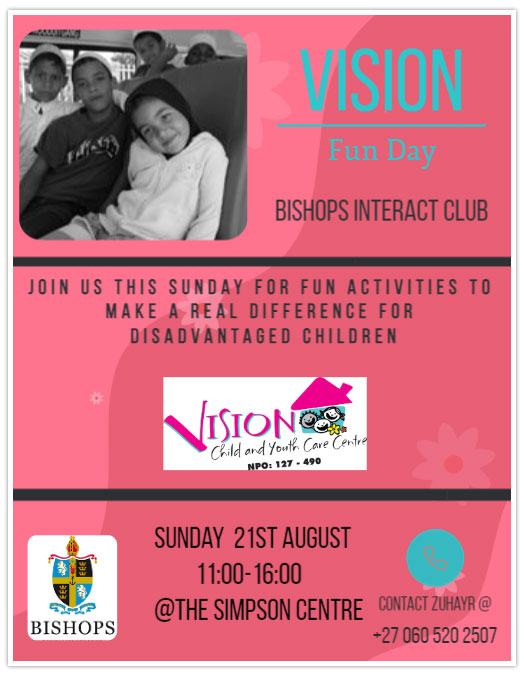 Founders
In the spirit of Ubuntu and to show appreciation and thanks to all those who work to keep Founders House running smoothly, the Founders' Matric boys hosted all staff at a dinner in the dining hall.
The boys planned everything leading up to the evening, prepared the gifts and dining hall for the guests, served the food, and cleaned up afterwards. Travel arrangements home again were also made for those who needed them.
Father Monwabisi joined the dinner and acknowledged the work that every member of staff contributed to the house, as well as the strong and respectful relations that our Founders boys have with those who work in the house.
It was an evening of role reversal, laughs, service, and showed the essence of what it means to show respect to those who work to make their lives easier.
A great evening was had by all! Floreat Founders.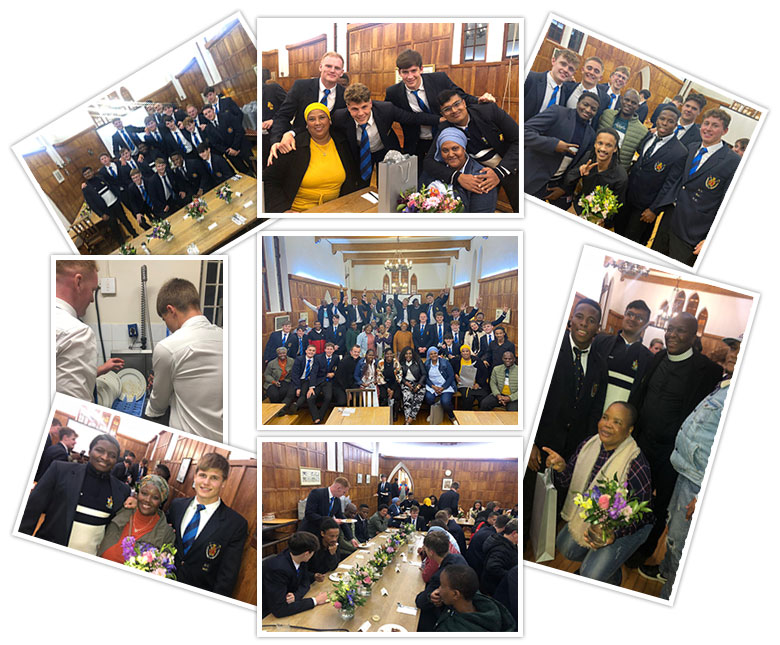 Cricket
Bishops' Cricket is delighted to announce that interim head coach, Brad Barnes, following a lengthy selection process, has been appointed to the role on a full-time, fixed-term basis. Brad, a former first-class cricketer; CSA Level 3-accredited coach and, until very recently, premier league club captain, will commence duties, officially, on the 1st September overseeing all aspects of coaching at the College in both the summer and winter months.
Music
Sebastian Boeddinghaus recently received the first prize in the International Youth Music Competition in the category "Piano". In order to enter this competition, he had to submit a video recording of himself playing a piano piece. There was an invitation for him to travel to New York to perform the piece with other first prize-winners at the New York Prize Winners Concert. Unfortunately he was unable to attend due to his matric commitments. We are very proud of Sebastian for this outstanding achievement and congratulations also go to his teacher, Mrs Erina Westgarth-Taylor.
Congratulations to Matthew Newton who recently passed his Grade 8 Trumpet exam from Trinity college in London, with distinction. This is an outstanding achievement.
2023 Interact Committee and their roles
Below are the members of the 2023 Interact Committee and their roles:
Zuhayr Mohamood (President)
Josh Traut (Vice-President)
Rohit Patel (Treasurer)
Joseph Mudge (Head of Marketing)
Jody Syndercombe (Head of Communications)
Malick Majiet (Secretary)
Rowing
Bishops Rowing is one of the College's five major sports. The Bishops Rowing Club offers opportunities to all: tours, camps and rowing regardless of one's capability or physicality - a truly inclusive sport.
We are proud to display our elegant sport to you and your sons this coming weekend, Sunday the 21st of August for our annual Family Day. Everyone is welcome to join!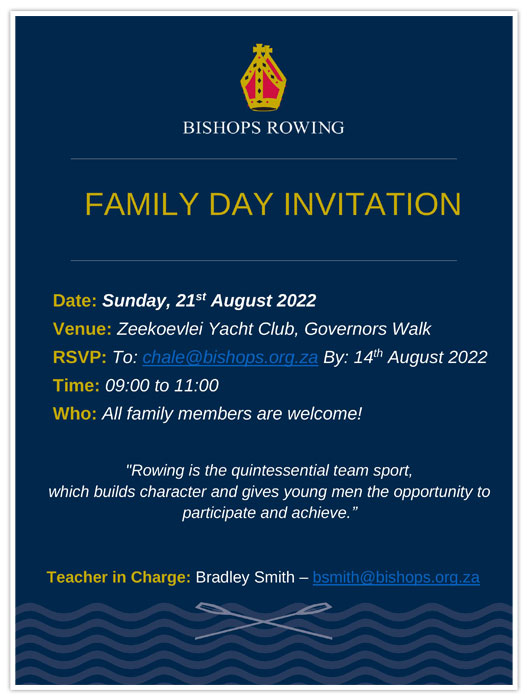 Furthermore, we would like to extend an invitation to your boys to join us at our October camp, which will provide an excellent opportunity to learn the sport, make friends before coming to Bishops and concreting them firmly in a sport which provides so much in the way of belonging.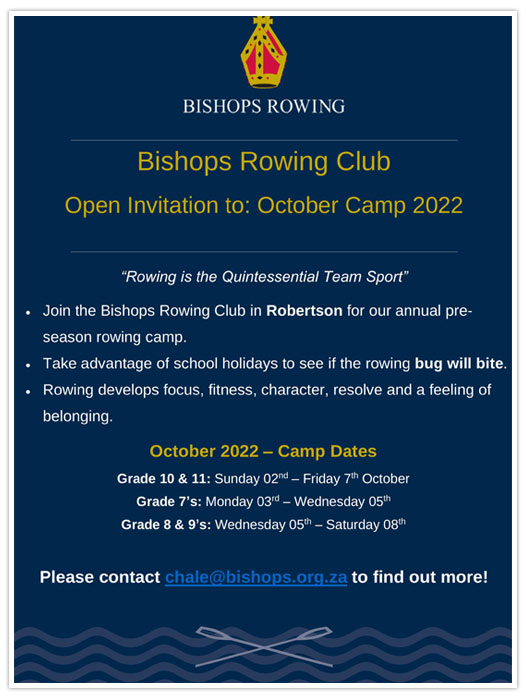 If you are interested in attending either event, please contact – chale@bishops.org.za
Eton Tour, Eton School, United Kingdom
Our Grade 9 rowers recently went on a tour to the UK to visit the rowers at Eton, and gain valuable training. They trained at Dorney lake, which is a breath-taking body of water, Etons' backyard and the venue for the 2012 Olympic Games.
The purpose of the tour was to learn how to row with one blade (sweep oar). Each day had an average of three training sessions, where the coaches gave advice and held Q&As daily. Our rowers were fortunate enough to have two athletes from the British Rowing Squad, one being from the British Woman's Quad assist with tips, advice and answer many questions our Grade 9 rowers had for them!
This was a once-in-a-lifetime experience. Experiencing both the culture and the rowing was a thrilling opportunity, special thanks to our parents and the rowing club for creating the link with Eton.
My School card and School Days
Please assist us as a community and raise funds for those in need where possible. Register for School Days and My School card at Woolworths, and donate by simply using your cards, while earning rewards in the process.
Please log on and register, the School Days. Once you have done this, it is automatically linked to purchases made at Dischem and other partners.
Registration is simple :
Go to www.schooldays.co.za
Download the School-Days Mobile app and join.
Join with the attached unique registration QR code. This will automatically link the supporters profile to Bishops account.
My School Card https://www.myschool.co.za/
My School card is available via registration at Woolworths – if you have a card, please remember to swipe every time you shop at Woolworths.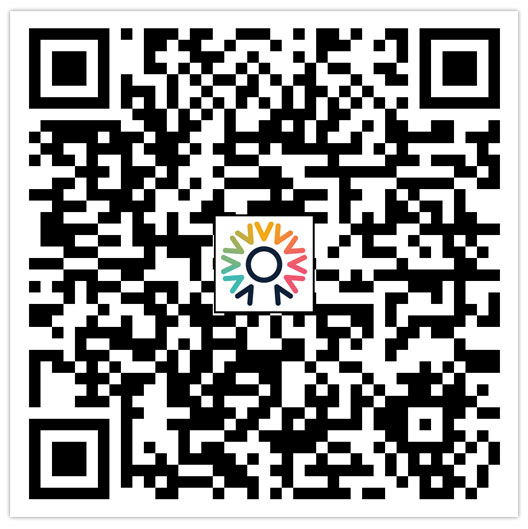 English Olympiad Results
Congratulations to the following boys who received gold and silver awards for the English Olympiad that was written in March:
Gold (80-89%)
Hasheel Govan
Silver (70-79%)
Michael Kruse
Stuart Whitelaw
Nimba Mahlati
Erik Todd
Ben Anderson
Jacob Fried