Dear Parents and Guardians
Welcome back to the start of the third term. I hope you managed to enjoy a good break and some quality time with your son and your family.
Our term opened with the customary Eucharist, but there was also a special memorial assembly to honour the memory of Ethan Mattison. Ethan was in Grade 11 Birt House and was tragically killed when he fell from the balcony of a block of flats. He passed away after 12 days in a coma, having been anointed by Father Monwabisi at the end. In the last week of the holidays, the family hosted a memorial service for his family and friends in our Chapel and it was good to see the support from the Bishops community at this difficult time. Our school service on Tuesday was for the boys and staff, and was an opportunity for us as a school to consider our own grief and loss. We then met with Birt House and the Grade 11s to assure them of our support in the coming weeks and to remind them they are not alone.
For many boys, the memorial may have triggered memories of loss, and in my experience, boys are very difficult to read when it comes to trauma and loss. Some try to be stoic about it, some try to use humour as a release. Whatever they may choose to do as a way of coping, we need to let them know that support is there for them – either at home or in school and they need to feel they can talk. If your son is battling with loss at this time, or indeed anytime, please feel free to reach out to us for advice and we will help where we can.
IBSC Conference
I was fortunate to be able to attend the International Boys Schools Coalition annual conference, held for the first time after three years, in Dallas, Texas. The conference theme of boys on the path to manhood covered a number of topics from masculinity to gender issues and sexuality. From lessons in archeology to stories about journeys in space. It was indeed a fascinating and enriching experience.
When I attend conferences, I tend to write down phrases that stick. If a speaker interests me and causes me to think, I try to capture the content in short sentences that remind or inspire me. These are just a few of the moments from the conference:
Young men need to be acceptable at a dance but invaluable at a shipwreck!
Burn with enthusiasm and people come from miles to watch the fire.
Make honourable things pleasant to children.
Do we have to teach you everything in order for you to learn anything?
Schools give boys the ability to love more.
Reflect on the total of your lifer rather than the detail.
When a small group of people find a better way of doing things, people start copying them and culture changes.
Do not over-parent by making your love conditional based on a child's success.
Leadership is a responsibility, not a reward.
How do boys' classrooms interpret female characters in literature?
Policies on gender remove angst from children.
There were many more moments of reflection, learning and connection and I am extremely grateful for the opportunity I had to attend.
In my conversations with delegates, I also tried to gather information about values – the values written down by schools as their core reason for existence and what they try to live by. I will be having a similar conversation with staff and it will trickle down to boys as we try to come up with a co-created values statement that captures the essence of why we do what we do. 
Staff
We welcome a number of temporary staff this term:
Mr Pieter Smith in for Mr Burgert Maree until the end of the year.
Ms Linda Tippoo in for Mr Graham Robertson who is on long leave.
Ms Kirsty Raasch in for Mr Campbell Smith who is away until 10 August.
Ms Nicole Rochat in for Ms Wendy Moult until 4 August.
We also welcome a number of students who are with us from various universities on teaching practical and Dr Hannah Swithinbank who is on the path to ordination in the church and is in SA for a few weeks.
Academic Issues
I trust that the feedback from the mid-year exam gave you good insight into your son's academic performance thus far, his strengths and the areas requiring attention. While Term III is not an exam term for Grades 8-11, it is an opportunity for our boys to consolidate before the end of the year. Our Grade 12s have a few short weeks of teaching left before they embark on their Mock Matric, and we wish them well for what is effectively their last term of school after 13 years!
Extra Murals
We had a number of our boys involved in sport this past holiday with a cricket team away up north and golfers in the Eastern Cape. My thanks go to those staff members who made this possible and who accompanied these tours.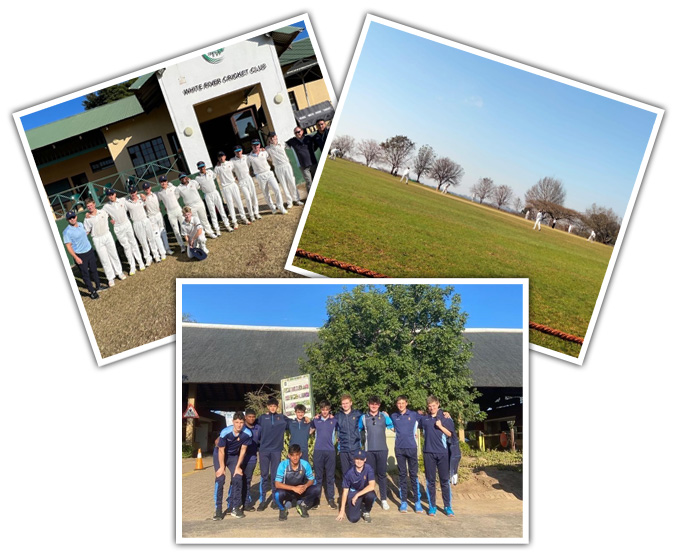 Our boys who took part in provincial competitions did very well and their achievements appear later in the newsletter. I do wish to highlight the selection of no fewer than three of our First XI hockey team to the SA Schools team. Well done to James Flint, Brett Horn and Daniel Neuhoff on this wonderful achievement.
I did mention the Eisteddfod at the end of last term at the final choir competition but do wish to record my thanks again to the staff and boys for a wonderful three days of cultural inspiration! It was a joy to watch. 
Final Thoughts
One of the speakers at the conference inspired me in the same way as the Duomo in Florence did the first (and only) time I saw it. This massive church took over 150 years to build and the part that amazed me was not so much the final structure as the commitment people showed over a number of generations to a final goal. And can you imagine the communication required to keep the project on track?!
In Dallas, we were addressed by Alan Stern who was responsible for the New Horizon space project that was to photograph Pluto. Again, I was amazed – this time because the team knew it would take a rocket over nine years to travel the 5 billion kilometers to reach its target. How on earth would they be able to hit this target given the tiny (or non-existent) margins of error? A degree of error on earth would mean millions of kilometers out in space. Yet they did.
These two examples of long-term commitment got me thinking about my own long term commitments as a Principal, a father, a husband and a friend. And caused me to reflect that what seems so important to me now may not actually be that significant in time.
Perhaps there is a lesson for us all here as parents – to remember the longer-term goals of raising decent, kind human beings who contribute to society and treat others well.
Finally, at today's assembly I tried to challenge the boys' thinking by looking at innovation and creativity, using the examples of companies that have taken over the way we do things and asking them what they think their world will look like in 50 years' time. It is a good conversation for a supper table!
I wish you well for the term ahead.
Kind regards
Antony Reeler
Principal