Ladles of Love
In the wake of Covid, a small group of Bishops families started supporting a Sandwich Drive managed by Ladles of Love, an organization that does remarkable work in feeding South Africa's hungry. We have two moms on board who are involved with NGO's in the areas where the feeding takes place and both have attested to the fact that this feeding is still very much needed, and it is allowing parents to worry less about their children being hungry and actually become more productive themselves.
From the Ladles of Love website: "Sourcing and distributing food donations is one thing. Ensuring that food is prepared and ready to eat is a whole other ball game. Through the Sandwich Drive we can get ready-to-eat food much faster and more effectively to those who are hungry, while giving South Africans ways to do volunteer work from home." (https://ladlesoflove.org.za/donate-sandwich-drive/)
It is important that we teach our boys to contribute to the communities around them and this is a very easy and cost effective way for them to make a meaningful contribution. We will be starting our sandwich collection this coming Monday, 31 January. Please do get a loaf of bread each and suitable spreads available to your boys and get them spreading slices on Sunday night. The bread bag filled with sandwiches need to be placed on the benches in front of the Memorial Chapel on Monday mornings. (guidelines on making/packing the sandwiches: https://ladlesoflove.org.za/wp-content/uploads/2021/03/LadlesOfLove_FSGuidelines.pdf). One of the Bishops drivers will then take the sandwiches to a Ladles collection point.
It would be fabulous to increase the number of families contributing sandwiches weekly. Please email Anne Stevens (astevens@bishops.org.za) to have your name added to the reminder list for these. At one loaf per boy, Bishops has the potential to make over 6000 sandwiches weekly. We would love to start getting close to even half of this!
My Bishops Life Parent Portal
We remind parents to utilize our online portals, Please click here for help.
SOCS Sports Parent Portal
We make use of a software programme for sports information, this app will give you sports fixtures, results and other pertinent details easily from your smartphones.
Follow these simple steps to be able to access all sporting details via this method, anywhere, anytime.
Laptops or PCs and mobile phones:
Go to a browser on your smartphone and browse to the address www.bishopssport.org
Click on the sport tab
Add to home screen and call it Bishops Sport.
Now at a click of a button from your cellphone you can see What's on, access Maps, details of fixtures and more.
When checking click on the 'What's On' page, choose the date and sporting code and then click on the relevant team.
The Sports coaches will be increasing the use of this platform to communicate important information to you, regarding details around the various fixtures. We are hoping this will limit the need for too much email communication and hence we encourage you to use this platform as your first port of call.
We would welcome any feedback from you and will happily answer any further questions you may have.
Water Polo News
We extend a warm welcome to our 1st team Water polo coach, Jabulani Sibiya. Jabulani has spent the last 3 years coaching at SACS before making the move to Bishops. He was the coach of the WP Boys u16A team at the 2021 ITP where he led the team to a gold medal. He is also the South African Senior Men's assistant coach for 2022.
We wish Jabulani well as he begins a busy season with the polo boys.
Pictured getting ready to depart Cape Town International for the St Andrew's Shield Water polo tournament.
Nicholas Steinhagen (1st team captain)
Jabulani Sibiya (1st team coach)
Dean Sneddon (1st team vice-captain)
Getting ready to depart Cape Town Int. for the St Andrew's Shield Water polo tournament.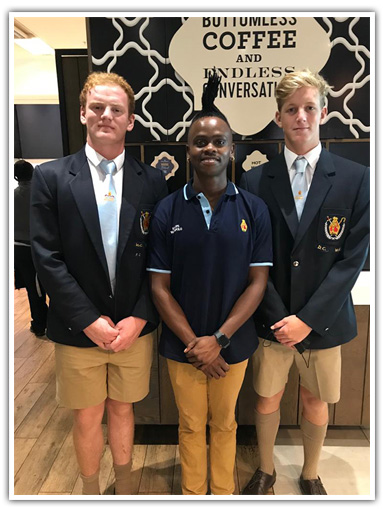 IPT 2021
A number of our boys represented WP at the inter-provincial tournament hosted in Cape Town over the holidays.
Some notable results:
Jonathan Roche (OD – 2021) won a gold medal with the U19A team. He was also the captain of the team.
Benjamin Hatty won a gold medal with the U16A team.
Jordan De Sousa and Ross Walker won a silver medal with the U15A team.
Daniel van den Heever and Noah Edmunds won bronze medals with the U14A team.
Tennis
Ben MacFarlaine was the runner up for the Tennis South Africa (TSA) Western Cape Mini Masters Tournament (top 8 ranked players Men's Open division of 2021, by invite only) which was held between the 26th and 28th November 2021.
The WP Schools U19 Trials were completed in December 2021 and included the Cape Schools Interzonal competition, and a final trial Tournament of 3 days (for the top 32 boys). Ben was undefeated in all his matches and won the tournament and will, therefore, be representing the WP Schools Team (6 players) as the No. 1 player for the Inter-Provincial Tournament to be held in March 2022.
We are very proud of these top achievements.
Congratulations to Chris Hodgson who has been selected as the captain of Tennis for 2022. We wish him well and success for the teams ahead.
Rowing
On the 10th of January Bishops Rowing Club, including the new Boys, took to Bufflesjag Dam. A stunning scene, poised under the steep Cape Mountains, where the Bishops boys were training three times a day.
A successful introduction for the grade 8's to Bishops rowing, and a valuable training time for the older guys who got miles in on the water.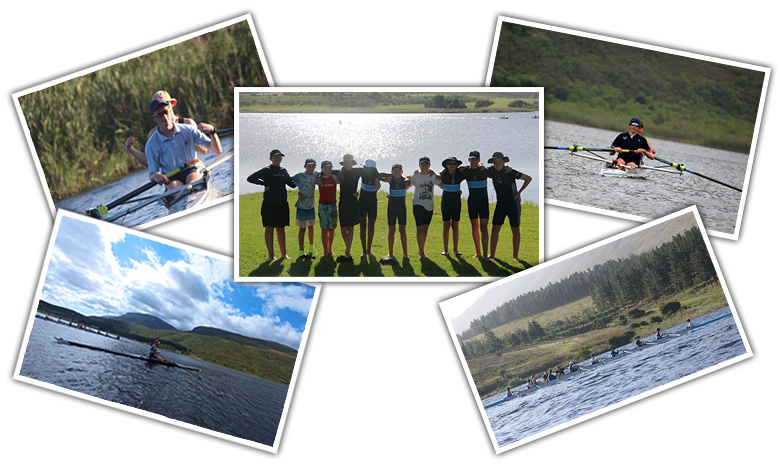 Last weekend, the Nick Whaits Memorial Regatta took place on Saturday and Western Cape Champs on the Sunday.
Bishops had a fantastic weekend, despite the heat and wind, pulling off a number of 1st place victories!
Congratulations to our boys!
Nick Whaits Regatta (Saturday)
Western Cape Champs (Sunday)
U14 Results:
A Oct - 2nd
A Oct - 1st
A Quad - 1st - B Quad - 1st
A Quad - 2nd - 3rd
Results:
B Scull – Heat 1: 1st , 3rd - Heat 2: 1st, 3rd
Scull Final: 1st - 2nd
A Scull – Heat 1: 2nd - Heat 2: 2nd - 3rd
Quad Final: 1st - 6th
A Double – Maurel 1st
A Quad – 2nd
U16 Results:
A Scull – Smollan 1st - Cheminias 2nd
Pair Final: 4th - 5th
B Scull – James 1st, Schooling 2nd - Anderson 3rd
Eight Final – 3rd
A Double – 1st - B Double – 2nd
A Pairs – 2nd
A Coxed Fours – 2nd
A Coxless Four – 3rd
A Eight – 3rd
Open Results:
A Scull – 4th -5th
Pair Final: Mason – 1st Du Randt – 2nd, 4th - 6th
A Coxed Four – 1st
Coxless Four Final: 3rd - 4th
A Coxless Four – 3rd - 4th
Coxed Four Final: Du Randt – 1st- Maurel 3rd
A Eight – 3rd
Cricket
Abel Mokwena and Cricket South Africa (CSA) Cubs Week
1st XI cricket captain, Abel Mokwena, represented the 'Southern Superstars' at Cricket South Africa's (CSA) annual Cubs Week played in Stellenbosch from the 10th to the 14th January 2022. Cubs Week sees the top u19 cricket talent from across the nation competing against one another on a regional basis. The 'Southern Superstars' won three; tied one and lost one with Abel scoring 55 in the match v the 'Eastern Warriors'.
Congratulations to the following Bishops' cricketers on their 50+ scores and/or five-wicket hauls v Paarl Gym: Michael Kotze 1st XI: 25-8-33-5 Andrew Dallas 2nd XI: 55 Samuel Stavely-Alexander 15A: 104 Joseph Bolus 15C: 58*.
Bishops' 1st XI and 15A at the Peninsula Cricket Festival
The Bishops' 1st XI and 15A cricket sides represented the school at the 20-team Peninsula Cricket Festival (PCF), staged in Cape Town, between the 11th and 15th January 2022. The PCF is arguably the most prestigious schoolboy cricket festival in the country and, it is an undoubted feather in the school's cap that both sides returned perfect - and highly-impressive - five-from-five win ratios and a combined total of 10 victories from a possible 10. The 1st XI registered wins v St Charles' College (declaration); Waterkloof (declaration); Pretoria Boys' (50 overs); Affies (50 overs) and Hilton (T20). The 15As followed suit with consecutive victories, in the same formats, against St Charles' College; Waterkloof; Grey College; Affies and Hilton. Special mention to Kashief Joseph (1st XI) for scoring 113 v St Charles' College; Storm Matthews (1st XI) for taking 6-61 v Waterkloof and to Fayyaad Domingo (1st XI) for all-round and consistent excellence during the festival in the form of a combined 183 runs and 12 wickets. Adnaan Lagadien (15A) deserves praise, too, for scoring 207 runs in four innings at an average of 51.75.
Fencing
The Cape Open held in the first weekend after the end of term 4 saw Aidan Richards winning gold in the U17 epee event. Many new fencers participated for the first time, Landa Tsobo, Thomas de Waal and Daniel Thom and in foil, Kieran Hollis and Sebastian Boeddinghaus. Aidan and Daniel Richards are now ranked 1st and 2nd in U17 epee and have been selected as part of the South African junior team to the Junior African Championships to be held in Lagos from the 23rd to the 27th February 2022. Congratulations to both fencers, who now earn their South African Fencing Colours.