Rotary Debating Finals
Congratulations to both the senior and junior Rotary Debating Teams that have made it to the final round of the Rotary Debating Competition. We are proud to host the event on Monday the 5th of September and we extend our warmest invitation to any learner, parent or staff member who would like to support our teams on Monday at 17:30 in the Molteno Library.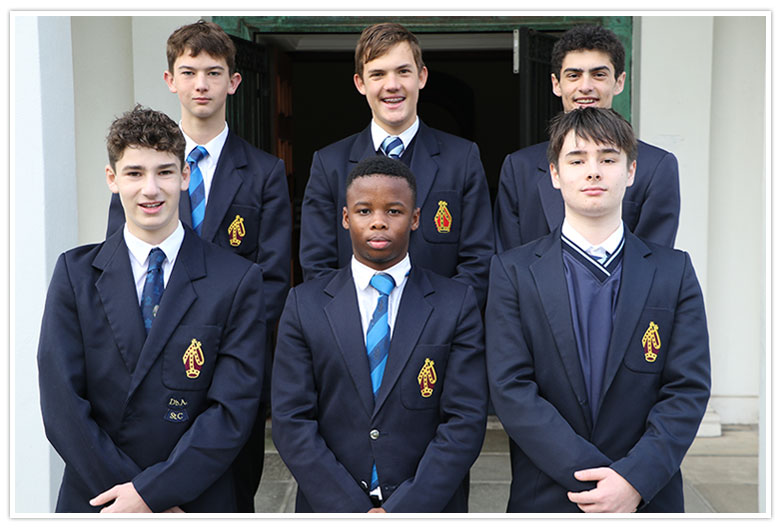 Bridge Build Winners and Eskom Science Medalists 2022
Inspiration can come from ordinary places and from ordinary things. Like the apple inspired Newton and a bathtub inspired Archimedes, so only 20 sheets of paper inspired Democritus Science boys to build a bridge that could hold an impressive load and won them first place in a bridge competition over the weekend!
Nine South Peninsula schools competed at the Cambridge Peak Academy in Fish Hoek on Saturday 13th August; included Lawhill Maritime Academy, Fish Hoek High School, Ocean View Secondary and other schools. The two teams that Bishops' Democritus Society entered took 1st and 2nd place winning them a trophy and R5000 in cash!
Congratulations to the winning team!
Devon Marshall Grade 11
Nicholas Basson Grade 10
Grant Weich Grade 9
Daniel Kushner Grade 9
The following boys' bridge took 2nd prize
Noah MacNab Grade 9
David Lewis Grade 9
Jack Buckham Grade 9
Matthew Griffin Grade 9
Democritus also participated in an earlier Bridge Build competition at Zutari Engineering headquarters in Century City (Milnerton), where they built bridges using balsa lumber wooden dowels. This was a very technical competition and although they did not win (...thanks to Brackenfell Hoerskool who clocked an impressive 295kg of load with their bridge!), the three teams we entered did very well and learnt a lot about the tricks of designing strong bridges. Well done to the following boys who now have a prized SAICE certificate from the South African Institute of Civil Engineering:
Team 1 - Devon Marshall, Nic Basson, Noah MacNab
Team 2 - Grant Weich, Kieran Hollis, Graham Seaward
Team 3 - Jack Buckham, David Lewis, and Veer Daya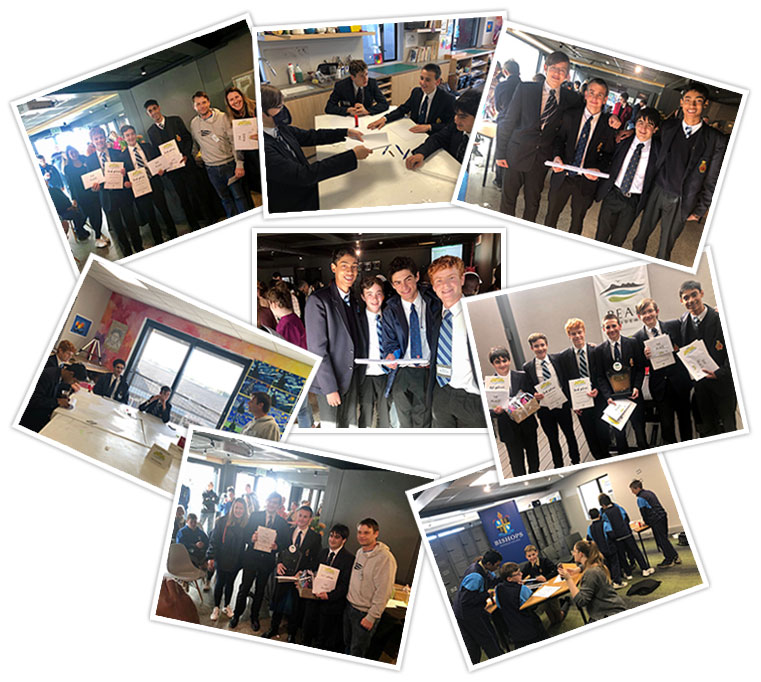 Eskom Science Expo for Young Scientists' Competition
Science students also took part in the annual Eskom Expo for Young Scientists Competition Thursday and Friday 11th and 12th August. They won two bronze medals and a silver medal, as well as a Top of Category award.
Well done to our bronze medalists:
Nic Basson
Peyton Leigh
And to silver medalists:
Andrew Betty
Rohit Patel
Top of Category Award in ENERGY went to the following boys for their project that investigate "The effect of minor external temperature changes on the capacity of a lithium-ion battery in a laptop.":
Andrew Betty
Rohit Patel
Congratulations to all our winners and our science department.
Gold President's Award
It is wonderful to see that some of our boys still managed to commit to the President's Award while in lockdown. 4 of our Matric boys have just been awarded their Gold levels: Conrad Green, Oliver Thom, Daniel Thom and Craig Ressell. Huge congratulations and well done.
Rohan Bloom Interfaith Tournament
The Rohan Bloom Interfaith tournament is held in memory of Rohan Bloom who lost his battle to cancer in 2013. It is a day of celebration and camaraderie, across three different religions. Bishops had three soccer teams taking part in the Rohan Bloom Interfaith Football Cup on Sunday 21 August, including an U13 team from the Prep. The day runs on an accumulative points basis and this year, for the first time ever, Herzlia were not the winners. It all came down to goal difference and in the end, Bishops lifted the trophy (Rohan Blooms soccer boot) with a 6 - 0 victory over JEQ. Well done to these boys for their excellent efforts and positive spirit on the day!
Congratulations to Ioannis Kontoporakis who scored a hat trick against JEQ. (Small soccer ball for Ioannis)
Bishops also had six boys who have been selected for the Rohan Bloom Interfaith team who will play Cape Town City's U18s in a few weeks:
Ben Isserow, Thomas Barton, Tyrique Nair, Onwa Roji, Ioannis Kontoporakis, Junsu Park.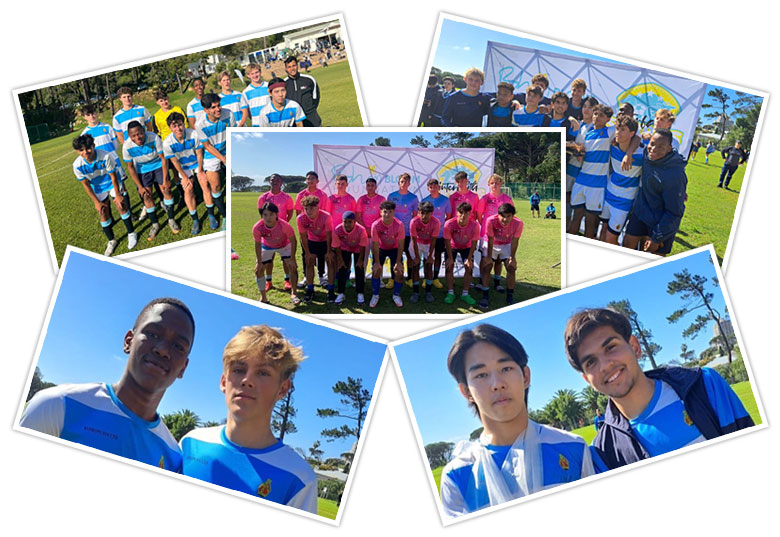 Chess
The Bishops Chess team took part in the annual Rohan Bloom Interfaith tournament at Herzlia High School on Sunday 21st August. This tournament aims to promote goodwill and cooperation between the Christian, Jewish and Muslim faiths and also honours Rohan Bloom, an ex-Bishops and Herzlia pupil who lost his life to cancer in 2016. Various schools took part in the event including Herzlia, Bishops, St Cyprians and JEQ (Jam Eyyatul Qurra).
Bishops A won the chess section with an impressive 19 wins out of 20. Congratulations to Oliver Hufton, Michael Kruse, Yusuf Balim and Akshay Thakersee who made up the victorious A team. Thanks also to Jeremy Liddle, Che Nanoo, Noah Macnab and Divakaran Govender for their participation. Che, Divakaran and Noah also excelled in the Senior Debating section.
Junior Debating
Congratulations to our junior debating team who won the Interfaith Junior Debating competition.
Left to right:
Matthew Walker grade 9
Luke Carter grade 9
David Lewis grade 9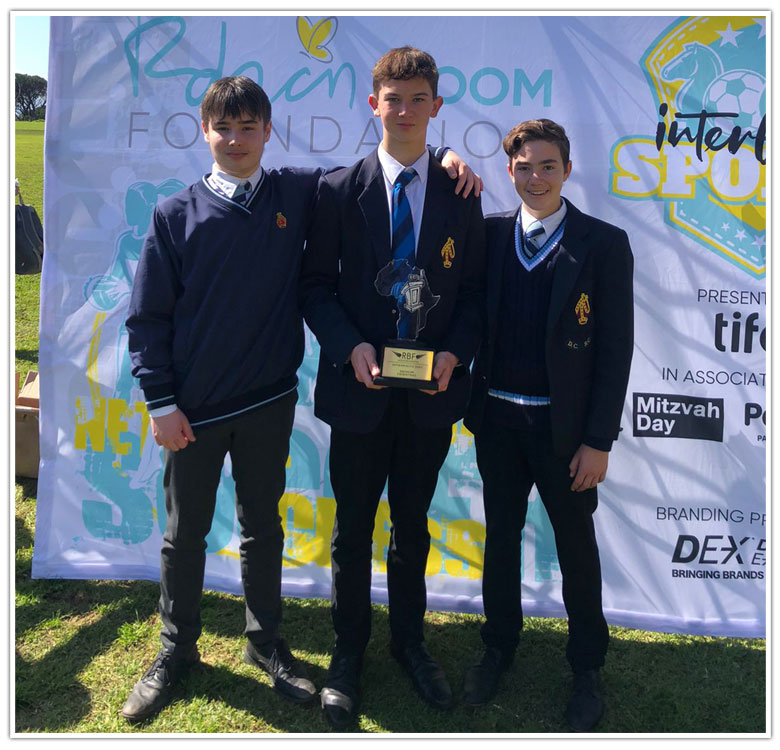 Fencing
Aidan and Daniel Richards were selected as part of the South African team to attend the Commonwealth Fencing games in London. Daniel had a very tough poule and made the top 64, and Aidan made the top 32 in individual epee. In the team events, they were knocked out in the quarterfinals by Canada 45-33. It was a wonderful experience for both of them to meet other fencers from the Commonwealth.
The Fencing Championships were held on Tuesday 23 August in the Old Gym. The Epee cup winner was Aidan Richards, The foil cup, Sebastian Boeddinghaus, the service cup, Felix de Bruin, and the Interhouse cup - Founders. The new captain for 2023 is Daniel Richards and the vice-captain is Aidan Richards. Congratulations to all the award winners.
History Quiz
The Bishops' History Quiz, an intra-school event jointly hosted by the History Department and the History Society, was staged in a jam-packed Frank Reid Day Boys' Dining Hall last week. 18 teams, featuring boys from Grade 8 to Grade 12, grappled with 100 questions covering all manner of historical themes whilst enjoying the complimentary hot drinks and sweet treats served by Origin. An all-Grade 11 team, comprising Stefan Dixon, Joseph Mudge, Joshua Traut and Stuart Whitelaw, emerged the ultimate victors of a narrow one-point win over the second-placed team of Jamie Chester, William Jones, James Louw and Johann Steyn.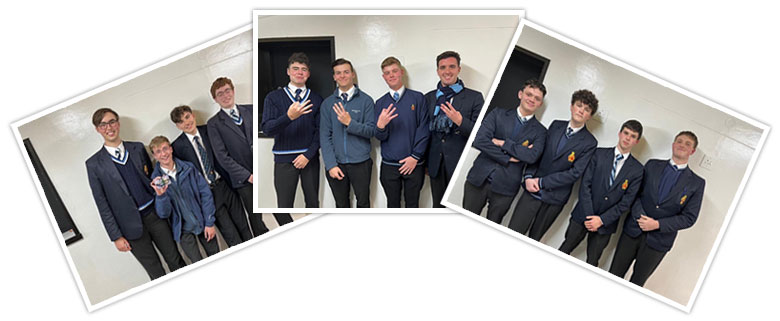 SAIIA Quiz
Bishops hosted the annual South African Institute of International Affairs inter-schools Quiz on Thursday 25 August in the Mallett Centre. 37 schools took part in the event. Some schools had more than one team participating (each team was made up of 4 pupils) so there were 55 teams in total. The Bishops senior team of Ben Anderson, Caden Chuang, Jacob Fried and Jack Buchham came 4th in Quiz. The junior team of Daniel Kushner, Grant Weich, Daniel Von der Heyden and Rynard Gordon came 15th. Welldon boys!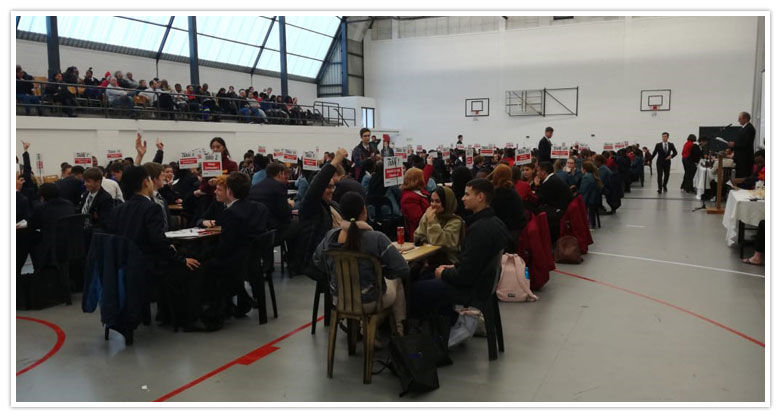 Inter-House General Knowledge Quiz
The Inter-House General Knowledge Quiz was held recently, and after a very tightly contested and fun evening, the final results were: 3rd Gray House, 2nd Kidd and the winners of the Eric Rosenthal Trophy for General Knowledge was Ogilvie.