Sport
Stayers Water Polo Tour
The 1st Team took part in the St Stithians Stayers Water polo tournament over the weekend, 20 – 23 October. It was a very young and inexperienced team with nine grade 10s playing against top Water polo schools with predominantly grade 11s in their teams. Bishops came 10th out of 20 teams beating St David's, Jeppe and Michaelhouse, after losing to St David's in the 9th/10th place play-off. A lot of valuable lessons were learned, and the team equipped themselves in and out of the pool with dignity.
Inter-house Cycling
The annual Inter-house Cycling event took place at The Oaks on a 900m fast-paced course created for the race on campus. Congratulations to Zeno Benolich who won Gold for Gray House, James Collins and Daniel Diedericks won Silver for Ogilvie and Nick Warren took Bronze for Mallett.
Cricket
Last week's games vs Paul Roos.
Whilst the 14As and 15As had matches abandoned due to the weather in Stellenbosch on Saturday (and with the 1st XI still to play), it was great to see wins recorded by the 2nd XI; 3rd XI and 15Bs. La-Rohn Opperman (3rd XI) returned figures of 7-0-26-5 in a winning effort, under lights, on Friday evening. I should add, too, that it was fantastic to see a qualified Bishops' schoolboy umpire (Joe Bolus) officiate Thursday's u14 fixture.
The following boys achieved centuries and received a signature cricket bat:
Litha Mbiko 110* for the u14A team against Jeppe
Waco Bassick 102* for the u14A team against Pretoria Boys High
Adnaan Lagadien 100* for the u15A team against St Andrews
Thaafier Japhta 207 for the u14A team against Waterkloof

The following cricketers received a mounted cricket ball for taking 5 wickets or more in a match:
Reece Van Wyk 8-3-17-5 for the u15A team against Grey High
Milan Sandri 9-2-40-5 for the u17A team against St Charles
Michael Kotze 8-2-20-5 for the 1st X1 against Rondebosch CC 2nds
La-Rohn Opperman 7-0-26-5 for the 3rd XI against Paul Roos
Golf News
The Bishops Interhouse Golf Competition & Individual Champs was played on Sunday 16 October on a beautiful afternoon at Steenberg Golf Club.
Mallett House finished in 1st place and claimed the trophy by a convincing 11 stroke margin. Gray House finished in 2nd place with Birt House in 3rd place.
The individual competition was very closely contested with Sebastian Dorward and Jack Buckham both posting scores of 73. A sudden death playoff followed which Sebastian Dorward won on the 3rd playoff hole. Well done to all players involved.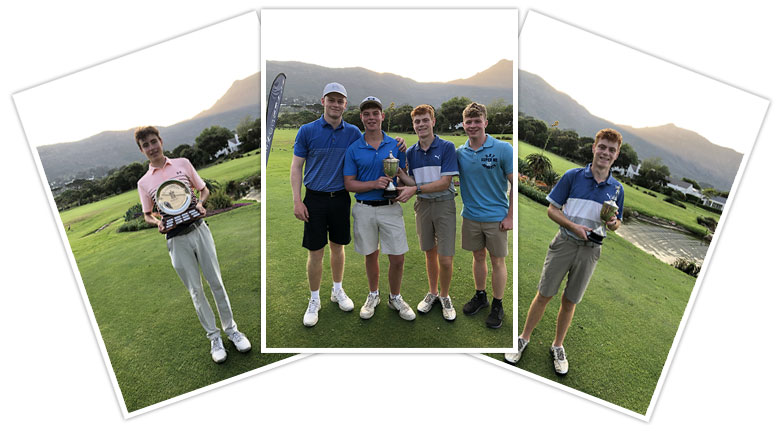 Boston Tour - Bishops Rowing
The Bishops Rowing Club recently returned from a tour to Boston Massachusetts. The tour lasted 10 days and culminated in a once-in-a-lifetime regatta - the 57th Head of the Charles.
The Charles River winds and twists a waterway through the City of Boston. The likes of MIT, Boston and Harvard University flanking the banks - it is a rowing haven. To add to the dream-like experience, the boys rowed boats from Harvard University, a prestigious rowing program. The boys met up with current Harvard rower and OD - Kalu Jay Varney.
The experience for the Boys in the vibrant city was exceptional - music, war history, varying cultures, academic and rowing superiority. The Head of the Charles regatta posed stiff competition. The Youth Eight consisted of 90 crews where Bishops placed 67th and 54th in the Youth Double.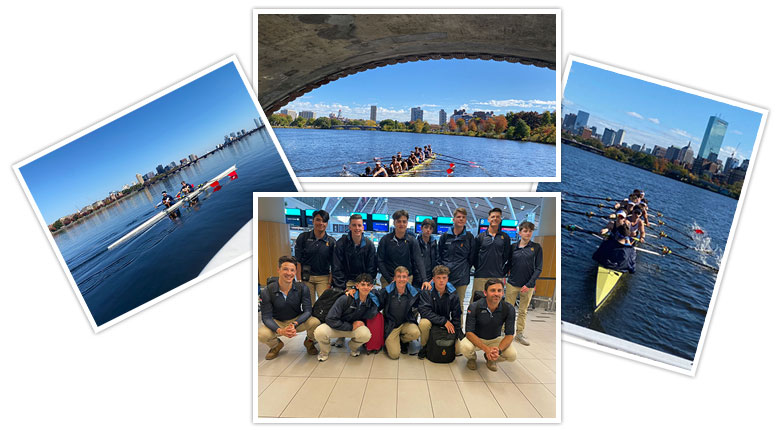 Culture
Quiz Evening
Earlier this year, several our grade 11 boys came forward with the idea of establishing a quiz society. On Tuesday the 25th of October, they successfully hosted, under the Quiz Mastership of Mr Joc Wrensch, their first Bishops Quiz Evening. The event was well attended with 14 teams of 6 taking part. All in attendance were suitably entertained, having fun, learning new things, and sharing in a collective frustration at not knowing 90s music! More quizzes will follow: every two weeks a League Quiz takes place in the Memorial Theatre while the evening quizzes will continue once a term. Any queries regarding the General Knowledge/Quiz Society can be directed to Mr Wrensch or Mr Nzuza.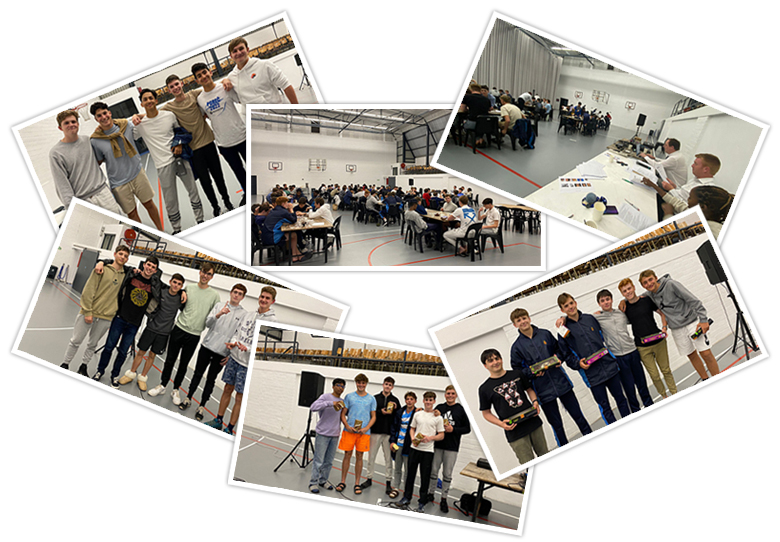 History Society
On Thursday the 27th of October, the Bishops History Society hosted a panel discussion in the Memorial Theatre together with guests from St Cyprian's School. The topic that they delved into was Operation Condor: The United States' attempt at destabilising South American governments to install pro-US governments in their places. This promised to be an insightful discussion, one which ultimately grappled with the lingering questions of the legacy of US involvement in the internal affairs of other countries. The event was well attended with attendees from both schools. Hard hitting ideas were addressed, controversial topics broached in an academic manner which is well commended for the age of most of the panellists and attendees. This is not an event to be soon forgotten – for its content, its engagement, or its rather amusing ending… Queries relating to the society can be directed to Mr Wandile Nzuza.

School News
Campus Upgrades
Please be advised that the School is now proceeding with the upgrading the Campground Road entrance to the College. This entails cobbling the entrance and building a new guard house, as well as constructing a new large parking area to the north of the Avenue. In order for this work to proceed it will be necessary to temporarily change the current access and egress arrangements. This will entail changing the Campground Road entrance to an entrance only. Exits will be via Silwood Road (behind White House) and Riverton Road. Entry from Riverton Road will remain open. The new movement system will be clearly sign posted. The construction period is 14 weeks. We apologize for any inconvenience caused during construction.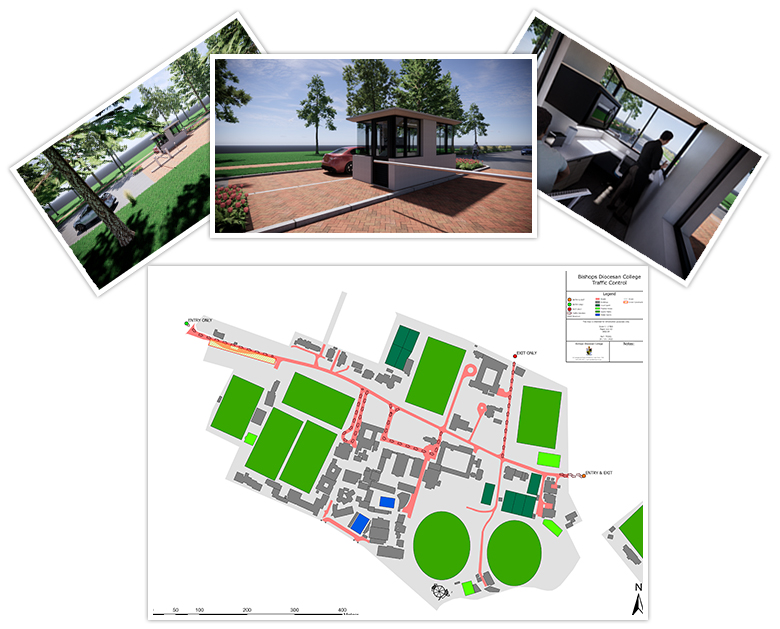 My Bishops Life Parent Portal
We remind parents to utilize our online portals:
Please click here for help.
SOCS Sports Parent Portal.
We make use of a software programme for sports information and we are hoping that this app will give you sports fixtures, results and other pertinent details easily from your smartphones.
Follow these simple steps to be able to access all sporting details via this method, anywhere, anytime.
Laptops or PCs and mobile phones:
Go to a browser on your smartphone and browse to the address www.bishopssport.org
Click on the Sport tab
Add to home screen and call it Bishops Sport.
Now at a click of a button from your cell phone you can see whats on, access Maps, details of fixtures and more.
When checking click on the 'What's On' page, choose the date and sporting code and then click on the relevant team.
The Sports coaches will be increasing their use of this platform to communicate important information to you, regarding details around the various fixtures. We are hoping this will limit the need for too much email communication and hence we encourage you to use this platform as your first port of call.
The Team sheets with boy's names are password protected the password is Bish@ps.
We would welcome any feedback from you and will happily answer any further questions you may have.